Local product
What Is ProdPad?
Product managers use ProdPad to collect and prioritize ideas into a clear, visual and accessible product roadmap that everyone can understand. Grow ideas in ProdPad with internal comments & voting, mockups, user personas, customer feedback - then map them out on your flexible theme-based roadmap.
Who Uses ProdPad?
We have plans available whatever your size, from essential, advanced and performance, all the way up to plans for our enterprise customers.
ProdPad Details
CreateSHIFT
Founded in 2012
ProdPad Details
CreateSHIFT
Founded in 2012
ProdPad videos and images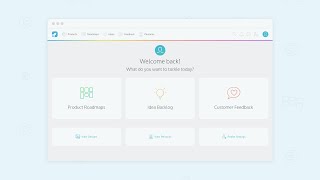 Compare ProdPad pricing with similar products
Starting price
US$39.00/month
US$22.00/month
US$9.49/month
US$10.00/month
ProdPad deployment and support
Support
Email/Help Desk
FAQs/Forum
Knowledge Base
Phone Support
Chat
Deployment
Cloud, SaaS, Web-based
Windows (On-Premise)
Linux (On-Premise)
Training
In Person
Live Online
Webinars
Documentation
Videos
Verified Reviewer
Product & Operations Manager in Ukraine
Verified LinkedIn User
Information Technology & Services, 11-50 Employees
Used the Software for: 6-12 months
ProdPad
Comments: It's a great tool to collect, structure and manage feature ideas and feedback in 1 place. They also provide a solution for Roadmaps but we are not using it for this purpose at this time.
Pros:
Prodpad Slack integration is the feature I love the most. As a Product Manager, I start my week reviewing feature ideas and feedback and I just need to open Prodpad channel to see the latest. Saves me time and so convenient.
Cons:
I find it difficult to browse through all the feedback and feature ideas in Prodpad using search and not to read the same ones again. It might be just the way we organize it in my company still it could be improved. Maybe mark automatically the ones I opened just recently.
James M.
Director in Spain
Management Consulting, 2-10 Employees
Used the Software for: 2+ years
Elegant and effective, with awesome support
Comments: Easy entry, constantly being improved, great support and hand-holding. Love that so many of the team are accessible and responsive!
Pros:
Hugely powerful. It shows that actual Product Managers are behind it.
Cons:
Can take a while to really understand all aspects - but the release notes and guides are improving all the time.
Alison P.
Head of Customer Success in US
Restaurants, 11-50 Employees
Used the Software for: 1+ year
It works okay
Pros:
It's better than nothing! We can communicate as a team on product road map ideas and neatly organize them into different areas.
Cons:
Customer support is less than stellar, it's often buggy - ideas disappear and re-appear, it says it's offline when it is not.
Mallory K.
Product Manager in US
Computer & Network Security, 51-200 Employees
Used the Software for: 1+ year
Customer support is FAST & thorough, the tool is very easy to use.
Comments: Ability to build roadmaps to communicate with both engineers & executives.
Pros:
- Low barrier to entry, easy to get going right away - Visuals & ability to quickly create reports and presentations for executive level staff - Ability to capture & organize customer feedback - Roadmaps that aren't timelines/schedules!! Love that it frees you up to focus on the WHAT & WHY and not get hung up on dates/gantt charts.
Cons:
- Seems like they are always updating but I could use a few more reporting features & features for resource allocation.
CreateSHIFT Response
5 years ago
Hi Mallory, We're thrilled to hear that ProdPad is helping you get so much done! Thanks for leaving us this review - we love having you here. :) -Team ProdPad
Breann P.
Customer Success Manager in US
Hospitality, 11-50 Employees
Used the Software for: 6-12 months
Great way to track ideas and collaborate, but can be hard to navigate
Pros:
Since I am the one at my company talking to clients the most, it's great for me to enter in my feedback and log ideas for product improvement in ProdPad - this is the cleanest forum for my development team and I to prioritize improvements. Easy way to communicate back and forth about ideas and get them into development.
Cons:
As someone who isn't as experienced in software, it can be difficult to navigate. ProdPad captures so many details (which is great), but when I'm submitting an idea for our development team, I can get slightly overwhelmed and lost as to what each category means. Guided walk-throughs of the site might help with this.