What Is Service Fusion?
All-in-one field service management software that provides enterprise-level features at a small business price. Run your business from anywhere by creating estimates & jobs, schedule & dispatch, invoice & process credit cards. Track customer equipment history, run sales revenue and commission reports. Send text message and email reminders to customers. Integrated with Quickbooks and zero per-user fees, zero setup fees. Starting at $149 per month, Request a Free Demo Today!
Who Uses Service Fusion?
We serve over 5,000 small and mid-sized field service contractors in the HVAC, plumbing, electrical, appliance repair, home automation, A/V, locksmith, IT, and many other service industries.
Where can Service Fusion be deployed?
Cloud, SaaS, Web-based, Windows (On-Premise), Linux (On-Premise), Android (Mobile), iPhone (Mobile), iPad (Mobile)
About the vendor
by Service Fusion
Located in Irving, US
Founded in 2014
Phone Support
Chat
Countries available
Australia, Canada, United States
About the vendor
by Service Fusion
Located in Irving, US
Founded in 2014
Phone Support
Chat
Countries available
Australia, Canada, United States
Service Fusion videos and images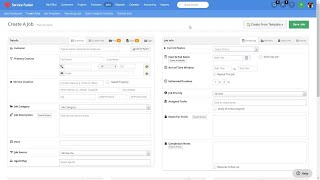 Compare Service Fusion pricing with similar products
Starting price
US$149.00/month
N/A
N/A
US$35.00/month
Features of Service Fusion
Brandon V.
Franchise Community Manager in US
Verified LinkedIn User
11-50 Employees
Used the Software for: 1+ year
If you have a sales team that is mobile and on the road this is an incredible platform.
Pros:
It's very intuitive and has more tools and most businesses will need. It's very easy for salespeople to use and if they are not able to use it that's a good sign that you should be looking for a replacement.
Cons:
There are a lot of options that can get a little bit overwhelming. The learning curve is a little high but that's due to the fact that there are so many tools available.
Jennifer S.
Fiscal Admin. in US
Construction, 11-50 Employees
Used the Software for: 2+ years
Source: SoftwareAdvice
Alternatives Considered:
Service Tech & Office friendly
Comments: They were super about the initial training, and have consistently tried to answer any remaining issues. We began to be able to have our techs collect credit card payments; awesome for both office & customers!! Data from the old system transferred over, mostly without any issues. The continual updates, which are largely in response to customer/user requests is a plus. You don't always get what you want, or as fast as you want it, but they are definitely trying to meet the most important, common user needs.
Pros:
Better dispatching than what we had before.
Cons:
Reports aren't all that they need to be, but can download info to Excel & manipulate most data
Carolyn M.
DIRECTOR OF OPERATIONS in US
Automotive, 11-50 Employees
Used the Software for: 6-12 months
One of the best dispatching softwares!
Comments: Great all around dispatching/billing software. Intregrates well with QuickBooks for billing, all of the admin staff love the output and reports showing the growth of our business, and our technicians love the mobile app for billing!
Pros:
Very easy to implement, utiliize, training, etc. I have worked with many dispatching softwares, but this one is everything we needed with a lot of extras - dispatch zone map, heat map, customer email blasts, and the list goes on and on.
Cons:
No ability to make a negative invoice or a credit memo. You can void tickets easily, but some customers must have a hard copy of a credit with a different number than their original and this cannot be done as of yet in the software.
Facilities Services, 2-10 Employees
Used the Software for: 2+ years
Another Broken Software With Crappy Back-End Support
Comments: Mostly negative. Its been really rough for us trying to build and grow our company using this platform because there have been so many problems with the functionality of key workflows processes. The software is heavily marketed as a POS option for HVAC, Electrical, & Plumbing Companies but based on our experience it not able to handle their processes effectively and there is no fix in sight. It's extremely lacking in several key areas and service fusion management doesn't seem to care at all about the issues we have reported. We would highly recommend you steer clear of this company until they get their act together
Pros:
It customizable and pretty user-friendly
Cons:
The bugs and workflow problems NEVER get fixed. We have been reporting issues and asking for fixes to them for over 3 years now and practically NOTHING we have asked for has been done. Customer service reps just say that they will pass the issue onto the developers but then nothing ever happens. V2 just keeps getting promised as the fix-all, but somehow how I doubt it's going to be without major issues itself
Rueben D.
President in US
Security & Investigations, 11-50 Employees
Used the Software for: 6-12 months
Source: SoftwareAdvice
Great if your invoicing is linear
Comments: So, So. If I hadnt already committed so many resources to migrating over to this software I would not continue/finalize our transition.
Pros:
Mobile, cloud based & customizable. That is really it.
Cons:
You have to use linear invoicing and can add no special charachters or alpha ones to your invoicing. No fix for this.