What is Service Fusion?
All-in-one field service management software that provides enterprise-level features at a small business price. Run your business from anywhere by creating estimates & jobs, schedule & dispatch, invoice & process credit cards. Track customer equipment history, run sales revenue and commission reports. Send text message and email reminders to customers. Integrated with Quickbooks and zero per-user fees, zero setup fees. Starting at $149 per month, Request a Free Demo Today!
Who Uses Service Fusion?
We serve over 6,000 small and mid-sized field service contractors in the HVAC, plumbing, electrical, appliance repair, home automation, A/V, locksmith, IT, and many other service industries.
Where can Service Fusion be deployed?
Cloud, SaaS, Web-based, Windows (On-Premise), Linux (On-Premise), Android (Mobile), iPhone (Mobile), iPad (Mobile)
About the vendor
Service Fusion
Located in Irving, US
Founded in 2014
Phone Support
Chat
Countries available
Australia, Canada, United States
About the vendor
Service Fusion
Located in Irving, US
Founded in 2014
Phone Support
Chat
Countries available
Australia, Canada, United States
Service Fusion videos and images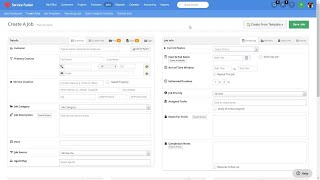 Compare Service Fusion pricing with similar products
Features of Service Fusion
Access Controls/Permissions
Accounting Integration
Activity Dashboard
Activity Tracking
Alerts/Notifications
Appointment Scheduling
Assignment Management
Audit Trail
Billing & Invoicing
Booking Management
CRM
Calendar Management
Calendar Sync
Client Management
Contact Database
Contract/License Management
Cost Estimating
Customer Database
Customer History
Customer Management
Customisable Reports
Customisable Templates
Customizable Fields
Data Import/Export
Dispatch Management
Document Storage
Electronic Payments
Electronic Signature
Email Management
Employee Management
Employee Scheduling
Equipment Tracking
Estimating
For Commercial and/or Industrial Electrical Contractors
For Locksmiths
For Plumbing Industry
GPS
Inspection Management
Interaction Tracking
Inventory Control
Inventory Management
Inventory Tracking
Invoice Management
Job Costing
Job Management
Job Scheduling
Location Tracking
Maintenance Scheduling
Mobile Access
Mobile App
Mobile Signature Capture
Monitoring
Multi-Location
Online Booking
Online Time Clock
Payment Collection in the Field
Payment Processing
Payroll Management
Photo Capture
Preventive Maintenance
Project Management
Purchase Order Management
QuickBooks Integration
Quotes/Estimates
Real Time Data
Real Time Notifications
Real-time Scheduling
Real-time Updates
Recurring Appointments
Reminders
Reporting & Statistics
Reporting/Analytics
Routing
SMS Messaging
Scheduling
Self Service Portal
Service History
Status Tracking
Technician Management
Third Party Integrations
Time & Expense Tracking
Time Tracking
Work Order Creation
Work Order Management
Alternatives to Service Fusion
Reviews of Service Fusion
Brandon
Franchise Community Manager in US
Verified LinkedIn User
, 11-50 Employees
Used the Software for: 1+ year
If you have a sales team that is mobile and on the road this is an incredible platform.
Pros:
It's very intuitive and has more tools and most businesses will need. It's very easy for salespeople to use and if they are not able to use it that's a good sign that you should be looking for a replacement.
Cons:
There are a lot of options that can get a little bit overwhelming. The learning curve is a little high but that's due to the fact that there are so many tools available.
Construction, 51-200 Employees
Used the Software for: 2+ years
Alternatives Considered:
Good software, Terrible customer support (software goes down regularly)
Comments: It's sad because it was a well designed piece of software and something must have happened (most likely a sale) where the software is no longer supported and virtually no enhances are being made. But most worrisome is that it crashes regularly. They also invest zero resources into customer support. ServiceFusion, right the ship before it's too late!
Pros:
It's a great tool, very intuitive with significant flexibility. It has the potential to be great if the company would invest in the infrastructure flaws that make the software continue to go down/fail. Customer service is basically non-existent. They have absolutely no interest/motivation to speak to someone and individually address your needs - even if you offer to pay for it! Very poorly run company in that respect.
Cons:
The customer service is just terrible. The software goes down for hours and hours leaving you in a lurch. They have no after hours support. It's not uncommon for the software to go down at 6pm and then will stay down until someone gets into the office at 8am. What happens to those of us that work in the evenings? This is highly disruptive to the businesses using the tool. There is a strong indication the company is not vested in the long run.
Hannah
Assistant to CEO in US
Construction, 11-50 Employees
Used the Software for: 2+ years
Much Improved
Comments: I've been using this software for years and it has much improved over time. There are several add-on features like call tracking and phone automation that are very useful.
Pros:
I like the ability to schedule workers, schedule payment notifications, and do job costing all from the same place.
Cons:
It can be a little tricky to navigate and the custom template setup is a bit lacking.
Facilities Services, 2-10 Employees
Used the Software for: 2+ years
Another Broken Software With Crappy Back-End Support
Comments: Mostly negative. Its been really rough for us trying to build and grow our company using this platform because there have been so many problems with the functionality of key workflows processes. The software is heavily marketed as a POS option for HVAC, Electrical, & Plumbing Companies but based on our experience it not able to handle their processes effectively and there is no fix in sight. It's extremely lacking in several key areas and service fusion management doesn't seem to care at all about the issues we have reported. We would highly recommend you steer clear of this company until they get their act together
Pros:
It customizable and pretty user-friendly
Cons:
The bugs and workflow problems NEVER get fixed. We have been reporting issues and asking for fixes to them for over 3 years now and practically NOTHING we have asked for has been done. Customer service reps just say that they will pass the issue onto the developers but then nothing ever happens. V2 just keeps getting promised as the fix-all, but somehow how I doubt it's going to be without major issues itself
Justin
Managing Member in US
Consumer Services, 11-50 Employees
Used the Software for: 2+ years
Field management software
Comments: The overall experience is great. I dont have complaints really.
Pros:
The thing I like best about Service Fusion is that it is very easy to understand and use. They have extensive videos about features. We find ourselves using it for more and more things and it is replacing more and more services we contract elsewhere. They are very aggressive in their improvements and are often coming out with updates and new features every month.
Cons:
As with all service platforms and mobile work order software. Nothing seems to do everything that is needed. I wish they had a few different features. Like I said they are always working on new features.