What Is Pardot?
Meet Salesforce Pardot: B2B marketing automation on the world's #1 CRM. Pardot empowers marketing and sales teams to work together to engage buyers, close deals, and grow relationships. Pardot's lead management features CRM integration, email marketing, lead nurturing, lead scoring, and ROI reporting to help marketing and sales teams work together to generate and qualify sales leads, shorten sales cycles, and track marketing ROI.
Who Uses Pardot?
If your organization uses online marketing for lead generation, you are probably a good candidate for marketing automation!
Pardot Details
Salesforce
Founded in 2003
Pardot Details
Salesforce
Founded in 2003
Pardot videos and images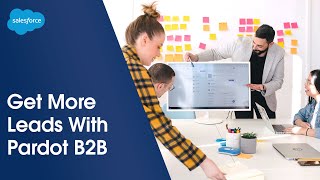 Compare Pardot pricing with similar products
Starting price
US$1,250.00/month
US$895.00
US$45.00/month
US$10.00/month
Pardot deployment and support
Support
Email/Help Desk
FAQs/Forum
Knowledge Base
Phone Support
Chat
Deployment
Cloud, SaaS, Web-based
Mac (Desktop)
Windows (Desktop)
Linux (Desktop)
Android (Mobile)
Training
In Person
Live Online
Webinars
Documentation
Videos
Kate B.
Marketing & Account Management in US
Verified LinkedIn User
Financial Services, 11-50 Employees
Used the Software for: 6-12 months
Alternatives Considered:
Pardot delivers on promises
Comments: Pardot has made it easy to understand how our marketing is working, know who is a hot lead versus a disengaged one, and to create content that is easy to share and delivers good ROI. It's built in many safeguards to keep you from getting in trouble with spam rules and avoid sending emails multiple times.
Pros:
The software is great for staying in touch with prospects and clients. It makes it easy to set up emails, create content, measure and report on results, and build stronger relationships. It's fun to use, once you understand how it works.
Cons:
There's a long learning curve for adopting Pardot, and if I hadn't had a consultant to hold my hand through the integration and kick off, I'd be struggling. I find Pardot and Salesforce training to be overly confusing and it's really hard to find what you're looking for. It's a knowledge based system and continually adds more and more information, and it's not always clear if the instructions apply to you or apply to a different level of service. Other than that I highly recommend it because of all the functionality and way it can dramatically improve your digital marketing.
Tiju T.
Director Marketing Ops in India
Information Technology & Services, 51-200 Employees
Used the Software for: 6-12 months
Alternatives Considered:
Strong Marketing Automation Tool! Highly recommended for SME and Mid Range Businesses
Comments: Overall I loved it. It's easier to use and the LIGHTNING EXPERIENCE IS AMAZING!!! It has the modern look and feel. I am going to stay with Pardot for a long time. Truly recommend it!
Pros:
In-house integration with SFDC. Easier to manage. Not complicated. It has similar functionality as the other major peers like Hubspot and Marketo and it was easier to learn and start working on it.
Cons:
Lead routing is not available. I am looking for in-built round-robin routing functionality.
Verified Reviewer
Marketing Operations Manager in US
Verified LinkedIn User
Computer Software, 201-500 Employees
Used the Software for: 1+ year
Bite the bullet and invest in a better tool
Comments: Horrific. Would never migrate to this tool again and wouldn't recommend to anyone.
Pros:
Perhaps "simplicity" is one way to put a positive spin on this review. For any Marketing Ops professional who wants to build anything above and beyond Pardot's pre-built functionality -- Good luck. Maybe the simplicity is good for a very small organization, but in that same vein the price point would be nowhere near worth it.
Cons:
Filter logic is absolutely miserable. There is no Boolean logic in the tool (going back to my point on "simplicity"), which is horrific for building out any type of complex filters for segments. There are even character limits on how much you can enter in one argument field. So, think about if you have to build out a segment to compile all leads from Europe and write out each country.... you would need to split the arguments into 15 or more "or" statements to account for each value. Also, everything is a drop down -- no free text entries for search -- so good luck sifting through 400 different values for a single Salesforce field. This is one seemingly minor example but is a great representation of how overly limited the tool is as a whole. Also their proclaimed "one-to-one" sync with Salesforce is a joke. There is always mismatched or missing data that doesn't align when boiled down into a report.
Verified Reviewer
Content Marketing Manager in UK
Verified LinkedIn User
Information Technology & Services, 51-200 Employees
Used the Software for: 2+ years
Good but lags behind other marketing automation platforms
Pros:
As Pardot is designed to work with Salesforce, it is easy to run campaigns from and ensure that all of the appropriate lead information is captured. Email marketing campaigns are easy to set up and it is an important part of our marketing stack.
Cons:
Pardot does not really have the functionality of other marketing automation platforms that we've used in the past. Engagement studio programs are not dynamic, meaning you have to stop and start them if you need to make changes. There is also no option for operational emails (emails without unsubscribe links), meaning you can only use Pardot for marketing purposes.
Md masoom R.
Sr. Executive Sales and Research in India
Verified LinkedIn User
Information Technology & Services, 501-1,000 Employees
Used the Software for: 2+ years
Alternatives Considered:
Great Marketing Automation platform
Comments: My overall experience with Pardot is great, being a sales guy I am using this tool daily to send marketing and sales emails to our customers and prospects and this tool never fails me.
Pros:
I love Pardot and if I need to tell you what I like most about it then I must say their customer support team, yes I like this most because their customer support team is very active and responsive, they available 24*7 to help the customers and this is the best thing that I like most about it.
Cons:
There is one thing that I would like to highlight that I like least about it and that is its high cost, yes Pardot is a little bit expensive compared to other marketing automation tool but on the other hand, I must say that it is worth to spend on it.