What Is Cin7?
Whether your business is preparing for growth or struggling with operations, Cin7 is a highly configurable inventory and order management solution for scaling product sellers. No other system can handle your unique operational requirements as easily and cost effectively as Cin7. With over 700 integrations, Cin7 is built to manage complex combinations of B2B and D2C sales channels, warehouses, 3PLs, and EDI connections. Our team will design and implement the best solution for your business.
Who Uses Cin7?
Omnichannel wholesalers, retailers, importers and light-manufacturers turn to Cin7 when they need a single platform that lets them contain costs as they expand to new markets and add sales channels.
Cin7 Details
Cin7
Founded in 2011
Cin7 Details
Cin7
Founded in 2011
Cin7 videos and images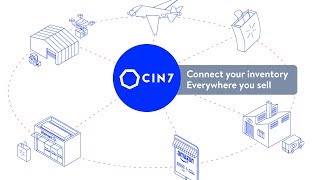 Compare Cin7 pricing with similar products
Starting price
N/A
US$279.00/month
US$499.00/month
US$20.00/month
Cin7 deployment and support
Support
Email/Help Desk
FAQs/Forum
Knowledge Base
Phone Support
24/7 (Live rep)
Chat
Deployment
Cloud, SaaS, Web-based
Mac (Desktop)
Windows (Desktop)
Android (Mobile)
iPhone (Mobile)
iPad (Mobile)
Training
In Person
Live Online
Webinars
Documentation
Videos
David J.
Verified LinkedIn User
Used the Software for: 6-12 months
Source: GetApp
Great Cloud based Software - Easy to use and lots of features
Comments: We were a loyal system based inventory software user for almost 3 years (Inflow), everything with our previous software (Inflow) was good. As we have grown, we wanted multiple users and we looked at other options and decided we have to upgrade to a cloud based software. I personally did not want to go on the path of server, VPN etc.. We were very nearly about to sign in for another cloud based system and at the last minute we realised that it is not a special software for fashion industry.. We wanted a software that can cope with Size, Colour, Fabric, Style and Fit variations.. Thank God the other software people actually recommended Cin7 which is a Fashion Industry special software. We are so glad we made the move.. It makes our business day to day operation a breeze and our sales agents in multiple locations (Some offshore as well) entering orders directly into the system.. This cut down or data entry time dramatically.. also we are now able to see or "Out of stock items" by size.. Also the Web portal B2B is a God Send... Our customers love this feature.. I also have to say that the customer service experience I had is double 2 x 5 STAR... On Boarder Jeff made the whole operation so smooth that I never felt I was all alone in this journey... This is genuinely a good product backed by good people.. I recommend this to any business who are looking to upgrade from system based software to cloud based programme.. Thank you guys.. we are still a long way to go with implementing this software in our business, but I am confident that we will get through this..
Pros:
Software specially designed for Fashion Industry.. Multiple Size, Style, Fit, Fabric etc.. No problem... Many advanced features like B2B webportal, Xero Integration, Email Integration etc at no extra cost. On-Board support is worth $$$$ of dollars.. They do this so well.. Thank you Jeff... Pivot table reports - We were used to excel reports.. But this Pivot table stuff is out of this world..
Cons:
At times Crashes during log-ins.. I assume a bug... It is understandable considering cloud based system.. Not a major, but it will be great if they can rectify this soon. Automatic email reports.. for example a weekly email to our customers on stock or sales report etc would be a great feature. Simplified data entry short cuts (like Control + D - for entering same data for all lines) would be a great feature to add. Rather than Xero or QuickBooks, a simplified inbuilt payment system in Cin7 will be beneficial for small businesses who don't want to use accounting packages. Single user low cost (under $ 100 per month) version would benefit some small operators..
Cin7 Response
5 years ago
Hi David, thank you for the overall 5 star review! It's great to hear you think the product is awesome and the staff at Cin7 have been helpful. Thank you for the great feedback especially about Jeff your on-boarder. Thank you for the honest feedback we're always looking to improve for our customers and this has been passed onto support. We look forward to the continued support and value you as a customer.
Sean S.
Owner & IT Manager in New Zealand
Verified LinkedIn User
Food & Beverages, 2-10 Employees
Used the Software for: 6-12 months
Alternatives Considered:
Extremely powerful inventory and order processing and logistic package
Comments: While challenging to learn and deploy, it's unique feature set and capabilities mean they don't have any one direct competitor and you'd have to piece together multiple platform and cloud services to get the same level of features and functionality.
Pros:
Cin7 has allowed us to integrate and resolve most of our order processing, logistics, inventory and accounting functions into one platform. The API integration into Xero is critical for our business. The reporting capabilities are very powerful and can be used to resolve a number of sales, inventory and regulatory reporting requirements. There really isn't any product on the market that rolls all these features into one package.
Cons:
The price is very expensive and the learning curve is quite steep. The CRM functions are pretty light and need fleshing out. Of most concern were the surprisingly large number of bugs and errors in the reports. Support has been responsive and fixed most issues we have discovered in a timely fashion, but it has been surprising how many bugs we have identified and had to report. This left us feeling like we were paying to be a beta tester. As time goes on and the product matures, this should become less of an issue and I don't consider it a deal breaker, but Cin7 could really improve in this area.
Cin7 Response
2 years ago
Hi Sean, Thank you for your review. We are glad to hear that you found value in our software system and support team. We will share your feedback with the product team, as we are always looking for improvements.
Apparel & Fashion, 2-10 Employees
Used the Software for: 2+ years
Alternatives Considered:
OCC Apparel <-> Cin7 great teamwork!
Comments: Love Cin7. Been with them from the very very start. [SENSITIVE CONTENT] and the team were always hands on and very helpful.
Pros:
Simple to use and the customer service is great.
Cons:
Finding the time to implement all the benefits.
Marnie H.
Director in Australia
Retail, 2-10 Employees
Used the Software for: 2+ years
Worst System Ever, Faulty, Zero Customer Support
Pros:
Nothing. When it was working it was fine but since then it has broken and they refuse to fix their product.
Cons:
A customer of many years and all I can say is they have gone downhill. They have a bug in their system that has meant all my quantities are showing as incorrect. It is Christmas time and I am losing thousands of dollars per day due to this bug. I reported the issue to them a month ago and they have done nothing. Daily phone calls to their "customer support" does nothing. They never have anyone in charge that can talk to you. Managers are always "in meeting and will call you back". Have I ever received a call back? No! Absolutely useless, will take your money but not provide you with a working system!
Amanda S.
Director of Ecommerce & Logistics in US
Retail, 11-50 Employees
Used the Software for: 6-12 months
Cin7 Review
Comments: Onboarding was rough however once we started working with someone who was able to understand the questions we were asking, it was a breeze. There have been some hiccups during the 10 months we've been using Cin7 however our support manager, [SENSITIVE CONTENT] has always been incredibly helpful to address all of our concerns. General support takes a really long time to respond but [SENSITIVE CONTENT] is always on top of it.
Pros:
The bundling/kitting functionality in Cin7
Cons:
The reporting. There are so many reports to choose form which is amazing however none of the reports actually work accurately without a lot of help from support.