15 years helping British businesses
choose better software
What is Freshservice?
Freshservice is an intelligent, right-sized ITSM solution that delivers exceptional employee experiences with an intuitive, scalable, no-code solution. With its state-of-the-art AI and ML capabilities, Freshservice helps organizations ease an IT agents workload and improve their productivity by automating mundane tasks. In addition to its AI capabilities, Freshservice is flexible and scalable enough to be used by both: companies relying on legacy systems and modern enterprises.
Who Uses Freshservice?
Freshservice's customers include MSP's, financial organizations, educational institutions and several government organizations.
Where can Freshservice be deployed?
Cloud-based
On-premise
---
About the vendor
Freshworks
Located in San Mateo, US
Founded in 2011
Freshservice support
Phone Support
24/7 (Live rep)
Chat
Freshservice pricing
Starting Price:
£15.00/month
Yes, has free trial
No free version
Freshservice does not have a free version but does offer a free trial. Freshservice paid version starts at £15.00/month.
About the vendor
Freshworks
Located in San Mateo, US
Founded in 2011
Freshservice support
Phone Support
24/7 (Live rep)
Chat
Freshservice videos and images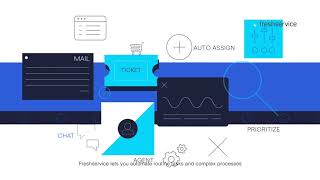 Features of Freshservice
API
Access Controls/Permissions
Activity Dashboard
Activity Tracking
Alerts/Escalation
Alerts/Notifications
Approval Workflow
Asset Lifecycle Management
Asset Tracking
Assignment Management
Audit Management
Audit Trail
Automated Routing
Backup and Recovery
Barcoding/RFID
CMDB
Cataloguing/Categorisation
Change Management
Change Planning
Change Tracking
Chat/Messaging
Collaboration Tools
Completion Tracking
Compliance Management
Compliance Tracking
Configuration Management
Content Management
Contract Drafting
Contract Lifecycle Management
Contract/License Management
Corrective and Preventive Actions (CAPA)
Cost Tracking
Customer Complaint Tracking
Customisable Branding
Customisable Reports
Customisable Templates
Customizable Fields
Dashboard
Data Visualisation
Device Auto Discovery
Disaster Recovery
Document Management
Document Storage
Drag & Drop
Electronic Signature
Email Management
Feedback Management
For IT Project Management
Forms Management
Help Desk Management
IT Asset Management
IT Asset Tracking
Incident Management
Incident Reporting
Inventory Management
Inventory Optimisation
Investigation Management
Issue Auditing
Issue Management
Issue Tracking
Knowledge Base Management
Knowledge Management
License Management
Live Chat
Location Tracking
Maintenance Management
Maintenance Scheduling
Mobile Access
Monitoring
Multi-Channel Communication
Multi-Language
Multi-Location
Patch Management
Performance Metrics
Prioritisation
Problem Management
Product Identification
Project Tracking
Real Time Monitoring
Real-Time Chat
Relationship Mapping
Release Management
Remote Monitoring & Management
Reporting & Statistics
Reporting/Analytics
Resource Management
Routing
Scheduling
Search/Filter
Self Service Portal
Service Catalogue
Service Level Agreement (SLA) Management
Status Tracking
Supplier Management
Support Ticket Management
Surveys & Feedback
Task Management
Third Party Integrations
Ticket Management
Widgets
Workflow Configuration
Workflow Management
Alternatives to Freshservice
Erick
Client Technologies Manager in US
Verified LinkedIn User
Automotive, 1,001–5,000 Employees
Used the Software for: 1+ year
Reviewer Source
Probably the best tool for Help Desk Management
Comments: This is probably the best I used for ticketing. The support is really good, the only bad thing is that you have to contact mostly via chat.
Pros:
The features it provides are really good. The ticketing flow is easy to follow, we can handle our Service Catalog, integrate with Active Directory, manage Asset Inventory and now we started using the Project management tool.
Cons:
The configuration (Initial Setup) is kind of complex. Design the flows is friendly, but complex if you have many rules, but the good thing is that support guides all the way during this process.
Sarah
System Administrator in US
Verified LinkedIn User
Information Technology & Services, 10,000+ Employees
Used the Software for: 2+ years
Reviewer Source
You can do a lot of great things with Freshservice
Comments: Complete platform for IT service management and reporting on client needs. It gives me the ability to develop material that can be provided as assistance to customers, as well as report back internally to the team and to top board management.
Pros:
I appreciate that it is not only affordable, but also demonstrates a lot of value due to the fact that it comes with a lot of features considering how much it costs. FreshService is capable of competing with ServiceNow in terms of IT service management, and I am accustomed to utilizing ServiceNow.
Cons:
The constraints placed on portal design, in addition to the requirement of having HTML coding skills. I have not been able to determine whether or not it is possible for us to have parent portal sites that include kid pages, and the process of developing these pages will require experience in coding.
Tejas
Technical IT Support Manager in India
Information Technology & Services, 201–500 Employees
Used the Software for: 6-12 months
Reviewer Source
Manage your IT Service Desk, Freshservice gets it done
Comments: Great! IT Service Management has become lot easier with freshservice.
Pros:
Ease of use, cross platform compatibility, multiple channels of support available.
Cons:
Needs to be more flexible and feature rich in work automations and customized fields.
Alternatives Considered: iTOP
Reasons for Switching to Freshservice: because it was more feature rich as compared and a paid product with support
Verified Reviewer
Verified LinkedIn User
Management Consulting, 201–500 Employees
Used the Software for: 6-12 months
Reviewer Source
Source: GetApp
No bang for the buck, an overpriced form submission tool that disappoints in reporting and integration
Pros:
Friendly user interface. Copy screenshots directly into the form (although there's a bug for the last 3 months that screenshots are displayed double in edit mode.) Plenty of fields to configure for more complex workflows.
Cons:
Default categories and labels with awkward naming (synonymous use of "Tickets" and "Incidents" for "Issues", "Change" for "Change Request", "Problem" for "Bugs") No possibility to convert issues to change requests. Agent needs to recreate the entire case in the back resulting in significant adminstrative overhead. Reporting is practically inexistent. REST API not covering many functions and object attributes. (You cannot substitute reporting externally.) HTML editor limited and bugged. (CSS code in support articles not supported, Bootstrap not supported, code gets changed or reformatted upon saving articles) No access to the file and image repository. Frankly, with every new cosmetic change and "functionality no can do" message from the Team, I am growing more and more wary of this application. At this point, I am thinking of it as an overpriced form tool with practically no reporting, a gimped Knowledge Management base, and an asset list functionality that quickly drains your wallet. I am spending significant time rewriting issues as change requests in order to subsequently manually attach them to the original issue ticket and explain to the user why I would want to close his ticket after all. Writing knowledge articles is best done in a separate HTML editor. The Text Editor lacks basic functionality, removes formatting and images in unpredictable ways with undoing, and stores images and files in a central repository you have no access to. You might as well do that with a forms tool readily available on the internet.
Lillian
Human Resources Generalist in US
Verified LinkedIn User
Hospital & Health Care, 10,000+ Employees
Used the Software for: 1+ year
Reviewer Source
Freshservice is a top-notch help desk solution
Comments: I use Freshservice to stay on top of my workload and respond quickly to any incidents that arise, most of which are related to technology at the company where I work.
Pros:
The best thing about Freshservice is how simple and straightforward it is to use, both for end users and for the system administrator. Even first-time users will have no trouble grasping and implementing workflows because to the intuitive nature of the UI.
Cons:
Since I use Freshservice on a daily basis for both my job and my company, and since it is so intuitive and simple to operate, I really can't think of anything bad to say about it.