Who Uses Virtuagym?
Health clubs, personal trainers, physical therapists, dietitians and other health & fitness related businesses.
What Is Virtuagym?
Virtuagym is the ultimate solution for club managers looking to take their club to the next level with powerful member engagement and management software. Want to keep your gym's revenue going even when it is closed? Then check out PRO+, a revolutionary turnkey digital membership solution. Stay connected to your members via a personalized app, combine in-facility training with digital on-demand workout videos, and more. Sounds interesting? Book your demo and get ready to transform your fitness!
Virtuagym Details
https://virtuagym.com/software/en/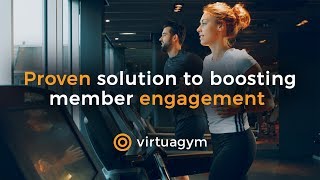 Play
Virtuagym pricing overview
Virtuagym does not have a free version. Virtuagym paid version starts at US$29.00.
---
Virtuagym deployment and support
Support
Email/Help Desk
FAQs/Forum
Knowledge Base
Phone Support
Chat
Deployment
Cloud, SaaS, Web-based
Mac (Desktop)
Windows (Desktop)
Android (Mobile)
iPhone (Mobile)
iPad (Mobile)
Training
Live Online
Webinars
Documentation
Videos
---
Review software
Share your experiences with other software buyers.
Write a Review!
Jack B.
Commercial Manager
Health, Wellness & Fitness, 51-200 Employees
Used the Software for: 2+ years
Overall Rating

Ease of Use

Features & Functionality

Customer Support

Value for Money

Likelihood to Recommend
Reviewer Source

Reviewed on 11/03/2021
"Customer and End User benefits"
Pros: Better than every other system we have used when asking inexperienced or junior staff to pick it up and go with it. The user interface for customers is also much easier and better than others, we have had very positive feedback from our gym members. A good range of tools and options that can be set up and customised without having to dedicate additional resource to operate it. The community noticeboard feature has been vital to our customer-centric approach.
Cons: limited connectivity to big brand wearable tech.
We were also unable to use it to manage our online sports hall bookings.
Vendor Response
by Virtuagym on 26/03/2021
Hello Jack,
It is highly pleasant for us to know that our software is helping you to run your business in such a good way!
We are continuously working on improving our product, and offering more integrations is already on our roadmap.
As for online bookings, we can of course help you in setting this up through Virtuagym, so please feel welcome to reach out to us at [email protected] to better assist you with this!
Team Virtuagym
Reviewer Source

Reviewed on 11/03/2021
Elizabeth J.
Nutrition Coach
Health, Wellness & Fitness, 2-10 Employees
Used the Software for: 2+ years
Overall Rating

Ease of Use

Features & Functionality

Customer Support

Value for Money

Likelihood to Recommend
Reviewer Source

Reviewed on 23/01/2021
"Nutrition App/Meal Plans"
Comments: Overall my experience has been well! For the most part about 90% of my clients have been successful using the app. The other 10% really struggle since they are used to the easiness of MyFitness Pal's tracking features.
Pros: I only use the Calorie Counter app and meal plan software. I like that I can see all of my clients food logs, load foods into their meals plans, and customize their macros. It makes it easy to monitor my clients intake to ensure they are hitting their goals to lead to results. Being able to save meals is great, especially when I have clients who eat the same meals a lot, or if I want to save a quick meal for my clients to have access too. I also like how my clients can see the little icon (yellow) to let them know I personally input that food item or created a meal. Overall I have enjoyed using the software!
Cons: There needs to be a way to create a recipe. One like MyFitness Pal, where you load all of the bulk ingredients of the recipe, then attach the number of servings the entire recipe creates so you can log the single serving. It is too challenging for my clients to log food if there is a recipe involved because it is a VERY length process to create a meal based on serving size when it is cooked in bulk. I believe there also needs to be a feature to track the 3 macros in grams versus percentages. Clients have a better understanding when they know "I have to hit 150g of carbs" versus seeing 100% at the top once carbs are hit. In the app, when you click on the percentage circles it gives a large range of macros to fall within. This does not allow for accuracy to truly see fat loss or muscle gain. When it comes to grams of macros, there is a very small window (5g of Pro/Carbs and 2g Fat) to ensure calories are not way over or under. Right now the app can fluctuate 80g which is HUGE that is 320 calories plus or minus on both carbs and proteins , fats fluctuate close to 22g which could be a 198 calorie difference. If someone continually hit high on those macros they would never lose the fat they desired When people input foods, there seems to be a lot of confusion when attaching a portion, or just in general since it autofill's to Macros Based on 100g. I have seen many food items input completely wrong, this could really put someone in a bad position when logging .
Vendor Response
by Virtuagym on 31/01/2021
Hello Elizabeth,
Thank you for sharing your thoughts with us!
We are currently working on improving the nutrition app and your suggestions will be, of course, taken into consideration.
Please feel free to contact us at [email protected]
Reviewer Source

Reviewed on 23/01/2021
Itzak L.
Owner
Sports, Self Employed
Used the Software for: 1-5 months
Overall Rating

Ease of Use

Features & Functionality

Customer Support

Value for Money

Likelihood to Recommend
Reviewer Source

Reviewed on 29/04/2021
"Perfect for branding my martial arts brand!"
Comments: [SENSITIVE CONTENT HIDDEN] were my main points of contact during the onboarding, and the experience was great! Onboarding was about 3 months long, giving me time to work with the app, have my questions lined up and pretty much [SENSITIVE CONTENT HIDDEN] was able to answer almost everything, and if there wasn't a clear answer, he made sure to find someone who did know and follow up. After every webcam meeting I was sent recordings of the meeting that I still refer to, along with a summary of everything we talked about. Very down to earth, easy-going and made the onboarding experience not so painful. We were able to flesh out everything, from the design of my website to incorporate Virtuagym's webshop of my memberships, to setting up payments, to helping me setup my merchant accounts correctly. With [SENSITIVE CONTENT HIDDEN], he made the app-making process very easy. Granted, I already had a iOS developer license since I already had 1 app on the market, so that took less time to finish compared to people who might need more attention on how to do that. Other than that he made sure my branded app was looking just the way I wanted and answered all my questions incredibly fast. So far I'm very impressed with how the company handled the onboarding and the design of their software. It has its hiccups but nothing too big or dramatic to make me think less of their software.
Pros: -If you're looking to stick out against the competition, having your own branded app is a MUST. I feel like this company really understands that, with the private trainer sector being highly over-saturated with exercise enthusiasts trying to find a way to stand out. Everyone lives on their phones, so only makes sense to push towards that. I've had the idea for the longest time to get my martial arts brand off the ground and teach through an app, and Virtuagym's setup was pretty impressive. -With the app design, there's a section on my web portal dedicated to just that, from design interface, to what I want to offer, to the schedule and more. By the time my app was ready to go live, all they had to do was refer to my app design section to upload everything. I didn't have to do any app coding whatsoever, so that saved hundreds of hours and thousands of dollars in app developer costs. -The scheduling software is pretty top notch. I'm able to list all my classes and connect it to a calendar on my website that's always live. -The Pro version of my app gives my clients an additional app, the Foods app, where they can keep track of their nutrition, calories and macros. Pretty much gives my clients 2-apps-in-one. -The Support Team has been very responsive to me. They get back to me pretty fast. The onboarding team were awesome and really helped me complete all the things I wanted to offer through my training. -The Coaching design of the software is great!
Cons: -I wish the videos could be connected through different providers. Right now, the app uses YouTube to connect all my exercises to my videos in the app. It'd be nice to offer different means, like Vimeo. YouTube has restrictions to videos, like only being able to load 16 videos per day and sometimes loads slow. -Clients are unable to listen to their music at the same time as watching any of my videos. However, the support team is aware of this hiccup and is looking into it. -One option that I really liked about the previous software I used (Zen Planner) was the ability to list ranks and creating conditions of when they'd be ready to test for a promotion. However, I also understand Virtuagym's focus is sports and exercise, not exclusively to martial arts, so it makes sense that it wouldn't offer this. -The check-in desk software could use some work. Right now it's only Windows-based, so that cuts out other people like myself that use a Mac. Easiest thing they could do would be having an easier check-in process on the dashboard that I could open up on a web browser on my iPad, with pictures of my clients that they would tap to check in. Maybe the check-in software on Windows is great, but I haven't had the opportunity to test it yet.
Vendor Response
by Virtuagym on 03/05/2021
Dear Itzak,
Thank you kindly for your detailed review. We greatly value our clients' insights on what they enjoyed the most as well as the areas of opportunity.
It has been a pleasure onboarding you into our system and we look forward to seeing your brand grow exponentially with this awesome tool at your disposal.
Please do let us know if there is anything else we can be of assistance with.
With warm regards,
Anna Howard
CS Manager
Reviewer Source

Reviewed on 29/04/2021
Valarie A.
Fitness Centre Coordinator/Manager
Health, Wellness & Fitness, 11-50 Employees
Used the Software for: 1-5 months
Overall Rating

Ease of Use

Features & Functionality

Customer Support

Value for Money

Likelihood to Recommend
Reviewer Source

Reviewed on 29/07/2020
"Great for clients, not yet great for the business end"
Comments: We were super excited when we found this software, and thought it could do everything we needed. But as we got into the set up and transferring from our old system it was honestly a bit of a let down. It is a better experience for our clients and that is why we are sticking with it but really hope to see some development on the back end side of it so it allows us to more easily run our business.
Pros: The customer side of this is great. Being able to adjust the app as we want and the ability to program for clients right in the app is awesome. We are getting great reviews from our clients.
Cons: The business side of things need some work. There are very simple functions that the system can not yet do like; limit sale of a membership, integrate scheduling types (appointments, classes, enrollments), adjust membership and invoice dates (after expiry, adjusting payment processing...), payroll report function. It makes it a lot harder on our end to manage our business.
Vendor Response
by Virtuagym on 31/07/2020
Dear Valarie,
Thank you for sharing your Virtuagym experience!
We're glad to hear that our all in one solution has allowed your business to connect with your members while driving engagement and revenue.
Also, your feedback is very relevant to us as we continue to strive to become the most complete and functional solution for our clients.
Let us remind you to reach out whenever you need us by emailing our support team at [email protected] we'll make sure to address all questions and keep in mind any suggestions you may have to improve the system overall.
With warm regards,
Your Virtuagym family!
Reviewer Source

Reviewed on 29/07/2020
Dylan M.
Owner/Head Trainer
Health, Wellness & Fitness, Self Employed
Used the Software for: 1-5 months
Overall Rating

Ease of Use

Features & Functionality

Customer Support

Value for Money

Likelihood to Recommend
Reviewer Source

Reviewed on 23/03/2021
"Virtuagym for Upstart Fitness Companies"
Comments: Helps me stay efficient with business operations, helps build brand, adds value to member experience.
Pros: Software is easy to use, adds value to your brand, and is organized for efficiency.
Cons: I don't know that I have a significant grievance with any part of the software.
Vendor Response
by Virtuagym on 26/03/2021
Hello Dylan,
Thanks for taking the time to leave such a wonderful review!
We are happy to hear that our product is exactly what you were looking for.
Please feel welcome to email us at [email protected] if we can be of further assistance.
Team Virtuagym
Reviewer Source

Reviewed on 23/03/2021