What is Pike13?
Pike13 business management software is an easy to use all-in-one business solution. Handle scheduling, attendance tracking, in-depth business reporting, payroll, staff and client management with Pike13. Through the Pike13 app & your website portal, members can book & pay for services online & on their phones. Reduce no-shows with automated reminders, build your brand up with a custom app, & improve member retention. Pike13 tech support is constant. Data migration & training is included.
Who Uses Pike13?
Pike13 simplifies administrative tasks for class-based businesses with an easy-to-use scheduling & client business management software. Get started for free today and receive 50% off your 1st month.
Where can Pike13 be deployed?
Cloud, SaaS, Web-based, Mac (Desktop), Windows (Desktop), Chromebook (Desktop), Android (Mobile), iPhone (Mobile), iPad (Mobile)
About the vendor
Pike13
Founded in 2012
Phone Support
Chat
Countries available
Australia, Canada, United Kingdom, United States
About the vendor
Pike13
Founded in 2012
Phone Support
Chat
Countries available
Australia, Canada, United Kingdom, United States
Pike13 videos and images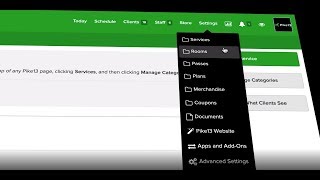 Compare Pike13 pricing with similar products
Features of Pike13
Alerts/Notifications
Appointment Management
Appointment Scheduling
Attendance Management
Attendance Tracking
Attendee Tracking
Automated Scheduling
Availability Management
Billing & Invoicing
Booking Management
CRM
Calendar Management
Calendar Sync
Cancellation Management
Class Management
Class Registration
Class Scheduling
Client Database
Client Management
Client Portal
Client Profiles
Communication Management
Communications Management
Confirmation/Reminders
Contract/License Management
Customer Management
Customer Profiles
Discount Management
Dues Management
Electronic Payments
Email Marketing
Employee Management
Enrollment Confirmation
Enrollments/Onboarding
Event Calendar
Event Management
Faculty/Staff Management
Financial Management
For Music Schools
For Yoga/Pilates Studios
Group Registration
Group Scheduling
Marketing Automation
Member Communication
Member Database
Member Directory
Member Portal
Member Types
Membership Management
Membership Renewals
Mobile Access
Mobile App
Online Booking
Online Payments
Online Registration
Parent Portal
Parent/Student Portal
Payment Processing
Performance Metrics
Pet Birthday Tracking
Point of Sale (POS)
Real-time Scheduling
Recurring/Subscription Billing
Registration Management
Reminders
Reporting & Statistics
Reporting/Analytics
SMS Messaging
Scheduling
Self Check-in/Check-out
Self Service Portal
Staff Management
Staff Scheduling
Student Management
Subscription Plan Management
Task Management
Team Management
Third Party Integrations
Time & Expense Tracking
Visitor Management
Marissa
Independent Business Owner in US
Verified LinkedIn User
Used the Software for: 2+ years
We LOVE Pike13. They offer everything a small studio, or a large gym needs to operate.
Pros:
Ease of use, and reliability are amazing! But my FAVORITE thing is definitely the staff app. I can do almost everything from the staff app, so I can work from anywhere, at any time. From running payroll to creating packages or plans, it does it all. Most apps come with limited function, but this software is almost as complete as the desktop version. And what I love about the company is they are always trying to get better. We have been users for man years and they add things I haven't even thought about needing. Its a pleasure to be a customer.
Cons:
The reporting can be a bit confusing for me. Recently they have added a new reporting feature which has much more information, but I still struggle trying to see exactly what I need at times. But I cant even call it a complaint. I had to really think of something to answer this question.
Pike13 Response
4 years ago
Hi Marissa, Thank you so much for the feedback. We truly appreciate knowing what works and what our customers would like to see. As questions come up about reporting, please continue working with our customer care team and your account manager. We are happy to have calls to help you build exactly what you need to see. Thank you, Cindy Schneider Manager, Customer Success
Rebekah
business owner in US
Entertainment, 2-10 Employees
Used the Software for: 2+ years
Alternatives Considered:
Outstanding Software!
Comments: Absolutely 100% positive and fantastic experience. Customers comment on how easy it is to use and I greatly value this software.
Pros:
I love how versatile it is. i need to be able to run both monthly tuition for regular, weekly classes, plus courses plus punch cards, as my business serves many different populations. I love how easy it was to set-up and how easy it is for my staff to learn. I don't have to provide training for new employees. For the weird times things don't go as planned, customer service is on top of it, very speedy, thorough and helpful.
Cons:
The reporting end is so versatile that I don't know how to easily pull up reports. there are so many ways to filter, which can be a good thing, but I don't know how to pull it up. I wish I could get notifications when someone buys a particular package that I am waiting to get sold.
Pike13 Response
3 years ago
Hi Rebekah, Thank you so much for taking the time to provide a review of our product. We appreciate the comments and the feedback! Thank you, Cindy Schneider Director of Customer Success
Brittnee
Artist Development in US
Verified LinkedIn User
Music, 2-10 Employees
Used the Software for: 1+ year
Avoid... You will thank me later!
Comments: I would not recommend Pike13 to anyone due to their poor customer service and their lack of respect for their clients.
Pros:
Booking Emails: I like the fact that the program sends booking emails on a regular basis. Parents like them for the reminders. Credit Card Processing: It has a nice feature built in that allows credit card processing. They did not tell me upfront that there is a monthly fee associated with it and then said "oh someone should have told you that." Once again, blame game. Documents: The docusign feature is a nice ad on. However, if you want to customize your form, good luck. Pike13 doesn't really want to help you on this and once again try to play the "stupid" card on it. Reports: The reports are nice if you can understand how to use them. They are kinda difficult to get around if your account manager does not explain them in detail.
Cons:
Customer Service Attitude: They don't care once they have your money. Make sure you put a note on your calendar one year out or your service contact will be renewed. Don't expect to speak with anyone over the phone, everything is done through email. On Boarding: I was indifferent about the on boarding process. The guy belittled me several time about coding and whatnot. I was a graphic and website designer by trade and on numerous occasions he talked in circles to try to confuse me. Basically their software doesn't allow for many custom changes and they would prefer to confuse you instead of being straight forward about it. Text messaging: This is not default on the product. I was told that it was. All clients have to enable the feature. When you are dealing with 200+ clients you don't want to have to go through this process with every single client on how to sign up, sign on, go through all of their individualized settings - just to set up a text message. Interface: The interface is very straight forward. There isn't any real customizations on it. You get what you get.
Pike13 Response
4 years ago
Hi Brittnee, Thank you for your review and candor. I am sorry that our service has not met your needs. Your account manager will reach out to you shortly to discuss your cancellation request. Thank you, Cindy Schneider Manager, Customer Success
Michelle
General Manager in US
Music, 11-50 Employees
Used the Software for: 2+ years
Great "real time" scheduling
Comments: Pike13 has everything we need and continues to evolve and change with the business. I really do like the most recent update!
Pros:
This software processed our monthly billing, scheduling, cancellations, and more. If this software went down, we wouldn't be able to operate our business. Thankfully, in the 7+ years I've been using it, I haven't had to worry about that.
Cons:
I wish that we were able to send emails to a whole schedule for the day. For example, if we need to send an informational email to our schedule, we have to do that for each person. We are able to cancel a whole day, just not send them a mass communication without cancelling.
Health, Wellness & Fitness, 2-10 Employees
Used the Software for: 2+ years
Alternatives Considered:
Used Pike13 (formerly FrontDesk) for years
Comments: Overall I was pretty happy the experience, eventually we decided to part ways though.
Pros:
Very stable platform, app made it easy to access / manage remotely.
Cons:
I was a grandfathered user on an older plan - I eventually left since I got tired of having limited access to reports and metrics that would be included if I 'upgraded'
Pike13 Response
2 years ago
Hi Dan, Thank you for taking the time to provide a review even after switching platforms. It is great to hear from all of our customers, past and present. We hope you are doing well. Thank you, Cindy Schneider Director of Customer Success