15 years helping British businesses
choose better software
What is WorkOtter?
For PMOs "WorkOtter is the #1 Rated and Easiest to Use Cloud PPM" Gartner 22'. WorkOtter is a simple PM/RM SaaS for Product/Engineering/IT/Innovation PMOs ready to move from spreadsheets to project, resource, and portfolio management (on easy mode). Includes personal implementation, "Magic" dashboards, JIRA Sync (#1 Rated), MS Project Sync (2-Way), Office 365, and more. Top Features: Ideas, Projects (Gantt, Kanban, RAID Logs), Portfolios (What-If), Time, Capacity Planning, and Financials.
Who Uses WorkOtter?
PMOs | Information Technology | Engineering | New Product Development (Not for Construction, Marketing, or Teams of 10 or Less)
Where can WorkOtter be deployed?
Cloud-based
On-premise
---
About the vendor
WorkOtter
Located in St. Louis, US
Founded in 1998
WorkOtter support
Phone Support
24/7 (Live rep)
Chat
Countries available
Canada, United Kingdom, United States
WorkOtter pricing
Starting Price:
US$10.00/month
Yes, has free trial
No free version
WorkOtter does not have a free version but does offer a free trial. WorkOtter paid version starts at US$10.00/month.
About the vendor
WorkOtter
Located in St. Louis, US
Founded in 1998
WorkOtter support
Phone Support
24/7 (Live rep)
Chat
Countries available
Canada, United Kingdom, United States
WorkOtter videos and images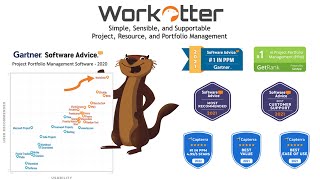 Features of WorkOtter
API
Activity Dashboard
Approval Process Control
Assignment Management
Bar Chart
Billing & Invoicing
Budget Management
Budgeting/Forecasting
Calendar Management
Capacity Management
Change Management
Client Portal
Collaboration Tools
Color Codes/Icons
Commenting/Notes
Cost-to-Completion Tracking
Customisable Templates
Dashboard
Document Management
Drag & Drop
File Sharing
For Creative Agencies
For IT Project Management
Forecasting
Gantt/Timeline View
Idea Management
Issue Management
Kanban Board
Milestone Tracking
Mobile Access
Multiple Projects
Percent-Complete Tracking
Portfolio Management
Prioritisation
Progress Tracking
Project Management
Project Planning
Project Planning/Scheduling
Project Scheduling
Project Tracking
Real Time Notifications
Real Time Updates
Reporting & Statistics
Reporting/Analytics
Reporting/Project Tracking
Resource Allocation & Planning
Resource Management
Resource Request
Resource Scheduling
Risk Management
Skills Tracking
Status Tracking
Tagging
Task Management
Task Progress Tracking
Task Scheduling
Third Party Integrations
Time & Expense Tracking
Timesheet Management
Utilisation Reporting
Visualisation
Web-based Deployment
Workflow Management
Alternatives to WorkOtter
Kristina
Owner in US
Verified LinkedIn User
Environmental Services, 2–10 Employees
Used the Software for: 1-5 months
Reviewer Source
This Was the Right Choice!
Comments: The overall experience has been overwhelmingly exciting, and the people who are involved with this software played a large part in this. The sales officials, support team, and installation guides have all instilled a sense of trust in me with WorkOtter. There were a few confusing moments throughout the learning process, and the staff on-call through WorkOtter really took charge of the situation for us. Every question we have had has been answered and in a satisfying way.
Pros:
There are so many things that I like about this software but just to name a few I would have to say for sure the cohesive way it functions with Microsoft Excel. We are at the beginning of our companies development, and so until diving into this program we have been using strictly Microsoft software to maintain scheduling, data, reports, etc.. The transition has been easy and enjoyable as everything aligns very well with our current documents and what other employees are comfortable using at this beginning stage. Another great thing I have discovered about this software are the interactive visuals within reports. These are great for understanding the flow of finances, the growth (or lack of it) that is taking place, along with the strategies that are underway that are (or aren't) making an impact. Now that I have this tool in front of me, I can better make decisions and in turn, provide more impactful data to the other people on my team.
Cons:
Nothing! It has been such a game-changer within our business in just the few months we have been using it.
Alternatives Considered: LiquidPlanner and Adobe Workfront
Reasons for Switching to WorkOtter: The first reason that WorkOtter caught my attention was how much more affordable it was compared to its competition. What kept my attention was the interaction dashboard options, the visual aids, and the ease of the software overall. I felt like everything else I looked at was quite a bit overwhelming, so when I was exploring the samples from WorkOtter, I was nothing short of impressed by how easily I could navigate through it with no prior experience. That is what made me make the commitment, and I have no regrets.
Hassan
Accounts Manager in UK
Marketing & Advertising, 2–10 Employees
Used the Software for: 1-5 months
Reviewer Source
Unparalleled Efficiency!
Comments: Amazing! The support staff was highly knowledgeable and never pushy, and they didn't burden us with excessive questions to get started.
Pros:
WorkOtter has been an absolute blessing for me as an Accounts Manager and member of a Marketing project management team. The easy-to-build and configure dashboards have allowed me to create a customized workspace that displays the most crucial information for tracking my projects and resources. I liked the resource management and capacity planning features since that let's me set up and view things through my preferred lens. I get a few extra hours of more work done this way and I'm able to keep my projects better on track. I don't really use the iOS and Android mobile view features, but it's still a nifty little nice-to-have feature to have on the go. I imagine it'll come in pretty handy for responding promptly to any urgent matters (although the software works well enough for me that I don't think I'll have much use for it).
Cons:
Working seamlessly so far so absolutely no complaints. Took some wait time to get things up and running but that was really down to us having to switch over our systems well enough to make sure we're getting the best out of the new one as advised by their team.
Alternatives Considered: monday sales CRM
Switched From: Microsoft Excel
Reasons for Switching to WorkOtter: Other than the acutal utility of the product itself, the Open API flexibility feature was a big factor that helped.
Verified Reviewer
Verified LinkedIn User
Hospitality
Used the Software for: 1-5 months
Reviewer Source
Comprehensive project management tool for all project phases
Pros:
The ability to plan a project to a very detailed or very simple level with all options in between. Very adaptable to the level of planning a particular product needs.
Cons:
Single-currency. For international projects it would be very impactful to be able to see fiscal amounts in currencies used, rather than having to manually calculate outside the systems.
WorkOtter Response
5 years ago
Thank you for your response. We appreciate your overall score but some of your sub scores encourages us to do better. Notably - your support experience didn't live up to your expectations. We take great pride in our support (college educated, min 5 years PPM experience, US only, many rounds of testing/interviewing). At WorkOtter our support team is some of our best paying and most appreciated roles (unlike competitors who it is offshore or underappreciated) Kindly contact your Success Manager to elaborate on your experience and we would be happy to address your concerns. We are all here to help you.
Marina
Project Manager in US
Transportation/Trucking/Railroad, 501–1,000 Employees
Used the Software for: 1-5 months
Reviewer Source
A new way to work.
Comments: From the very start I found it easy to get information about pricing options and features. What really ended up selling us on WorkOtter was that they offer a 30-day implementation plan, which is essentially a period in which they help get everything set up for the company and walk you through doing the things you need to do for the business. This was done with very detailed instructions and almost felt like they were ready to hold my hand through the process. I think some of my coworkers really needed it more than I did. Even after that 30-days had ended we found that their support staff were very knowledgeable and helpful when we ran into trouble, even though much of it was just user error on our end.
Pros:
Everything about the website is easy to view and customize in a number of ways. Even the more advanced features are made easy to use. It can import from some of the older methods you might have been using, such as Excel. In the case of Microsoft projects syncing, it works both ways, so you do not have to immediately make a full switch if you have already been using that as changes will sync between the two in real time. This has been a serious bonus for my team. Attachments can be added to comments, threads, and projects. You can even respond to comments directly through the email notifications and it will show up in WorkOtter. I think we are talking about how this can be implemented for direct correspondences with contractors and customers for my organization but that has yet to be determined.
Cons:
I have not really found any cons I can attribute directly to the website. The change has been a little bit off-putting to some of my coworkers, but since we previously used Microsoft Projects for much of this we have been able to easily sync everything between the old and new methods, so people can transition little at a time and at their own pace for the most part.
Alternatives Considered: Smartsheet and Planview ProjectPlace
Switched From: Microsoft Excel
Reasons for Switching to WorkOtter: The pricing and functionality seemed to be more fair.
Stephanie
Project Manager in US
Staffing & Recruiting, 11–50 Employees
Used the Software for: Free Trial
Reviewer Source
So detailed and innovative! Definitely a rising star in the Project Management industry!
Comments: It's been wonderful! The system has all of the necessary features that each user needs to successfully complete their tasks and projects while still being able to handle sudden changes and adjustments. Very smooth transition.
Pros:
The platform is so interactive and capable! The ability to sync from Excel is so helpful, and the fact that you can do it with ease at the click of a button is incredible. But, the most impressive feature was the ability for WorkOtter to give real-time projections of hypothetical scenarios. Absolutely brilliant!
Cons:
Nothing yet! All of the features are relevant and proactive.
Alternatives Considered: Adobe Workfront
Reasons for Choosing WorkOtter: Interactive dashboard and real-time feedback on hypothetical scenarios.
Switched From: Planview ProjectPlace
Reasons for Switching to WorkOtter: It didn't have the same level of interaction and features that are enjoyable with WorkOtter