What Is WorkOtter?
For teams of 10 or more, WorkOtter was the #1 Rated and Fastest Growing Cloud PM in 2020 (Gartner & GetApp). WorkOtter is an easy-to-use solution for Product/Engineering/IT/Innovation PMOs ready to move from spreadsheets to simple SaaS project, resource, and portfolio mgt. with Magic animated dashboards. Include FULL 2-way sync with JIRA, MS Project, Office 365, and more. Top Features: Ideas, Projects (Gantt, Kanban, RAID Logs), Portfolios (What-If), Time, Capacity Planning, and Financials.
Who Uses WorkOtter?
Not suitable for most Construction, Marketing, Professional Service Automation PERFECT For: * Project Management Office * Information Technology Departments * Engineering New Product Development
WorkOtter Details
WorkOtter
Founded in 1998
WorkOtter pricing
Starting Price:
Not provided by vendor
Yes, has free trial
No free version
WorkOtter does not have a free version but does offer a free trial.
WorkOtter Details
WorkOtter
Founded in 1998
WorkOtter videos and images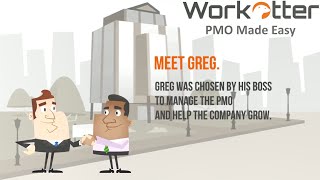 WorkOtter deployment and support
Support
Email/Help Desk
FAQs/Forum
Knowledge Base
Phone Support
24/7 (Live rep)
Chat
Deployment
Cloud, SaaS, Web-based
Android (Mobile)
iPhone (Mobile)
iPad (Mobile)
Training
In Person
Live Online
Webinars
Documentation
Videos
Andrew M.
IT Project Manager, Application Development in US
Verified LinkedIn User
Pharmaceuticals, 201-500 Employees
Used the Software for: 1-5 months
Definitely makes my workflow easier. At various stages of a project I can easily adjust utilization.
Comments: We're saving time and blowing our old time-consuming processes away which drives our profitability.
Pros:
My team's view on our PMO forecasting has never been more positive. WorkOtter lets me easily track and manage the assignments of resources while juggling multiple programs and client needs. None of my other tools have been hindered since I can hook right into MS Project and still provide the other reports my stakeholders are looking for. Plus there are some new reports within WorkOtter that give a new view into the allocation without having to re-schedule planning in another tool. Scheduling the reporting outputs into weekly emails is a cool feature, and has worked well by eliminating standing meetings that previously took too much time to cover the resourcing status to various directors. Team forecasting has greatly improved since being introduced into WorkOtter, and that saves us from finding out from clients where projects are either over or under allocated. Now we have the views to address needs with much more agility. The sandbox tool for project and portfolio planning helps our teams in planning sessions without having to save off multiple baselines before committing to our selected revisions.
Cons:
We really like the ability to configure the questions, fields and layouts of the responsive interface. It would be great if we could apply our own theme to the skin of the layout to match our branding for our internal users.
Kristina H.
Owner in US
Verified LinkedIn User
Environmental Services, 2-10 Employees
Used the Software for: 1-5 months
This Was the Right Choice!
Comments: The overall experience has been overwhelmingly exciting, and the people who are involved with this software played a large part in this. The sales officials, support team, and installation guides have all instilled a sense of trust in me with WorkOtter. There were a few confusing moments throughout the learning process, and the staff on-call through WorkOtter really took charge of the situation for us. Every question we have had has been answered and in a satisfying way.
Pros:
There are so many things that I like about this software but just to name a few I would have to say for sure the cohesive way it functions with Microsoft Excel. We are at the beginning of our companies development, and so until diving into this program we have been using strictly Microsoft software to maintain scheduling, data, reports, etc.. The transition has been easy and enjoyable as everything aligns very well with our current documents and what other employees are comfortable using at this beginning stage. Another great thing I have discovered about this software are the interactive visuals within reports. These are great for understanding the flow of finances, the growth (or lack of it) that is taking place, along with the strategies that are underway that are (or aren't) making an impact. Now that I have this tool in front of me, I can better make decisions and in turn, provide more impactful data to the other people on my team.
Cons:
Nothing! It has been such a game-changer within our business in just the few months we have been using it.
Alternatives Considered: LiquidPlanner and Adobe Workfront
Reasons for Switching to WorkOtter: The first reason that WorkOtter caught my attention was how much more affordable it was compared to its competition. What kept my attention was the interaction dashboard options, the visual aids, and the ease of the software overall. I felt like everything else I looked at was quite a bit overwhelming, so when I was exploring the samples from WorkOtter, I was nothing short of impressed by how easily I could navigate through it with no prior experience. That is what made me make the commitment, and I have no regrets.
Verified Reviewer
Manager of Organizational Development in US
Verified LinkedIn User
Hospitality
Used the Software for: 1-5 months
Comprehensive project management tool for all project phases
Pros:
The ability to plan a project to a very detailed or very simple level with all options in between. Very adaptable to the level of planning a particular product needs.
Cons:
Single-currency. For international projects it would be very impactful to be able to see fiscal amounts in currencies used, rather than having to manually calculate outside the systems.
WorkOtter Response
3 years ago
Thank you for your response. We appreciate your overall score but some of your sub scores encourages us to do better. Notably - your support experience didn't live up to your expectations. We take great pride in our support (college educated, min 5 years PPM experience, US only, many rounds of testing/interviewing). At WorkOtter our support team is some of our best paying and most appreciated roles (unlike competitors who it is offshore or underappreciated) Kindly contact your Success Manager to elaborate on your experience and we would be happy to address your concerns. We are all here to help you.
Yelena P.
Project Manager in US
Verified LinkedIn User
Electrical/Electronic Manufacturing, 201-500 Employees
Used the Software for: 6-12 months
Project Managers Best Friend
Comments: Everyone we have worked with so far have been very knowledgeable, friendly and very eager to help you and your company.
Pros:
As a project manager I always look for an easy way to organize all of my daily tasks. In WorkOtter everything is customizable and extremely user friendly. I can create different projects and keep track of all the tasks in more than one format and I love that. Another feature that I absolutely is that I can export all of my reports in multiple ways, this software seems to be compatible with all other major platforms/softwares.
Cons:
At this point I have zero complains with this software. Its awesome!
Alternatives Considered: monday.com
Reasons for Switching to WorkOtter: After careful review of all the other project management software we decided to go with WorkOtter because its completely customizable, easy to set up and very user friendly, has ability to use different project management styles and very affordable compered to other softwares.
Amy T.
Senior Program Manager in Italy
Financial Services, 10,000+ Employees
Used the Software for: 6-12 months
Incredibly interactive, illustrative, imaginative & engaging. Love it!
Comments: I would say 'WOW '! My experience was really great. It was far more intuitive that I expected. For even an employee of mediocre knowledge, any of our personnel would be able to get up to speed with this very quickly. So our employees wouldn't need to spend an exorbitant amount of time in training.. The reporting is truly amazing & advanced. For example, when you click on the 'reports' dropdown, there are so many great reports to choose from, depending on what our managers are desiring that particular day. This for me is really key. And from what I can tell so far, they are very visually appealing as well (high color, dashboard animations, seeing multiple metrics on the same dashboard, how data bubbles change over time, etc). Overall, I am very pleased with the aesthetics & ease-of-use.
Pros:
I absolutely love that I would have the ability to see different views within the company (ie. Organization overview vs. Project Manager vs. Team Member).. Really nice! I am big on reporting as this is my particular role within my company now, so I LOVE that you have a 'financials' & 'reports' section to be easily found under the "projects" tab. It also appears to be nicely customizable, to change font and/or add in our Logo. The drag-between feature to create dependencies is probably something I would utilize as well. So far it appears to be VERY intuitive & user-friendly. (ie. Can easily extend out a project end-date) And since I mentioned I am big on reporting, I also am happy to hear that there is a 2-way sync with importing from Excel. PERFECT! Our team uses Asana quite heavily, & it looks like the Kanban board is very similar for work flow, so that seems like it would be very easy to utilize. I have 11 years of background in WallStreet, so I really love the 'x-ray' vision in the Roadmap area. Being able to see excess capacity is really amazing too to watch over personnel, & being able to try out the 'what if scenarios' is quite impactful.
Cons:
So far, I have not found anything I do not like. I am big on reporting, & this program has everything I could ask for. Truly
Alternatives Considered: Mavenlink
Switched From: Mavenlink
Reasons for Switching to WorkOtter: Based upon the interactivity, the live-views of reporting, the what-if scenarios, and being able to see personnel hours, Gantt charts, Open API's, for example, are a few of the many reasons why I would choose WorkOtter over the others in the market. There are an incredible amount of reports available to choose from, as well as being able to input a certain kind of report into another. Very engaging software. Highly recommend!