What Is Zapier?
Zapier connects the web apps SMBs use every day so you can save time, reduce tedious tasks, and focus on what matters most. Working with a larger team? Zapier for Companies offers collaboration and security features that let you bring the power of automation to your entire organization. In just a few minutes, you can set up automated workflows that connect over 4,000 of the most popular apps—no code required.
Who Uses Zapier?
Small and mid-sized businesses. Zapier helps business owners, marketers, IT professionals, operations professionals, and more unlock the power of automation.
Where can Zapier be deployed?
Cloud, SaaS, Web-based
About the vendor
by Zapier
Located in San Francisco, US
Founded in 2011
Countries available
Australia, Canada, United Kingdom, United States
Zapier pricing
Starting Price:
US$19.99/month
Yes, has free trial
Yes, has free version
Zapier has a free version and offers a free trial. Zapier paid version starts at US$19.99/month.
About the vendor
by Zapier
Located in San Francisco, US
Founded in 2011
Countries available
Australia, Canada, United Kingdom, United States
Zapier videos and images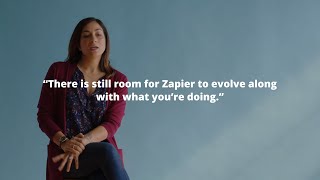 Alejandro T.
Bachelor of Digital Marketing in Mexico
Verified LinkedIn User
Marketing & Advertising, 2-10 Employees
Used the Software for: 2+ years
Zapier the best application integrator
Comments: As a digital marketer, I use many applications that I cannot keep an eye on all day or manually pass information from one application to another and I also need all the data to be synchronized. Zapier makes my day easier, connecting the applications that I use, it executes tasks automatically according to the rules that I establish. I love it helps me save a lot of time and money by hiring programmers.
Pros:
Zapier changed the way I deal with applications and tasks. What I liked the most is the automation of work processes, another of its advantages is that Zapier includes a large list of applications to connect. Also that the Zaps are only executed with a filter rules. The user interface is nice so that anyone with basic knowledge can use it without the need to hire a programmer.
Cons:
The negative aspects of Zapier is that at the beginning it is difficult to take advantage of Zapier, due to the learning curve, the free version is very limited (the number of 'Zaps and applications), also something that I did not like is the customer support that sometimes does not provide solutions.
Alternatives Considered: Integromat
Reasons for Switching to Zapier: Facilidad de uso, precio, documentación y catálogo de aplicaciones.
Lillian G.
Human Resources Generalist in US
Verified LinkedIn User
Hospital & Health Care, 10,000+ Employees
Used the Software for: 2+ years
I love the style of the application
Comments: All the additional functions that Zapier has are very helpful, the style of the application distinguishes it, it is like having a lot of programs in one, also fluid and gives me the availability to add several applications on 1 screen, I have the ability to automate the interaction of reminders and correspondence templates.
Pros:
The most useful feature I have found is that we can integrate meeting applications for our webinar registrations. Since I have used it My experience with Zapier is very good, I was somewhat annoyed to use multiple applications for one task, but this has changed with Zapier, I can gather all these applications on one screen and avoid too much effort at work.
Cons:
In some cases, the syncs or processes that you can configure are just one-way syncs, which is not a good way to set up a two-way sync. Although Zapier has the ability to integrate with other applications, there are some that are limited to their use and that is still a problem to keep in mind.
Vasilis S.
Owner in Ireland
Verified LinkedIn User
Information Technology & Services, 2-10 Employees
Used the Software for: 2+ years
What's wrong with Zapier?
Comments: The payment policy and the 'step to step' policy were a big drawback, and I moved to Integromat.
Pros:
Zapier is a powerful automation tool, including many applications that can automate connections between them. After each step, you can 'fast test' that step, so you proceed. That, however, is not necessarily a plus because you can't move with your idea and leave the problem for later.
Cons:
The problem with Zapier is the pricing policy. They are offering 14 days testing period. That's not precisely generous because 14 days are not enough to test the app. In addition, developers have other things to do, and after the trial period, you can't run your scenarios unless you pay - 19.99 $/m. The free plan offers elementary tasks.
Elena T.
Teacher in Bulgaria
Verified LinkedIn User
E-Learning, Self Employed
Used the Software for: Free Trial
Improving Workflows with Zapier
Comments: This automation tool helps to connect web apps and services. It is appropriate for personal use, as well as for teams (no matter their sizes). Even the basic plan allows you to choose which apps to combine and suggests how to use them interchangeably. The most popular ones, functioning inside Zapier, are Gmail/Google Drive/Outlook (for emails) or Facebook pages/Instagram/YouTube (for marketing). Following two simple steps, trigger and action, you can automate any process between the platforms you use. Moreover, you might start multiple actions with one trigger and get complex workflows. This is the most impactful feature of Zapier, in my view. In addition, there are filters to control the flow. The customer support is excellent. I had some issues activating one of my Zaps; the personal advice I received was timely and accurate. Also, the Outline panel provides tutorials for each step of creating new Zaps and facilitates the process.
Pros:
You can tailor each automation to your business needs (Reporting, Marketing, HR, Customer or Tech support). There are premade workflows- Zap templates. You may use them directly for repetitive tasks or personalize them. Via Formatter, you can convert data into any preferable format- texts, emails, or phone numbers. Businesses might use this information to make spreadsheets of clients' contacts adding scanned business cards automatically (Contact+, Google Sheets, Excel). The SMS tool built into the platform will help you with file management: to download email attachments, to create documents from templates for new projects. Zapier can also facilitate task management: to inform the team on progress, to add assignments to your to-do list. You might share content through social media or automate the monitoring of your channels by keeping track of views, comments, and reviews via apps. Also, you may share events and promote your work across platforms automatically (Eventbrite, Facebook, Splash). Then add the data from emails and registration links to your CRM, answer the inquiries from potential clients, and make them buy your products or services.
Cons:
Some apps might be used as both trigger and action, such as Office 365, Google Calendar, WordPress, and YouTube. Others can be only a trigger (Pay Pal). But there is a third group that cannot function on their own (e.g. LinkedIn). In these cases, activation only happens with other apps as triggers (Facebook or Twitter), which may be considered a drawback.
Teresa T.
Nonprofit Grant Strategist in US
Nonprofit Organization Management, Self Employed
Used the Software for: 2+ years
Big time saver
Pros:
Once you get everything set up, Zapier is a great tool to help workflows run much more smoothly. It can be a little tricky to figure out at first but once you get the hang of it, it's easy to set up.
Cons:
The free version is pretty limited so you'll probably need to upgrade quickly. It's not yet integrated with a couple of the things I use, so hopefully they'll get set up soon. You have to watch out for the rare glitch and be sure things are still connected properly.