What Is Adaptive Planning?
Elevate your budgeting, planning, and modeling with enterprise planning software. Familiar Excel-like sheets streamline the planning process and allow you to drill down into cell values in order to extract and share strategic insights. Configurable options and the ability to create custom calculations within your model give you the flexibility to adapt as your business grows and changes. Workday Adaptive Planning is positioned as a Leader in Gartner's 2019 Magic Quadrant for Cloud FP&A Solutions
Who Uses Adaptive Planning?
Finance and FP&A teams who are still using spreadsheets for budgeting and forecasting, but need an affordable solution to solve for broken links, data integrity issues, and version control errors.
Adaptive Planning Details
Workday
Founded in 2003
Adaptive Planning pricing
Starting Price:
US$15,000.00
Yes, has free trial
No free version
Adaptive Planning does not have a free version but does offer a free trial. Adaptive Planning paid version starts at US$15,000.00.
Pricing plans
get a free trial
Adaptive Planning Details
Workday
Founded in 2003
Adaptive Planning videos and images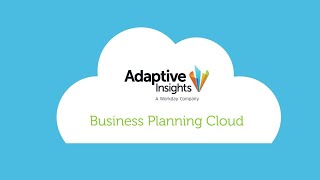 Adaptive Planning deployment and support
Support
Email/Help Desk
FAQs/Forum
Knowledge Base
Phone Support
Chat
Deployment
Cloud, SaaS, Web-based
Mac (Desktop)
Windows (Desktop)
iPhone (Mobile)
Training
In Person
Live Online
Webinars
Documentation
Videos
Features of Adaptive Planning
Ben B.
Verified LinkedIn User
Used the Software for: 2+ years
Source: GetApp
Great Product
Comments: We are going into our third budget cycle using Adaptive and it has made our process much more efficient. Prior to using Adaptive we played budget ping pong, bouncing spreadsheets back and forth and then once we landed on a final version the Finance team consolidated the numbers. Adaptive is great because you can see the impact of a change to the consolidated budget in real time. This is a great software for the Finance team as well as the budget / business managers.
Pros:
There are many great features including: audit trails, notes, role permissions and security, the ability to quickly create versions, great technical support, and it's cloud based.
Cons:
There is a report builder in Adaptive and it's easy to use. However, I do feel like they have focused on making improvements in other areas and the reporting hasn't made as much progress. I do think this is one area that could use some improvements.
Jonny L.
Sr. Analyst, FP&A in US
Computer Software, 51-200 Employees
Used the Software for: 2+ years
An FP&A Dream Tool
Comments: I will always recommend Adaptive to FP&A professionals. Once you use it and truly understand it, I'm sure you will do the same. There is little wonder why they are a leader in the SaaS space.
Pros:
A cloud-based tool that enables you to forecast and budget different scenarios. OfficeConnect (an add-on feature) allows you to create reports directly in Excel and increases overall team efficiency.
Cons:
Setting up Adaptive Insights is a crucial, timely, and difficult process. However, the time you put into building your instance initially saves time and pays dividends in the future.
Alternatives Considered: Vena and Anaplan
Reasons for Switching to Adaptive Planning: Previous positive experience with the product and one that I trust. Didn't see a reason to learn something new for the same price.
Lauren S.
Accounting Supervisor in US
Computer Software, 51-200 Employees
Used the Software for: 1+ year
Source: SoftwareAdvice
Direct Integration with netsuite
Pros:
- direct integration with netsuite -ease of use once established -maintains various types of data including personnel information and financial reporting
Cons:
- inability to run reporting on one entity (only runs in consolidation) - inability to modify reports without creating a new report - functionality to drill into detail is hit or miss
Sameer V.
Systems Accountant in New Zealand
Chemicals, 1,001-5,000 Employees
Used the Software for: 2+ years
Adaptive User
Comments: excellent tool for forecasting, budgeting and reporting
Pros:
Very easy to use and set up as well, also easy to able to be deployed across the business and user training required is minimal.
Cons:
to start with it is cloud based and very easy to begin with
Krystyna L.
Quality Assurance Manager in US
Verified LinkedIn User
Information Technology & Services, 1,001-5,000 Employees
Used the Software for: 1+ year
Source: GetApp
Adaptive Insights impresses even more than expected
Pros:
Our employees were used to working with Excel spreadsheets. We considered such an approach not completely effective, so our choice turned next to Adaptive Insights. There are no restrictions on the size of the documents. This program is synchronized with other applications, including such important for us solutions like SAP and Oracle. We like the high accuracy of the reports we can create on the tool's base. It is also important that all data are in one place and don't require much effort for their processing and analysis. Adaptive Insights is a multifunctional tool with a robust and well-thought-out suite of features. This application allows our employees to track finances, budgets, sales, resources, and labor contribution. With its help, our company's managers are also able to collect divergent data, make various kinds of reports, build models, and make optimal business decisions.
Cons:
It would be better if Adaptive Insights had an opportunity to filter for specific months while working with spreadsheets. This lack of functionality makes our work a bit confusing sometimes. We wouldn't mind adding more advanced features to the planning tools as well. We believe it would behoove this product if it had several tutorial videos on how to use it to the full extent. Even though we find this tool user-friendly, it doesn't mean at all that it is so for every company.