What is SEO PowerSuite?
SEO PowerSuite is a set of 4 tools that help optimize websites, improve content, run backlink campaigns and track your progress. These tools include:
Rank Tracker - to research keywords, track rankings, and analyze competitors;
WebSite Auditor - to crawl and optimize site structure, improve on-page optimization;
SEO SpyGlass - to discover and analyze site's backlinks;
LinkAssistant - to run link building and outreach campaigns.
SEO PowerSuite is cross-platform and multi-lingual software.
Who Uses SEO PowerSuite?
SEO PowerSuite covers every step of an SEO campaign, from rankings to on-page to backlinks. With its intuitive UI and pro-level features, it's a perfect fit for SEO newbies and experts alike.
Where can SEO PowerSuite be deployed?
Cloud, SaaS, Web-based, Mac (Desktop), Windows (Desktop), Linux (Desktop)
About the vendor
Link-Assistant.Com
Founded in 2004
Chat
SEO PowerSuite pricing
Starting Price:
US$299.00/year
Yes, has free trial
Yes, has free version
SEO PowerSuite has a free version and offers a free trial. SEO PowerSuite paid version starts at US$299.00/year.
About the vendor
Link-Assistant.Com
Founded in 2004
Chat
SEO PowerSuite videos and images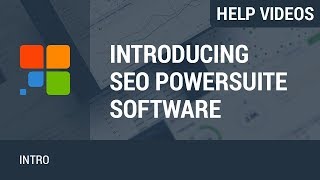 Compare SEO PowerSuite pricing with similar products
Features of SEO PowerSuite
Audit Management
Backlink Monitoring
Campaign Management
Competitive Analysis
Dashboard
Keyword Rank Tracking
Keyword Research Tools
Link Management
Alternatives to SEO PowerSuite
Reviews of SEO PowerSuite
Jason H.
Web Developer in US
Verified LinkedIn User
Computer Software, Self Employed
Used the Software for: 1-5 months
Alternatives Considered:
Great suite of powerful SEO research tools
Comments: I do not perform SEO constantly, it is not my main job. So paying every month for something I do not even use every month really hurts. It's great that I don't have to with this since I was able to get the whole suite for a single price (which was lower than the standard because of a hefty sale, which you may want to wait for another of if you are considering purchasing). I haven't had a chance to fully explore the features but it's obvious that all 4 pieces of software have a lot of features and functionality.
Pros:
I really like that the software is available as a one-time purchase rather than the monthly fee that many SEO tools require. It gives you a LOT of very powerful tools for finding out what your website is ranking for, what you need to focus on, where your links are coming from, good places to try to get links, keyword research, etc. A ton of features, I honestly haven't dug into them all but glad they are there when I need them.
Cons:
I don't love the interface. I realize some degree of complexity is necessary because it is so powerful, but I would prefer a simpler interface for the most common tasks, like looking up keyword difficulty and competition. I would much prefer to do my keyword research on an interface like KWFinder, for example, if it wasn't a monthly fee. I would also prefer if all 4 apps were just combined into 1 app, I'm not really sure the reason for splitting it into 4. However there may be a good reason I'm not aware of.
Joseph K.
CTO and Director of SEO in US
Verified LinkedIn User
Marketing & Advertising, 2-10 Employees
Used the Software for: 1+ year
Alternatives Considered:
The best suite of desktop SEO tools on the market. A pro tool, built by SEO Pros!
Comments: There is no better team or SEO professionalism than SEO PowerSuite. Their customer service is spot on and they truly care about the success of the users. This goes a long way and hope they keep innovating and stay onboard the SEO train. :)
Pros:
I like that I can get just about any SEO data from the analytical tools. It covers all of the ranking factors: On-Page, Off-Page, Technical, and user experience. I like that I can set alerts for any changes that I am keen on.
Cons:
I don't like the fact that there isn't a mobile app to keep track and do some spot checks on the data. I wish there was a Saas or mobile companion.
Baikuntha A.
Managing Director in Nepal
Leisure, Travel & Tourism, 2-10 Employees
Used the Software for: 6-12 months
Definitely worth the money
Pros:
I am an entrepreneur and I have my own website. When it comes to my website SEO, SEO Powersuite has been a long-time resource for me. My favourite aspect is that it provides me with all of the information needed to run a successful SEO campaign. I mostly use the Website Audit feature of SEO Powersuite. I also like its backlinks and link management features. In terms of keyword research, it's ok but not excellent.
Cons:
It is quite slow at times since it is a standalone desktop application. It would be better if it were a cloud-based system.
Verified Reviewer
Director in UK
Verified LinkedIn User
Business Supplies & Equipment, 2-10 Employees
Used the Software for: 2+ years
Some features don't work
Comments: In the early days it was 5/5 however, their total lack of concern for paying customers is worrying. Fix your software! Simple.
Pros:
It is fairly simple to use (when it works)
Cons:
Rank Tracker stopped pulling in SEO info from Google in November 2018. I raised the concern as I am a fully paying customer and was made to feel it was my PC. After playing email ping-pong for close to two months, an SEO Powersuite employee/engineer rang and dialed into my laptop. It appears the issue is Google have changed the look and feel of their dashboards and SEO Powersuite has not updated their system to talk to the Google API key correctly. I was told by SEO Power Suite that 'an update' would be out in about 6 weeks. We are now on week 12 and the software is still broken. As it stands, SEM Rush provides better overall information and suite of tools.
Link-Assistant.Com Response
3 years ago
Thanks for your feedback! First off, we're really sorry to hear you've had issues with the tool and would like to clarify a few things. "Rank Tracker stopped pulling in SEO info from Google in November 2018" It seems, you're talking about the issue with Google MCC accounts. Yes, due to the specific settings of MCC accounts, 3d party tools can't easily integrate with it. However, there's a quick temporary workaround for this - you can add a free non-MCC account and connect it to Rank Tracker. Surely, we understand that this could be not so convenient for some of our users, that's why we're working on the solution that will let you get all the necessary data without connecting any Google Ads account at all. Everything will be processed on our servers and delivered to you instantly without any additional setup. This solution is planned to be released within a few coming weeks. Hope you'll get a chance to try out the updated tool in the nearest time!
Nils V.
Owner / CEO in Netherlands
Marketing & Advertising, 2-10 Employees
Used the Software for: 2+ years
Alternatives Considered:
This is the tool that got my SEO business started
Comments: As a starting agency I had access to some great tools to discover technical website issues, research keyword search volume, difficulty and rankings and look for link opportunities. It's the software that got me started reporting to clients.
Pros:
With a onetime payment you have access to essential tools for any SEO specialist. Being able to accuratly perform Site Audits, keyword research and search for link opportunities makes the difference between an amateur and professional.
Cons:
The software runs on your computer, so you need a fast PC and it makes it harder to schedule audits.