Local product
What Is accessplanit?
accessplanit's configurable training management software is an award-winning, all-in-one solution for training providers designed to help you achieve the results you want.
Functionality: Course Management, Resource Management, Automated Communications, Task Management, Finance & Invoicing, Online Booking & Payment, Learner Management, Reporting, CRM and Sales & Marketing.
Suitable for training teams whether you deliver 100s or 1000s of courses.
Who Uses accessplanit?
Businesses from all market sectors including higher education, trade skills, non profit, professional development, vocational & healthcare, offering instructor led single and multi day short courses
accessplanit Details
accessplanit
Founded in 2001
accessplanit Details
accessplanit
Founded in 2001
accessplanit videos and images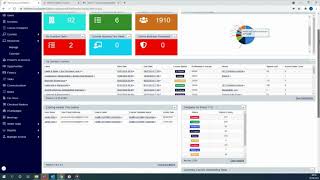 Compare accessplanit pricing with similar products
Starting price
N/A
US$79.00/month
US$1,200.00/one-time
N/A
accessplanit deployment and support
Support
Email/Help Desk
FAQs/Forum
Knowledge Base
Phone Support
Chat
Training
In Person
Live Online
Webinars
Documentation
Videos
John H.
Account Manager & Facilities Manager at Happy Ltd in UK
Verified LinkedIn User
Education Management, 11-50 Employees
Used the Software for: 1-5 months
New to accessplanit and enjoying it so far
Comments: Very smooth - access to the sand box was given a few weeks back and we've been encouraged to play around with it and find our way round the system. The 3 conference calls/webinars I've sat in on have been good but are probably a bit too content-heave for 90 minute sessions - having less content in the allocated time would work better as we skipped a few exercises due to time constraints.
Pros:
The team have built exactly what we've asked for so accessplanit will allow us to move away from 3 different systems we currently use and use one streamlined provider with everything all in the same place which is not only far more convenient but will also save so much time!
Cons:
I've only played around in the sand box so far, not the real system so I'm not really in the best position to judge this and critique it negatively so far.
accessplanit Response
3 years ago
Thank you for your feedback! It's great news that you have been able to centralise your training operations using the accessplanit system
Claire W.
Training Manager in UK
Nonprofit Organization Management, 11-50 Employees
Used the Software for: 2+ years
Improving efficiency
Comments: For a small company AP were very effective in getting us up and running quickly with this software, and good at coaching us through the initial set-up. We had a difficult transition period when the legacy system was switched to the new system, but they were eventually able to give us the support we needed. AP have some very useful hints, tips and 'help' information and are fairly good at letting us know about software releases and glitches.
Pros:
It has extended our automated functionality, allowing us to communicate more efficiently with our customers and save valuable administrative time
Cons:
Have still not got the hang of the easiest way to achieve financial reporting for my company - the finance data slicing could be improved Integration with other systems has not worked so far
accessplanit Response
2 years ago
Thank you for your review. We're very pleased that the accessplanit system is allowing you to communicate more efficiently with your customers and is saving you lots of admin time. We hope that our team is giving you all the assistance with your financial reporting, but please do not hesitate to contact us with any questions or issues you may have.
Katie B.
Training Operations Manager in UK
Nonprofit Organization Management, 11-50 Employees
Used the Software for: 2+ years
Fairly Good System For Simple Businesses
Comments: Communication could be improved. When they identify a fault, sometimes we are left to find this our ourselves.
Overall, the system is good. But as we have quite a complicated range of products in our business it is not as easy to apply the system to this.
Pros:
The ability to have a tidy database where all users/companies are assigned to groups.
Cons:
Over the three years plus that we have had the software, our Account Manager has been great. However, I have mixed reviews regarding customer support. Whilst always very prompt to respond, sometimes it seems that they do not know the system very well.
accessplanit Response
2 years ago
Thank you for your review. We're so glad that you are finding it useful to keep your databases tidy and up-to-date. As regards customer support, we can assure you that all the feedback we get is distributed internally and used to make improvements to our service.
Martin G.
Programme and Compliance Manager in UK
Civic & Social Organization, 2-10 Employees
Used the Software for: 1+ year
FSI
Comments: Generally good - it has revolutionised our charity and the way it operates with increased automation.
Great customer service, personable.
Many of the teething problems we had around implementation have been resolved and a number of improvements have since been made for all customers in the back end
Pros:
Great range of functionality with workflows, allowing for automation Allows us to house our members and manage bookings within the same system. Allows potential for discount schemes and e-learning that will facilitate our learning programme to grow.
Cons:
Can be slower than other apps when internet bandwidth is below standard. Shopping basket could be/look slightly slicker Issue around user with 'individual' permissions not being able to book on behalf of others. Issue around integration between paypal/API - sometimes reporting around invoices/transactions not correct in paypal.
accessplanit Response
3 years ago
I'm so pleased to hear how accessplanit has revolutionised your charity. Thank you for your feedback, it would be worthwhile submitting your recommendations as product suggestions so that they can be reviewed by the product team and voted on by other customers!
Steven H.
Learning and Release Manager in UK
Computer Software, 51-200 Employees
Used the Software for: 2+ years
Accessplanit assisted us in a professional and diligent manner from the very start of our project.
Comments: time saving, better service to clients and increase in business performance and output
Pros:
The ability to complete tasks in a quick and easy process contained within a single system has been invaluable in increasing our business performance and outputs. The flexibility and options now available to our clients has enabled us to provide a more flexible and user friendly environment for them.
Cons:
Certain aspects of functionality are not as easy to use as others and there is a need to understand the relationship of the data in order to do some things, however once this is understood and the process followed the issue is no longer relevant.
accessplanit Response
3 years ago
I'm so happy to hear that you've been able to improve your customer service by using accessplanit!