What Is EZOfficeInventory?
Our leading asset lifecycle management software enables you to create POs, schedule services and manage vendors effortlessly. Easy depreciation management and custom reports help you make well-informed business decisions. Use our mobile app for RFID, Barcode and QR Code scans; gain compliance with regulatory bodies. Location and maintenance histories make this a must for fixed asset management. We are also integrated with Zendesk and Jira. Try Us Out For Free!
Who Uses EZOfficeInventory?
It caters to the needs of different industries by making it easy for them to track all types of items including IT assets, AV equipment, furniture, construction tools, medical equipment, etc.
Where can EZOfficeInventory be deployed?
Cloud, SaaS, Web-based, Android (Mobile), iPhone (Mobile), iPad (Mobile)
About the vendor
by EZOfficeInventory
Located in Leander, US
Founded in 2011
Phone Support
Chat
About the vendor
by EZOfficeInventory
Located in Leander, US
Founded in 2011
Phone Support
Chat
EZOfficeInventory videos and images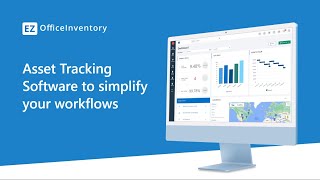 Compare EZOfficeInventory pricing with similar products
Starting price
US$35.00/month
US$1,000.00/year
N/A
US$569.00/month
Features of EZOfficeInventory
Marvin B.
Merchandise Manager in US
Verified LinkedIn User
51-200 Employees
Used the Software for: 1-5 months
Very easy to use and understand. Great user interface. Editing is a breeze!
Comments: This software is taking me from several huge spreadsheets and no photos to a streamlined, searchable, history tracking, photo attached inventory system. No longer do I have to track multiple files and spreadsheets. It is all in one place.
Pros:
It is FAST and very simple to use. I can change records so easily if I need to correct or edit anything. Adding custom fields is great for unique data. Searching is with the ability to search multiple terms at once. Filtering allows me to further 'drill down'. The three different types of items make it simple to separate company owned, client owned and disposable inventory. Adding photos and other documents is also very easy. Managing photos is fairly simple, but see 'cons' below. User permission has a very deep control mechanism allowing viewability to be finely tuned and managed as needed. The cart feature is awesome for checking out multiple items at once. You can then check in the same cart for fast returns. Searching with the mobile app via text, or scanning QR codes is blazing fast. Zero time is wasted waiting on EZO. Any lag is all on me. I use this software to track items in a photo studio, the things that belong to our clients that we are photographing. As such, we must isolate those items so that there is no client crossover. This works great!
Cons:
As of this writing (5/2018) the view is not 'responsive' to your screen size. It is also not possible to manually resize column widths. Some views allow you to hide the right sidebar while others do not. This is promised to be an updated feature coming in 7/2018. When interacting with individual records after a search, it is not possible to return to the search results. The search must be repeated. There is no feature to create shelf barcode or QR code labels. Must use external software, but you can easily link those, one by one.
Lucas P.
Director of Quality in US
Mechanical or Industrial Engineering, 11-50 Employees
Used the Software for: 2+ years
Great Asset Tracking Tool!
Comments: EZ Office has definitely improved our ability to track where all our Assets are and keep track of all their history. We were using an Excel spreadsheet, EZ is much better! The customer support is excellent!
Pros:
The ease of use is great and the learning curve is low. The ability to search and sort for specific assets, the state it is in, where it is, calibration status and ..., is a powerful tool. The ease of editing Services and scheduling services. The App is pretty good too.
Cons:
We are working on a one stop shop for a Packing List, but have struggled to make one Packing List that also includes the miscellaneous items shipping and returning. When an item is updated for its return date, I get 20 e-mails of all the items instead of just one e-mail that includes all the items on 1 Packing List.
EZOfficeInventory Response
2 years ago
Hi Lucas, We hope to find you in good health. We're delighted to hear that your organization switched from manual spreadsheet software to EZOfficeInventory. We're glad that we helped to improve your ability to track assets and maintain an active history. Thank you for the compliments to our customer support team, who try to respond to every query as promptly as they can. If you encounter any concerns in the future, feel free to drop us a message at [email protected] and we would love to assist you.
Adamarie M.
Program Assistant in US
Education Management, 11-50 Employees
Used the Software for: 1+ year
This software will support all of your inventory needs!
Comments: Overall, I am satisfied with this product.
Pros:
Easy to navigate, log inventory, keep track of inventory, and establish a flow of resources across an organization.
Cons:
The methods for labeling items can be tedious as it lacks an automated way to input an asset you have multiple of.
EZOfficeInventory Response
3 weeks ago
Thank you for your feedback. We understand that the product comes with a learning curve and can be tedious in the beginning, but we assure you, should any issue arise, we are constantly available to troubleshoot it for you. In the meantime, we are constantly working on the software to make it a better user experience for you. Please feel free to reach out to us at [email protected] in case you need help. Our customer success team would be glad to address your queries.
Ashlee S.
Technology Services Specialist in US
Civic & Social Organization, 501-1,000 Employees
Used the Software for: 6-12 months
As a new user who has never used similar software, I have many criticisms
Pros:
It is very helpful to be able to look up an asset by serial number, asset id, comments, etc.
Cons:
I find it difficult to process multiple assets at once. For example, when printing tags if the batch is not easily filtered it is difficult to get everything on one download. If I want to print various tags that have nothing in common to filter by then I will have to print each one individually. It has created a situation where a missed asset number will just be abandoned and left in the retired state indefinitely. The function of check in and out has also been abandoned by my company due to the limits on members that can be added as well as the difficulty of keeping up with who should be added or deleted. It has made more sense to note in the comments who has checked out an asset because its far easier to implement and manage. Another note, we have assets that are IT related and non-IT related. It would be very helpful to be able to separate these into groups that may be associated with the admin account related to each department.
EZOfficeInventory Response
last year
Hello Ashlee. Thank you for taking out the time to provide us detailed feedback. You can easily divide your IT and non IT assets on the basis of different groups and locations - the custom roles feature allows you to limit users to only their assigned groups which will in turn restrict non IT members from viewing your IT assets. There are multiple ways to pick assets from different pages but we would like to know more details as to how you are currently using it. We are currently evaluating checkouts against multiple people and we'd love to get your insights on it. We would like you to drop us an email at [email protected] and your assigned solutions consultant will set up a call with you to configure your account in a way that you don't have to face these troubles again.
Eric S.
Head of Operations in US
Entertainment, 2-10 Employees
Used the Software for: 6-12 months
Alternatives Considered:
EZ Office Inventory for Audio Equipment Management
Pros:
Very easy to add and organize assets that are part of our audio equipment inventory that we use at events. The barcode/labeling tools and notification email templates are also very helpful.
Cons:
Our use case is slightly specific so we've had to create some workarounds to fit our process within the bounds of what EZ Office can currently do
EZOfficeInventory Response
2 months ago
Hi Eric, Thank you for your feedback. We're glad that EZOffice is working well for you and helping you with your operations. Please feel free to reach out to us at [email protected] in case you need help. Our customer success team would be glad to address your queries.