What is Nimble?
Nimble is the simple, smart CRM for Office 365 & G Suite that works for you by automatically combining your contacts, communication histories, email inboxes, and calendar appointments with over 250+ SaaS business app contacts and social media connections (including Linkedin, Twitter, Facebook) into one unified team relationship manager.
Who Uses Nimble?
Business Services Media & Internet Retail Software Manufacturing Finance
Where can Nimble be deployed?
Cloud, SaaS, Web-based, Android (Mobile), iPhone (Mobile), iPad (Mobile)
About the vendor
Nimble
Located in Santa Monica, US
Founded in 2009
Chat
About the vendor
Nimble
Located in Santa Monica, US
Founded in 2009
Chat
Nimble videos and images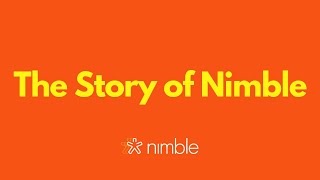 Compare Nimble pricing with similar products
Features of Nimble
Calendar/Reminder System
Contact Database
Contact Management
Customer Database
Customizable Fields
Data Import/Export
Document Storage
Email Management
Email Marketing
For Financial Institutions
For Mac Devices
For Startups
Interaction Tracking
Lead Capture
Lead Management
Lead Qualification
Lead Segmentation
Marketing Automation
Mobile Access
Opportunity Management
Pipeline Management
Predictive Analytics
Reporting/Analytics
Sales Pipeline Management
Search/Filter
Segmentation
Shared Contacts
Social Media Integration
Task Management
Template Management
David M.
Sales Director / Logistics Coordinator in Canada
Verified LinkedIn User
Farming, 2-10 Employees
Used the Software for: 2+ years
Alternatives Considered:
Simple & Effecient
Comments: Overall I have been happy with this product. It keeps evolving and keeps getting, generally better. The customer service is over the top. Quick response, always there if we have a questions. I like that!
Pros:
Easy to assign tags and group the ones you want to use to target specific groups for marketing purposes.
Cons:
New UI for data entry is not as efficient as it used to be. Still simple but simple data priorities such as which phone number is primary is no longer available. You actually need to open the whole contact window to see all the data while before the summary gave the most important info.
Internet, 2-10 Employees
Used the Software for: 1-5 months
Alternatives Considered:
Inexpensive and extensive with small quirks
Comments: Nimble has many benefits for sole proprietors and small businesses.
As long as you don't mind the little things, Nimble is an affordable alternative to other CRM systems.
However, I see an internationalization as difficult, because just such little things like the date format or the week start on Monday are a prerequisite for an international orientation.
Pros:
Perfect Chrome integration Social media connection Multiple email accounts Multiple email senders All integrated Google calendars available Cheap All basic CRM functions
Cons:
English only Date format not changeable (e.g. dd.mm.yyyy) Week start not changeable (always Sunday) Complicated setup Not always logically structured Partially outdated views that do not fit into the overall picture (e.g. calendar)
Computer Software
Used the Software for: 6-12 months
Source: SoftwareAdvice
Mixed results. Flawed, but still the best match for us.
Pros:
We researched ~10 CRM solutions for our small software contracting company (9 people), to help keep track of leads and communications. We have some frustrations with Nimble, but at least as of the last round of reviews it was the best match for our business. Things we like: * Price point is reasonable * Automatic integration with gmail - communications over email with a contact show up with no extra work from us * Automatic integration with social media * Shared information with several people on our team * Reminders to stay in touch with people can be easily created at the same time the contact is created
Cons:
I have a number of frustrations with ranging from small to moderate. They are: 1) Can only integrate one social media account of each type. Fixing this has been "coming soon" for about eight months. Right now it means I need to decide between my business Twitter account (the official face of the company), and my individual Twitter account (which has 20 times as much traffic). I interact with business contacts via both and can only track one. 2) The Deals tracking tool has several deficiences: 2.1) The Deals view is wider than the page, which requires annoying scrolling with an embedded horizontal scrollbar, and you can't see it all at once. (Deals columns: 1570 pixels. Page width: fixed 1200 pixels, even if your browser is 2000 pixels wide.) 2.2) The "stages" of a deal have an arbitrary maximum limit of 99 days in stage. In my industry, initial contacts often turn into paying work 8-12 months later after companies complete fundraising. Nimble can't handle this. 2.3) There's no way to hide or "put on ice" a deal that is suspended temporarily. You can only close the deal as "won" or "lost". See above, I frequently have leads disappear for a year and then come back to hire us. Unless I want to lose the work I've entered, my only option is to keep all possible leads visible in case they come back eventually. 3) Nimble has its own separate contacts database from my Gmail contacts and no tool built in to synchronize them automatically. I have to use a 3rd-party tool to sync them, and it's fiddly to keep working right. Right now, I think it hasn't worked in a couple of months. 4) The Chrome plug-in to help you enter contact info from Gmail or from a web page is inconsistent. Frequently I select or hover contact name or info, but the plug-in doesn't detect it and I end up having to enter the contact manually anyway.
Shasta S.
Property manager in US
Human Resources, 501-1,000 Employees
Used the Software for: 1+ year
Alternatives Considered:
Awsome and easy to use
Comments: Amazing we cant say enough good about it.
Pros:
Its easy for all of our staff tl use and very accurate
Cons:
Nothing we love it and very glad we choose it.
Rishiv R.
Marketing Executive in Nepal
Verified LinkedIn User
Information Technology & Services, 2-10 Employees
Used the Software for: 1+ year
Best CRM
Comments: I am having more and more great experience with this software by using it in daily basics.
Pros:
The thing I like the most about this software is it is efficient and functional. I can see every bit of improvement and all data within few touches.
Cons:
I feel for the beginners it is very difficult to understand and they get lost in this software. Can improve by making it more easy to understand and by solving this issue more clients can be drawn into this.