What Is Nimble?
Nimble is the simple, smart CRM for Office 365 & G Suite that works for you by automatically combining your contacts, communication histories, email inboxes, and calendar appointments with over 250+ SaaS business app contacts and social media connections (including Linkedin, Twitter, Facebook) into one unified team relationship manager.
Who Uses Nimble?
Business Services Media & Internet Retail Software Manufacturing Finance
Nimble Details
Nimble
Founded in 2009
Nimble Details
Nimble
Founded in 2009
Nimble videos and images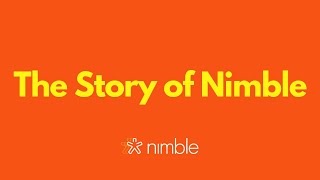 Compare Nimble pricing with similar products
Starting price
US$19.00/month
N/A
US$50.00/month
US$29.00/month
Nimble deployment and support
Support
Email/Help Desk
FAQs/Forum
Knowledge Base
Chat
Deployment
Cloud, SaaS, Web-based
Android (Mobile)
iPhone (Mobile)
iPad (Mobile)
Training
Webinars
Documentation
Videos
David M.
Sales Director / Logistics Coordinator in Canada
Verified LinkedIn User
Farming, 2-10 Employees
Used the Software for: 2+ years
Alternatives Considered:
Simple & Effecient
Comments: Overall I have been happy with this product. It keeps evolving and keeps getting, generally better. The customer service is over the top. Quick response, always there if we have a questions. I like that!
Pros:
Easy to assign tags and group the ones you want to use to target specific groups for marketing purposes.
Cons:
New UI for data entry is not as efficient as it used to be. Still simple but simple data priorities such as which phone number is primary is no longer available. You actually need to open the whole contact window to see all the data while before the summary gave the most important info.
Lisi N.
Website Administrator in US
Marketing & Advertising, Self Employed
Used the Software for: Free Trial
Alternatives Considered:
Nimble Software
Comments: Overall, I like this software, as I am utilizing the free editions, I may buy the professional upgrade.
Pros:
The additional features you can add to your website/webpages. Ease of use and combination elements to insert into pages.
Cons:
At the moment, I can't think of anything. It's exclusive in that no other software has the flexibility to integrate different modules, which when put together create quality pages that look quite professional.
Tolu A.
Digital Marketing Strategist in Nigeria
Verified LinkedIn User
Internet, 2-10 Employees
Used the Software for: 6-12 months
An easy tool for managing my contacts
Comments: I like the features of Nimble and is one of the best CRM tools out there. Its integration with Google workspace and Microsoft 365 is really cool, but its integration with Facebook and LinkedIn isn't as good as it used to be. The interface is intuitive and when it comes it to prospecting and finding new contacts, it is one of my favourite tool.
Pros:
Easy integration with Google workspace and Microsoft 365 Easily import data from excel, gmail, outlook and some social media sites like twitter, LinkedIN Easily add new contacts from across the web Provides me all the data I need about my contacts like finding a social media profile match and other details that can help me prospect better to new clients. It keeps all the communication that I have with my contact so I can easily find pout what stage of negotiations I am in with a new client. I like that the today dashboard is widget-based, as I can easily customise it to suit to my working needs.
Cons:
I could easily link my Facebook account to Nimble and message my contacts directly from Nimble but this feature isn't available anymore. It exports my data and sends it to my email. I believe it should give me the option to have it downloaded straight to my system not just only sending to my mail. There is a limit to the numbers of contact I can store on nimble
Computer Software
Used the Software for: 6-12 months
Source: SoftwareAdvice
Mixed results. Flawed, but still the best match for us.
Pros:
We researched ~10 CRM solutions for our small software contracting company (9 people), to help keep track of leads and communications. We have some frustrations with Nimble, but at least as of the last round of reviews it was the best match for our business. Things we like: * Price point is reasonable * Automatic integration with gmail - communications over email with a contact show up with no extra work from us * Automatic integration with social media * Shared information with several people on our team * Reminders to stay in touch with people can be easily created at the same time the contact is created
Cons:
I have a number of frustrations with ranging from small to moderate. They are: 1) Can only integrate one social media account of each type. Fixing this has been "coming soon" for about eight months. Right now it means I need to decide between my business Twitter account (the official face of the company), and my individual Twitter account (which has 20 times as much traffic). I interact with business contacts via both and can only track one. 2) The Deals tracking tool has several deficiences: 2.1) The Deals view is wider than the page, which requires annoying scrolling with an embedded horizontal scrollbar, and you can't see it all at once. (Deals columns: 1570 pixels. Page width: fixed 1200 pixels, even if your browser is 2000 pixels wide.) 2.2) The "stages" of a deal have an arbitrary maximum limit of 99 days in stage. In my industry, initial contacts often turn into paying work 8-12 months later after companies complete fundraising. Nimble can't handle this. 2.3) There's no way to hide or "put on ice" a deal that is suspended temporarily. You can only close the deal as "won" or "lost". See above, I frequently have leads disappear for a year and then come back to hire us. Unless I want to lose the work I've entered, my only option is to keep all possible leads visible in case they come back eventually. 3) Nimble has its own separate contacts database from my Gmail contacts and no tool built in to synchronize them automatically. I have to use a 3rd-party tool to sync them, and it's fiddly to keep working right. Right now, I think it hasn't worked in a couple of months. 4) The Chrome plug-in to help you enter contact info from Gmail or from a web page is inconsistent. Frequently I select or hover contact name or info, but the plug-in doesn't detect it and I end up having to enter the contact manually anyway.
Verified Reviewer
Manager in US
Verified LinkedIn User
Financial Services, 51-200 Employees
Used the Software for: 2+ years
Adept... umm I mean Nimble
Comments: The support is fantastic! Knowlegable and responsive.
Pros:
I like the quick segmentation of contacts. Create a structured search query through the wizard. Once you get the result set just right, then give it a name and it gets saved as a segment...any new contacts that gain the qualifications to match the query are automatically displayed as part of that segment.
Cons:
Often to do "mass edits" you have to export the records you want to change, edit them in a spreadsheet and then re-import them.