What is Symfact?
Scanmarket is a source-to-contract software (S2C) provider that develops advanced functionalities in an effortless design. Originating from the needs of the end user, Scanmarket's S2C solution is attuned to meet the needs of the procurement professional. We take ownership of customer success with experts at your fingertips to drive user adoption. Digitalize your upstream procurement functions with technology that is built to be used.
Who Uses Symfact?
Purchasing, legal and financial professionals at enterprise level companies.
Where can Symfact be deployed?
Cloud, SaaS, Web-based, Mac (Desktop), Windows (Desktop), Windows (On-Premise), Linux (On-Premise)
About the vendor
Scanmarket
Founded in 1999
Phone Support
Languages
English, French, German
Symfact pricing
Starting Price:
Not provided by vendor
Symfact does not have a free version.
About the vendor
Scanmarket
Founded in 1999
Phone Support
Languages
English, French, German
Symfact videos and images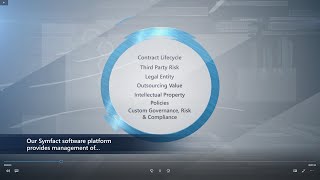 Features of Symfact
Access Controls/Permissions
Alerts/Notifications
Approval Process Control
Attestation
Audit Trail
Completion Tracking
Compliance Management
Compliance Tracking
Contact Management
Contract Drafting
Contract Lifecycle Management
Corporate Structure Management
Document Management
Document Storage
Due Date Tracking
Electronic Signature
Entity Data Management
Full Text Search
Ownership Tracking
Policy Creation
Policy Library
Policy Metadata Management
Pre-built Templates
Reporting/Analytics
Search/Filter
Subsidiary Governance
Version Control
Workflow Management
Verified Reviewer
Open for a new opportunity in Switzerland
Verified LinkedIn User
Used the Software for: 2+ years
Very positive as we could customize it exactly to our needs
Pros:
- I like the flexibility the tool provides as it can be customized to your needs; - Symfact is determined to understand their customer needs and the business they are in and are not just selling a product. - Fast access to key decision makers in the company, very responsive team
Cons:
- Pricing (not the total cost) was at the beginning a challenge due to the pricing metrics they first came up with but after a few meetings and Symfact understanding our challenges we found a good solution.
Vaclav P.
Standards controller in Switzerland
Building Materials, 10,000+ Employees
Used the Software for: 2+ years
Symfact: Legal Entity Management Tool
Comments: My overall experience with Symfact was simply great. There were two key factors of this successful implementation in our organization: 1] We defined very clearly what we want and why. We set "a minimum global standards" = focused on our most important master data. 2] Support from Symfact.
We received outstanding support from Symfact having fully dedicated Project Manager. He was a true partner and not just an assigned consultant. He acted promptly, challenged our proposals and requests, but did not force us into his solutions or ideas.
He was always looking for an optimal solution and passed all relevant best practice experiences to our project team. Our implementation was thus under competent project management and our mottos were: "Keep it simple" / "Less is more" / "Quality and completeness first". I wish to say THANK YOU and advice others to consider above if they decide to implement this tool. Vaclav Pavlu
Pros:
Easy to use, very powerful reporting capabilities, cloud solution which performs robustly across our global operations regardless internet connectivity challenges - mobile solution. We can easy store documents and keep our virtual storage safe.
Cons:
There are not really major cons. We requested a simple effective solution and we got exactly what we asked for. Of course, with more users comes an appetite to further improve reporting and presentation capabilities.
Verified Reviewer
Paralegal in US
Verified LinkedIn User
Real Estate, 51-200 Employees
Used the Software for: 1-5 months
Source: GetApp
Poor customer service
Comments: I had the worst experience with [SENSITIVE CONTENT HIDDEN]. She listens to all your input like she cares and nothing gets done. We've had this software for a year and I can't even use it since I'm still waiting for the [SENSITIVE CONTENT HIDDEN] to get back to us about the changes we requested to tailor the software. It's taking over six months for the programmers to give us the capability of putting in decimal points to go out 6 numbers.
Pros:
Our company needed a software to help maintain the huge database of entities and this software will generate an org chart for you in a snap.
Cons:
Needs a major update and overhaul. For example, when you add a contact, it shows their name and phone number and you have to click their name to retrieve such person's email address. We're in the 21st century. I email more than call people. Small detail as such as the above makes it obvious that they aren't doing much to keep the software current with the times.
Elizabeth F.
Contract & Legal Affairs Manager in US
Transportation/Trucking/Railroad, 1,001-5,000 Employees
Used the Software for: 2+ years
User friendly software, but far the best demo we experiences when looking for a system.
Comments: Ability to customize our process and fields. The implementation (workbook) was more detailed than I imagined, but that was a benefit because it allowed to think through processes not initially on our radar. Our project lead provided exceptional service before and after the implementation.
Pros:
User capabilities is self explanatory. The system and functionality is very clear and simple to administer. Quick response to portal inquiries.
Cons:
It's not a "least" issue about the software, maybe a suggestion for something new in the feature. I'd like to see more default reports and dashboards available vs. the option to self create.
Chris B.
Global Records Manager in US
Used the Software for: 2+ years
Very capable contract management software with custom options
Comments: We received a quality, customizable contract management software that is able to integrate with our internal systems and send critical information to project managers that in the past may have been completely unaware of non-standard terms of engagement - allowing us to better abide by our long-standing contracts.
Pros:
Good combination of fields and tabs for data input, searchability, and various reporting options. We use the reporting in various ways which has been quite valuable to enable us to notify others working on future projects of any unique arrangements we may have agreed to in a master contract.
Cons:
It's been challenging to make updates and improvements as our business grows and we make more use of the product. A large part of this has been a lack of consistency and QA in programming. Another factor could be that the initial people who worked with us passed along the work to others, who do not have the same background/understanding of our needs and uses.