What Is Teamwork?
Work and project management software that helps in-house teams & agencies improve collaboration, visibility, accountability and ultimately results. Teamwork has all the features you need to collaborate effectively, simplify communication and centralize project information to make project management quicker and more efficient. Use Teamwork to manage everything from delivering client projects, to executing marketing campaigns, to sprint planning and website redesigns.
Who Uses Teamwork?
Work and project management software that helps in-house teams & agencies improve collaboration, visibility, accountability and ultimately results.
Teamwork Details
Teamwork.com
Founded in 2007
Teamwork pricing
Starting Price:
US$10.00/month
Yes, has free trial
Yes, has free version
Teamwork has a free version and offers a free trial. Teamwork paid version starts at US$10.00/month.
get a free trial
Teamwork Details
Teamwork.com
Founded in 2007
Teamwork videos and images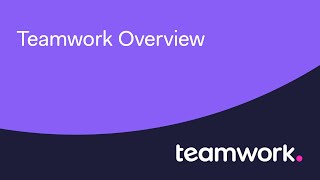 Teamwork deployment and support
Support
Email/Help Desk
FAQs/Forum
Knowledge Base
Phone Support
24/7 (Live rep)
Chat
Deployment
Cloud, SaaS, Web-based
Mac (Desktop)
Windows (Desktop)
Linux (Desktop)
Android (Mobile)
iPhone (Mobile)
iPad (Mobile)
Training
Webinars
Documentation
Videos
Brett G.
US
Verified LinkedIn User
Used the Software for: 1+ year
Source: GetApp
Productivity in full effect
Pros:
Teamwork is great for not only a team of people, but for the individual user as well. I run a small accounting business and I'm my only employee. Teamwork allows me to set up tasks and projects that are both one-off tasks and regularly reoccurring tasks. As I check off the tasks that need to be done today, I can look forward to the rest of the week and get a good reminder of what is coming up. It also allows me to invite clients into the tasks so they can see the status of where I am at in a project we have agreed upon. They can upload documents, make comments. I can use a basic time-tracking tool to make sure I'm not estimating my time spent incorrectly. The extra time I have to spend upfront to get the tasks and templates created is well worth the time when a new client comes along. I don't have to recreate the wheel, or think extra hard at remember what I did last time. I can simply apply a template of tasks for any given project that is needed and we are set and rolling! This is one of the best tools I've discovered for running my practice.
Cons:
For tasks that are set as reoccurring, their display of the tasks isn't the best. I click the task as complete and it immediately populates the next instance of that task right below the one I completed. I have to pay special attention to the tasks for this reason when checking stuff off. I have often checked the next month's task off after clearing the current one. When I uncheck the following month's task as actually not completed, it does not remember the future events that were created, thus making my task list look much larger than it actually is.
Teamwork.com Response
3 years ago
Hi there, Thank you for the review of Teamwork Projects. Kind regards, Nancy at Teamwork.
Junnior G.
Human Resources in UK
Verified LinkedIn User
Consumer Goods, 10,000+ Employees
Used the Software for: 1+ year
teamwork is moving forward and achieving success.
Comments: Teamwork is a creative project organization tool that allows me to increase my workflow and collaborate productively from any place and device, it helps me daily to develop all aspects of a project to have visibility of who is doing what, optimizing team collaboration and eliminating manual work because it has automation and custom templates, it helps me reduce errors, helps me make decisions, improves my team performance, increases my work flow and the confidence with which we all work is Awesome. It has really helped me a lot.
Pros:
I like Teamwork a lot because it is an online project prioritization and organization software to advance teamwork a tool where we can plan and track our activities by developing perfect performance processes with templates a tool where we can carry out creative projects with Complete ease and confidence, it is a safe and easily accessible tool for enhanced planning.
Cons:
Teamwork is a project organization and prioritization software that provides excellent solutions and services for the best development of activities, easily creating project plans from anywhere and any device has worked very well for me so far, I believe that it is headed in the direction correct with easy access and simplicity, I have no dislike so far.
Verified Reviewer
IT Analyst in Portugal
Verified LinkedIn User
Transportation/Trucking/Railroad, 501-1,000 Employees
Used the Software for: 2+ years
Teamwork
Pros:
It is a tool that I use everyday and is a tool very useful for project management because all the team can understand in what state is the project in.
Cons:
For the very beginning it is a tool that is very difficult to understand it is not user friendly.
Halimatun Z.
IT Manager in Malaysia
Verified LinkedIn User
Accounting, 1,001-5,000 Employees
Used the Software for: 2+ years
Project management and collaboration with Teamwork
Comments: Managing and collaborating on project and task with Teamwork is fun and effective for our team and organization.
Pros:
Teamwork is a simple-to-use program that is packed with functionality for collaborating on and managing projects. Notifications are handy. The flexibility to add individuals from multiple parties to work on a project is incredible, and it definitely gives me an edge advantage over other similar PM tools. Teamwork's extension products provided even more benefits and values, thanks to the seamless integration process.
Cons:
When it comes to project management software, if you are looking for extensive project profitability tracking and reporting, Teamwork may not be the best option for you. Recent resource management feature updates give some capacity insights, but they lack the thorough analysis and reports other systems provide.
Alex A.
TMS Solutions Manager in US
Transportation/Trucking/Railroad, 11-50 Employees
Used the Software for: 1+ year
Great Project Management Tool
Comments: My overall experience has been great with Teamwork. Their website has very informative how-to videos & they are always notifying me of new releases. Their customer service team is fantastic and very helpful.
Pros:
This tool has made myself and my team so much more efficient when working on projects together. It keeps us organized and on top of all our outstanding tasks. We can add comments on each task so people know what is going on. Overall this is a great project management tool.
Cons:
At this moment I do not have anything negative to say about Teamwork