15 years helping British businesses
choose better software
Local product
What is Ticket Tailor?
Sell tickets direct to your attendees with a simple to use and feature-rich ticketing platform.
- Flexible plans with no contracts
- Low fees (Pre pay from $0.26)
- Get paid directly via Stripe or PayPal
- Fully customize your box office
- Embed booking forms into your website
- Collect, keep and own your attendee data
- Free check-in app
- Seating charts
- Integrate with your favorite tools
- Discount codes and voucher codes
- Dashboard reporting
- Exceptional customer support
Who Uses Ticket Tailor?
Organizers of events of all sizes, from nightlife events to festivals to conferences to high-school reunions. Anyone looking for a great value, easy to use, fully featured ticketing platform.
Where can Ticket Tailor be deployed?
Cloud-based
On-premise
---
About the vendor
Ticket Tailor
Located in London, UK
Founded in 2010
Ticket Tailor support
Phone Support
24/7 (Live rep)
Chat
Ticket Tailor pricing
Starting Price:
US$0.50/one-time
Yes, has free trial
Yes, has free version
Ticket Tailor has a free version and offers a free trial. Ticket Tailor paid version starts at US$0.50/one-time.
About the vendor
Ticket Tailor
Located in London, UK
Founded in 2010
Ticket Tailor support
Phone Support
24/7 (Live rep)
Chat
Ticket Tailor videos and images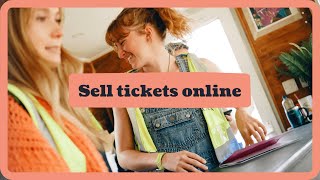 Features of Ticket Tailor
API
Activity Dashboard
Alerts/Notifications
Attendee Tracking
Barcode/Ticket Scanning
Confirmation/Reminders
Contact Management
Customer Data Management
Customisable Branding
Customisable Reports
Discount Management
Electronic Payments
Email Marketing
Event Calendar
Event Management
Event Scheduling
Event Ticketing
Exhibit/Vendor Management
Group Registration
Guest List Management
Mobile Access
Online Payments
Online Registration
Onsite Registration
Payment Processing
Point of Sale (POS)
Promotions Management
QR Codes
Registration Management
Reporting & Statistics
Reporting/Analytics
Reserved Seating
Sales Reports
Seating Map
Self Check-in/Check-out
Social Media Integration
Social Promotion
Third Party Integrations
Ticket Reservations
Ticketing
Alternatives to Ticket Tailor
Jason
Chief Operating Officer in US
Verified LinkedIn User
Broadcast Media, 11–50 Employees
Used the Software for: 2+ years
Reviewer Source
Best value in event ticketing services
Comments: Overall we've used TicketTailor for almost 10 events over the past 2 years and love it. It's the cheapest full-featured ticketing system you'll find, and much easier than hosting your own service to save money.
Pros:
The best thing about Ticket Tailor is the flat fee pricing model. You can charge as much or as little as you want for tickets, and not worry that they are taking a cut of every ticket sold. Especially for expensive tickets, this amounts to hundreds of dollars in savings.
Cons:
There are a few use cases that I've come across for which it isn't ideal, but I've contacted the developers and they are very helpful with taking suggestions and offering ideas. I will freely admit that some of my use cases are fairly esoteric, so if you're just doing a fairly normal event you should have no issues.
Alternatives Considered: Eventbrite
Reasons for Choosing Ticket Tailor: CiviCRM worked fine but it was a lot of effort to keep updated and customized for our needs. We hosted it on our own server.
Switched From: CiviCRM
Reasons for Switching to Ticket Tailor: We had fairly expensive events so any service that took a percentage of ticket prices was off the table.
Kathy
Executive Director in US
Verified LinkedIn User
Environmental Services, 2–10 Employees
Used the Software for: 6-12 months
Reviewer Source
A hidden treasure - Ticket Tailor has been critical in my organization's response to covid
Comments: My nonprofit organization relies heavily on visitor admission revenue to help advance our mission. We were closed for a year due to covid, which impacted us heavily. This year, we sought a solution to be able to open safely. One of our solutions was online, timed ticketing. I researched various options and found Ticket Tailor, which was listed as integrating with my Weebly website. I'm so glad I found this solution! Not only did it work well for our purposes, but the customer service they provide is excellent! They even had articles on implementing timed ticketing - just what we were looking for. The "chat" is always helpful and they always have ideas for how to use the program to do what I want it to do. And their regular updates are actually... Helpful! Always adding features or tweaking elements that make the program work just that bit better. They are affordable and responsive. I highly recommend Ticket Tailor.
Pros:
Ticket Tailor is easy to use and has excellent customer service. Any time I need help with doing something, they respond quickly. Also, they truly listen to their customers and make regular, helpful updates. I like the ease of use, ease of creating events and ticket options, ability to embed in my website, ability to customize events and communications, and so much more. The software is very affordable, and you can pass on the ticketing fees which is very common practice these days. It's a great platform!
Cons:
It's hard to say because I love this software. Reporting could be a little more robust, although it is similar to other types of platforms (e.g., online sales). Integration with a few more software platforms, such as more options for emailing, would be helpful. Much of what I would have said "like least" when I first started using the platform have already been addressed in the company's software updates!
Alternatives Considered: Tessitura and Eventbrite
Reasons for Switching to Ticket Tailor: It looked more user friendly and was more economical.
Rachel
Founder & Owner in UK
Events Services, Self Employed
Used the Software for: 6-12 months
Reviewer Source
Game changing process
Comments: I can't recommend Ticket Tailor more highly. It's literally changed my life! As new micro community business owner, I'm not yet earning much money and can't really justify a website, but then I found Ticket Tailor. It behaves like a website and acts as a platform for me to promote my community events. It's very user friendly and it's easy to edit details, duplicate events, change tickets, customise the message the customer receives after they've booked etc. But when I do get a website, it will intergrate within it. Plus Ticket Tailor has loads of features I haven't yet explored properly like adding products to upsell and creating a private community. Its more straightforward than Eventbrite and I love all the customisable options. 10/10 from me!
Pros:
Everything! From ease of use, to customisations, to branded colours etc, to choice of integrations, to scanning in app, to transparent costs, to customer service.
Cons:
I'd like to be able to add details of sponsors for my events.
Michelle
Event Coordinator in US
Food & Beverages, 11–50 Employees
Used the Software for: 2+ years
Reviewer Source
Excellent Price
Comments: Overall, for the price it does the function necessary for a lower price that other platforms. If the platform was a little easier to use and easier for customers to find this would be helpful.
Pros:
As a small business owner, I love the low ticket fees and functionality of being able to sell a ticket online. I've used this software for lots of events.
Cons:
The ease of use and look of the software is not as nice as their competitors. Ticket tailor does not easily allow customers to find tickets without a direct link. Other platforms allow customers to easily find tickets when searching online.
Alternatives Considered: Brown Paper Tickets and Eventbrite
Reasons for Switching to Ticket Tailor: Price
Real Estate, 501–1,000 Employees
Used the Software for: 1-5 months
Reviewer Source
Ticket Tailor solved a difficult problem and did it easily
Comments: Absolutely outstanding solve a problem, which we have been trying to solve for several years and did it easily and quickly
Pros:
Overall ease of use, high level of support
Cons:
There is nothing I dislike about TT. It works splendidly does what it supposed to do has caused us no difficulties whatsoever in implementation and use.