What is Spiceworks?
The Spiceworks IT Help Desk is purpose-built for IT pros, we have just what you need to run a better internal IT help desk and a better business. Start tackling tickets in minutes with free help desk software (on your server or in the cloud). Plus, it's more than just ticket tracking: understand (and change!) team behavior and articulate your value to the business. Get it free today!
Who Uses Spiceworks?
IT pros! There's nothing better than making our IT profesional's lives easier. No matter if you're a CTO, IT manager, IT support specialist, or sysadmin - Spiceworks has something for you.
Where can Spiceworks be deployed?
Cloud, SaaS, Web-based, Windows (Desktop), Windows (On-Premise), Linux (On-Premise), Android (Mobile), iPhone (Mobile), iPad (Mobile)
About the vendor
Spiceworks Ziff Davis
Founded in 2006
Chat
Languages
English, German
About the vendor
Spiceworks Ziff Davis
Founded in 2006
Chat
Languages
English, German
Spiceworks videos and images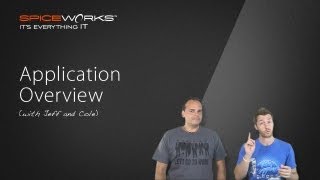 Compare Spiceworks pricing with similar products
Features of Spiceworks
Access Controls/Permissions
Activity Monitoring
Alerts / Escalation
Alerts/Notifications
Asset Tracking
Assignment Management
Baseline Manager
Capacity Management
Change Management
Compliance Management
Configuration Management
Customer Support
Dashboard
Diagnostic Tools
Help Desk Management
IT Asset Management
IT Reporting
Incident Management
Inventory Management
Issue Auditing
Knowledge Management
Maintenance Scheduling
Network Monitoring
Patch Management
Problem Management
Remote Access/Control
Reporting/Analytics
Resource Management
Root Cause Analysis
Self Service Portal
Service Level Agreement (SLA) Management
Task Management
Ticket Management
Uptime Reporting
Workflow Configuration
Alternatives to Spiceworks
Robert
Systems Administrator in Canada
Verified LinkedIn User
Food & Beverages, 51-200 Employees
Used the Software for: 2+ years
Ideal free helpdesk for small to medium businesses
Comments: Overall I have been very happy with Spiceworks, especially the community of users.
Pros:
It's impossible to beat the cost of free. The product is well designed and functions extremely well for the job it is designed for.
Cons:
Larger IT departments won't be able to route tickets to specific teams. It would be very nice if spiceworks could expand its offering to include sub service desks etc.
Shipbuilding, 51-200 Employees
Used the Software for: 2+ years
Alternatives Considered:
Spiceworks - Ticket management
Comments: It is actually hosted by Spiceworks, so nothing local. Setup was very simple. It is used everyday. I can create tickets, there is a page for users to create tickets and they can be created via email. Once a ticket is created, you are notified by email. Very useful and simple.
Pros:
It is free. It works better than some of the others that I have tried. It is completely configurable for whatever category you need. Always works. Perfect for a simple ticketing system.
Cons:
Since it is free, there are ads that show on website. Not really an issue. Not as granular as some of the others.
Aslam
Sr Systems Administrator in United Arab Emirates
Business Supplies & Equipment, 51-200 Employees
Used the Software for: 2+ years
Simple Ticketing tool that gets the job done.
Pros:
Simple and effortless tool to manage tickets.
Cons:
Ads occupy a lot of space. Streamlining it and sprucing up with a new ui would be incredible.
Josh
IT Support Specialist in US
Used the Software for: 2+ years
Awesome IT Help Desk software, horrible inventory system.
Pros:
Spiceworks is great for managing help desk tickets. Using HTML we've been able to customize our end-user portal. Create multiple ticket templates to capture the details we truly need from end-users. We have found that the mobile application for iOS and Android to be the best on the market. It has a great GUI, very user friendly, informative, and easy to set up.
Cons:
The inventory system is lacking when it comes to producing accurate information. At one point this year we were upgrading our end users to dual monitors. We attempted to use Spiceworks to produce the make and model of the current monitor the end users were using. It came back telling us a generic description. I ended up writing a batch file that would obtain them remotely and that was accurate. We've also had issues where it would scan a computer that had 2 monitors but would only show one. We also went through a license key audit and thought we could rely on Spiceworks to produce accurate results. It ended up showing us that several computers had 3 iterations of office installed. I understand that these keys are in the registry but other similar scanners would only produce keys for whats actually installed on the workstation by cross-referencing installed applications and registry keys. We recently have been experiencing issues where Spiceworks would attempt to scan 180 assets and it would fail to complete the scan without errors. We found this out by using WSUS to determine how many computers we had and Spiceworks was off by 30 assets of the 180. At least twice a week it also locks up and our end users can't access the help desk portal to submit tickets. We've chosen to use LanSweeper to track assets. LanSweeper produced accurate results in a fraction of the time Spiceworks produced incomplete results. Spiceworks took 8+ hours, LanSweeper <30 minutes.
Jeffrey
VoIP Operations Manager in US
Telecommunications, 2-10 Employees
Used the Software for: 1-5 months
Spiceworks Helpdesk - A great option for small business or a start up operation.
Comments: I have used spiceworks in a both a large corporate enterprise as well as in my current role with a small startup and both cases the software just works and functions as intended. A few tweaks here and there could make this software perfect but in any case it is a goto software for me.
Pros:
I loved that the price is free! This makes a huge impact to the success of a startup or small company. The other key feature is the fact that the product works. It functions exactly how a ticket system should function.
Cons:
I hate that it is so difficult to be able to get our clients to use the site. This is primarily because routing the DNS information from our domain to their site is cumbersome at best. If they provide a simpler way to route your domain to their site it would improve the offering and would even be worth a few dollars per month for this functionality.