What is AKARION Compliance Cloud?
AKARION has developed outstanding and unique software solutions for Compliance & GRC since 2017.
With our AKARION Compliance Cloud, you can manage numerous regulatory requirements with just one solution. It combines proven best practices, innovative design and state-of-the-art software development. With freely combinable modules and an intuitive user interface in the area of compliance software, you can master your compliance challenges easily, quickly and cost-effectively.
Who Uses AKARION Compliance Cloud?
Ideally suited for all small and medium-sized enterprises. We have success stories in all sectors: manufacturing, media, infrastructure and energy, public sector or ecommerce.
Where can AKARION Compliance Cloud be deployed?
Cloud, SaaS, Web-based
AKARION Compliance Cloud videos and images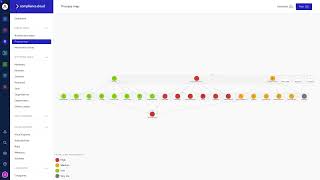 Compare AKARION Compliance Cloud pricing with similar products
Features of AKARION Compliance Cloud
Action Management
Alerts/Notifications
Anonymous Feedback
Archiving & Retention
Audit Management
Audit Planning
Business Impact Analysis
Case Management
Compliance Management
Compliance Tracking
Controls Audit
Corrective and Preventive Actions (CAPA)
Dashboard
Forms Management
Incident Management
Incident Reporting
Inspection Management
Mobile Access
Plan Development
Process/Workflow Automation
Reporting/Analytics
Response Management
Risk Assessment
Risk Management
Risk Reporting
Risk Scoring
Secure Data Storage
Task Management
Version Control
Workflow Management
Alternatives to AKARION Compliance Cloud
Reviews of AKARION Compliance Cloud
Reviews by company size (employees)
<50
51-200
201-1,000
>1,001
Government Administration, 501-1,000 Employees
Used the Software for: 2+ years
All-In-One Datenschutz- und Whistleblowinglösung
Comments: Sehr durchdachte und intuitive Software für das Management des DSMS. Hochagiles Team von Entwicklern, die schnell auf gesetzliche Änderungen und Kundenwünsche eingehen. Das beste Feedback kam wohl in Form der positiven ISO 27701 Zertifizierung des DSMS, in welchem das Produkt ebenfalls unter die Lupe genommen wurde.
Pros:
- Intuitiver Aufbau - auch nicht IT affine Benutzer finden sich im Produkt schnell zurecht - SAS Lösung - keine langen Implementierungszeiten, schnell verfügbar und einsatzbereit - Vorlagen zur Multiplikation auf mehrere Instanzen - Übersichtliche Darstellung der Datenflüsse und TOMs - Übersichtliches Management der Auftragsdatenverarbeiter inkl. Vertragsablage - Adaptives Whistleblowingsystem
Cons:
- IP Beschränkung (Zugriff nur aus dem Unternehmen) nicht möglich - AD Anbindung nicht möglich --> eigene Userverwaltung erforderlich