What Is Publifix?
Publifix.net is a press release distribution platform, used daily by hundreds of journalists. Our cloud-based solution allows PR Teams from any size and across very different industries, to create in just a few clicks, content collections segmented by geographic area and category, which are available for free to all publishers affiliated with our platform.
Features include press release distribution , download notifications, content update alerts, analytics and media search functionality.
Who Uses Publifix?
Publifix.net is designed for public relations agencies and communications teams of companies across many different industries, including hospitality, entertainment, technology, education and more.
Publifix Details
Publifix Network
Publifix Details
Publifix Network
Publifix videos and images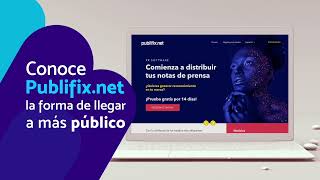 Compare Publifix pricing with similar products
Starting price
US$49.00/month
US$50.00/month
N/A
US$20.00/one-time
Publifix deployment and support
Support
Email/Help Desk
FAQs/Forum
24/7 (Live rep)
Chat
Training
Live Online
Webinars
Documentation
Videos
Mario A.
Editor in Mexico
Verified LinkedIn User
Online Media, 2-10 Employees
Used the Software for: 1+ year
Una ayuda valiosa para los nuevos medios
Comments: El recibir un resumen de contenidos nos ayuda a ahorrar tiempos y por ende dinero
Pros:
Cuando llega a mi correo ya se que es informacion util para mis medios Practico en cuanto a la administracion
Cons:
A veces el publisher envia imagenes en alta calidad y tardo en bajarla Fuera de eso Publifix es una gran herranienta
Publifix Network Response
last week
Hola Mario, gracias por enviarnos tus comentarios, es valioso para nosotros conocer el punto de vista de los periodistas que utilizan la plataforma. Trabaremos en una solución que muestre una señalización de los archivos en alta calidad, esto con el objetivo de facilitar a los editores la descarga de contenidos.
Tania A.
Relaciones Públicas in Mexico
Public Relations & Communications, 11-50 Employees
Used the Software for: 1-5 months
Un gran soporte para agencias de Relaciones Públicas
Comments: Desde que inició el proyecto tuve la oportunidad de probar la herramienta y en un año ha mejorado mucho la forma de navegación, más recursos y sobre todo el seguimiento al cliente que en cuanto hay alguna duda el feedback es casi inmediato. Como herramienta para agencia es clave te da visibilidad en medios que no siempre tienes ubicado, funciona bien siempre que no sean temas super de nicho.
Pros:
Es muy intuitivo, fácil de navegar y los reportes que se generan dentro de la plataforma así como las notificaciones de descarga de contenidos son de gran apoyo en el proceso de ubicar nuevos medios, o periodistas que siguen cierto tipo de contenidos. El acceso a los contenidos o colecciones es clave pues puedes ver todo el material que como usuario has subido y puedes actualizar los documentos o imágenes de manera sencilla. Otro punto clave es la segmentación restringida pues te da la posibilidad de llegar solo a los medios de cierto mercado y no generar volumen de descargas en países donde no necesitas cobertura
Cons:
La opción de editar contenidos especialmente documentos en word, en lugar de bajar y subir el contenido.
Publifix Network Response
last week
Hola Tania, ¡Muchas gracias por tu feedback! Apreciamos tus comentarios positivos y pondremos especial atención en los puntos de mejora que nos comentas. Hemos recibido comentarios recurrentes respecto a una funcionalidad que permita editar textos dentro de la misma plataforma, es un tema que ya estamos revisando con el equipo de producto. ¡Gracias!
Ilse M.
Gerente de Contenidos in Mexico
Online Media, 51-200 Employees
Used the Software for: 6-12 months
Buenos contenidos
Comments: He obtenido buena información para compartir con nuestra comunidad, de calidad. Si bien somos un medio de nicho y solo he ocupado contenidos que se relacionen específicamente con nuestra fuente, los boletines que comparten por correo con las actualizaciones son de interés. las fotografías también son de buena calidad, lo que se agradece cuando son temas específicos y nos facilita la labor de buscar en bancos de imágenes. Pero desearía que la UX fuera más sencilla, para llegar al contenido en menos clics.
Pros:
La plataforma es de muy fácil navegación y los contenidos que se comparten en ella son buenos, bien redactados y de mucho interés.
Cons:
Podría mejorar la forma en la que accedes al archivo final para hacerlo mucho más amigable y en menos clics.
Publifix Network Response
last week
Hola Ilse, muchas gracias por tomarte unos minutos para compartir tu reseña de Publifix. Por supuesto tomaremos muy en serio tus comentarios respecto a la experiencia de usuario y buscaremos alternativas que permitan a los periodistas llegar al contenido indicado, en el menor número de clicks posible. Valoramos mucho tu retroalimentación.
Maria O.
Founder & CEO in Mexico
Hospitality, 2-10 Employees
Used the Software for: 1+ year
Lo super recomiendo
Comments: Me encanta la plataforma y la super recomiendo. Es facil de usar y te da acceso a muchisimos medios en diferentes paises. Lo que mas me gusta es su disposiscion de ayudar y mejorar el sitio, siempre estan viendo como lo pueden hacer mejor.
Pros:
Me encanta la facilidad con la que puedes subir contenido, que puedas tener varias publicaciones en diferentes idiomas al mismo tiempo. Que puedas llegar a muchos medios de varios segnemtos en muchos paieses al mismo tiempo. te ahorra el buscar quien te puede publicar y el costo que tendrían las publicaciones. Es una super herramienra.
Cons:
Todo la verdad es que me gusta. Y lo que siento que podrían hacer más facil o user friendly ya lo estan desarrollando :)
Publifix Network Response
last week
Hola María, agradecemos mucho el tiempo que te tomaste para compartir tu experiencia en Publifix. Nos alienta que te sientas satisfecha con la plataforma y sin duda continuaremos trabajando para poder ofrecerles más y mejores funcionalidades. Nuevamente muchas gracias por tu retroalimentación.
Valentín F.
Editor in Mexico
Hospitality, 201-500 Employees
Used the Software for: 2+ years
Noticias cuando las necesitas
Comments: Muy buena. Me ayuda mucho en el trabajo periodístico
Pros:
Que es muy sencillo de operar y que cuenta con muy buena calidad en información y fotos.
Cons:
Que a veces tarda en refrescarse la información
Publifix Network Response
last week
Hola Valentín, apreciamos mucho el tiempo que te tomaste para compartir tu reseña sobre Publifix. Conocer de primera mano la experiencia de los periodistas al operar la plataforma, nos permitirá descubrir nuevas oportunidades para mejorar. Tomaremos en cuenta tu comentario respecto a la carga de información, nuestro equipo de soporte esta tomando acciones para ofrecerte una navegación óptima. Muchas gracias.