What is Publifix?
Publifix.net is a press release distribution platform, used daily by hundreds of journalists. Our cloud-based solution allows PR Teams from any size and across very different industries, to create in just a few clicks, content collections segmented by geographic area and category, which are available for free to all publishers affiliated with our platform.
Features include press release distribution , download notifications, content update alerts, analytics and media search functionality.
Who Uses Publifix?
Publifix.net is designed for public relations agencies and communications teams of companies across many different industries, including hospitality, entertainment, technology, education and more.
Where can Publifix be deployed?
Cloud, SaaS, Web-based
About the vendor
Publifix Network
24/7 (Live rep)
Chat
Languages
English, Spanish
Publifix pricing
Starting Price:
US$49.00/month
Publifix offers a free trial. Publifix paid version starts at US$49.00/month.
About the vendor
Publifix Network
24/7 (Live rep)
Chat
Languages
English, Spanish
Publifix videos and images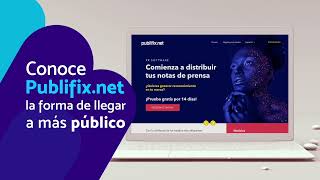 Compare Publifix pricing with similar products
Features of Publifix
Campaign Analytics
Clippings Management
Communication Management
Contact Database
Contact Management
Content Library
Digital Asset Management
Email Distribution
Monitoring
Press Monitoring
Press Release Builder
Real Time Data
Reporting & Statistics
Search/Filter
Adriana G.
Directora Ejecutiva in Mexico
Verified LinkedIn User
Broadcast Media, 51-200 Employees
Used the Software for: 6-12 months
Buenos contenidos y de gran calidad
Comments: Ha sido muy buena, podemos seleccionar los contenidos que van de acuerdo al perfil de la revista y generalmente son de buena calidad.
Pros:
Publifix se ha convertido en una gran herramienta para Brand PR Magazine, ya que cuenta con una gran variedad de contenidos que nos han servido para complementar la información que se publica en la revista. Se ha convertido en nuestra agencia de noticias preferida por su calidad.
Cons:
Que en ocasiones los contenidos no cambian, recomiendo hacer una actualización de temas. Si un artículo no tiene una buena recepción, hay que volverlo a redactar dando otro giro para que los medios puedan utilizarlo.
Publifix Network Response
5 months ago
Hola Adriana, gracias por tomarte unos minutos y compartir tu experiencia, es grato saber que tu medio de comunicación ha encontrado en Publifix.net acceso a contenidos editoriales de calidad. Si bien todos los contenidos de la plataforma los suben nuestros clientes, seguiremos buscando las mejores alternativas para que la oferta de temas sea lo más actualizada posible. Muchas gracias
Tania A.
Relaciones Públicas in Mexico
Public Relations & Communications, 11-50 Employees
Used the Software for: 1-5 months
Un gran soporte para agencias de Relaciones Públicas
Comments: Desde que inició el proyecto tuve la oportunidad de probar la herramienta y en un año ha mejorado mucho la forma de navegación, más recursos y sobre todo el seguimiento al cliente que en cuanto hay alguna duda el feedback es casi inmediato. Como herramienta para agencia es clave te da visibilidad en medios que no siempre tienes ubicado, funciona bien siempre que no sean temas super de nicho.
Pros:
Es muy intuitivo, fácil de navegar y los reportes que se generan dentro de la plataforma así como las notificaciones de descarga de contenidos son de gran apoyo en el proceso de ubicar nuevos medios, o periodistas que siguen cierto tipo de contenidos. El acceso a los contenidos o colecciones es clave pues puedes ver todo el material que como usuario has subido y puedes actualizar los documentos o imágenes de manera sencilla. Otro punto clave es la segmentación restringida pues te da la posibilidad de llegar solo a los medios de cierto mercado y no generar volumen de descargas en países donde no necesitas cobertura
Cons:
La opción de editar contenidos especialmente documentos en word, en lugar de bajar y subir el contenido.
Publifix Network Response
5 months ago
Hola Tania, ¡Muchas gracias por tu feedback! Apreciamos tus comentarios positivos y pondremos especial atención en los puntos de mejora que nos comentas. Hemos recibido comentarios recurrentes respecto a una funcionalidad que permita editar textos dentro de la misma plataforma, es un tema que ya estamos revisando con el equipo de producto. ¡Gracias!
Online Media, 11-50 Employees
Used the Software for: 1+ year
A veces no se encuentran los comunicados que vienen anunciados en el correo electrónico.
Comments: La dificultad para tener que descargar todo para verlo, a ver si tiene interés para la audiencia, quita mucho tiempo.
Pros:
Reúne información de diversas industrias, pero de repente como está catalogado es complicado encontrar la información.
Cons:
Que es complicado encontrar la información y hay que descargar todo para poder verlo
Ángel P.
Senior Editor in Mexico
Investment Banking, 11-50 Employees
Used the Software for: 1+ year
Publicando valor de Publifix
Comments: En general mi experiencia en el uso de Publifix es satisfactoria y le doy un 10 por el servicio que se nos proporciona.
Gracias!!
Pros:
Tiene fácil acceso siempre y cuando te hayas registrado adecuadamente. No obstante, de pronto te impide ingresar y debes registrarte de nuevo, pero la facilidad del software es que en cuanto aportas de nuevo tus datos estás adentro. La publicación de fotos es acertada porque permite, cuando pretendes publicar, ilustrar la información. En cuanto al menú es amplio y adecuado a tus necesidades. Tal vez sería conveniente más temas de ecología y salud. Podrían agregar historia de vida, es decir experiencias acerca de los productos que se difunden. Otra ventaja que nos ofrece, como editores de periódicos o revistas, es que las publicaciones se "replican" en otros países.
Cons:
De pronto, la página no permite el ingreso para tomar información. Aunque al reinscribirte vuelves a entrar sin problema. Entiendo que este proceso es por seguridad, pero para los que ya tenemos más de un año con su uso, podría facilitarnos dejándonos ingresar de forma permanente y sin problemas.
Maria O.
Founder & CEO in Mexico
Hospitality, 2-10 Employees
Used the Software for: 1+ year
Lo super recomiendo
Comments: Me encanta la plataforma y la super recomiendo. Es facil de usar y te da acceso a muchisimos medios en diferentes paises. Lo que mas me gusta es su disposiscion de ayudar y mejorar el sitio, siempre estan viendo como lo pueden hacer mejor.
Pros:
Me encanta la facilidad con la que puedes subir contenido, que puedas tener varias publicaciones en diferentes idiomas al mismo tiempo. Que puedas llegar a muchos medios de varios segnemtos en muchos paieses al mismo tiempo. te ahorra el buscar quien te puede publicar y el costo que tendrían las publicaciones. Es una super herramienra.
Cons:
Todo la verdad es que me gusta. Y lo que siento que podrían hacer más facil o user friendly ya lo estan desarrollando :)
Publifix Network Response
5 months ago
Hola María, agradecemos mucho el tiempo que te tomaste para compartir tu experiencia en Publifix. Nos alienta que te sientas satisfecha con la plataforma y sin duda continuaremos trabajando para poder ofrecerles más y mejores funcionalidades. Nuevamente muchas gracias por tu retroalimentación.