What Is Soapbox?
Soapbox is an award-winning training design tool that makes it easier and faster to create more effective training programs. Soapbox helps users hone in on their learning objectives and identify the best activities to achieve results. The fully customizable facilitator guide, slides, and handouts make it easier to go from training need to training solution.
Who Uses Soapbox?
HR and L&D teams between 1 and 20 find Soapbox to be a critical timesaver.
Soapbox Details
Endurance Learning
Soapbox Details
Endurance Learning
Soapbox videos and images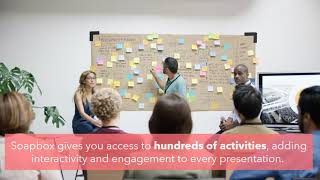 Compare Soapbox pricing with similar products
Starting price
US$29.00/month
US$10.00/month
US$14.00/month
US$25.00/month
Soapbox deployment and support
Training
Live Online
Webinars
Videos
Features of Soapbox
3D Objects
API
Access Controls/Permissions
Activity Dashboard
Animation
Audio File Management
Charting
Chat/Messaging
Collaboration Tools
Commenting/Notes
Communication Management
Conferencing
Content Library
Content Management
Customisable Branding
Customisable Templates
Data Import/Export
Data Visualisation
Document Management
Document Storage
Drag & Drop
Engagement Tracking
File Transfer
Image Editing
Image Library
Interactive Content
Media Library
Meeting Management
Offline Access
Offline Editing
Offline Presenting
Presentation Streaming
Real-time Updates
Reporting & Statistics
Reporting/Analytics
Screen Sharing
Search/Filter
Social Media Integration
Template Management
Text Editing
Third Party Integrations
Training Management
Two-Way Audio & Video
Version Control
Video Conferencing
Video Editing
Video Management
Video Streaming
Video Support
Whiteboard
Christopher P.
Chief Creative Itelligence Officer in US
Architecture & Planning, 11-50 Employees
Used the Software for: 1+ year
Innovative and Great value
Comments: It really is designed to train your employees by communicating your company's strengths and encourage the user to calibrate the output to meet your needs and expectations.
Pros:
The software is initiative, creative and flexible. The strengths of the product lay in the basics that's it's designed to be useful and move your company forward, not just an app you use sometimes.
Cons:
Any feature I've missed had been adapted and added in updates. The team behind it is constantly working on improvements.
Endurance Learning Response
last month
Christopher, thank you for your kind words!
Tiffany A.
Learning and Development Assistant Manager in US
Banking, 51-200 Employees
Used the Software for: 1-5 months
Soapbox is a time saver!
Comments: Soapbox saves us time as well as creative energy by giving us the framework and activity ideas for learning sessions. Although we use our own branded PowerPoint slides, we can still use some of that suggested content as well. It is a tool that is well worth the money, just in time saved for us!
Pros:
There are so many things to like about Soapbox. On my team we have people with varying levels of experience in instructional design, and Soapbox makes it easy for all of us to use it to whatever extent we want. For some more experienced people, we may only use it for laying the foundation and getting ideas, but for less experienced people it may be used as the single source for creating learning sessions. I love that it factors in all of the elements of the session like the time and delivery method, and it's super helpful for creating learning objectives.
Cons:
My only criticism would be the lack of options for alternate activities. In my most recent Soapbox project, I didn't love the initial idea for an activity, and there were only 3 or 4 options for alternatives.
Endurance Learning Response
3 months ago
It is wonderful to hear that people of varying skill levels are using Soapbox successfully. We're always adding new activities so I hope that you'll start to see more alternative activities that work for your presentations.
Information Technology & Services, 201-500 Employees
Used the Software for: 2+ years
Endurance Learning
Pros:
We work with El to provide training and customer on boarding support and they have great experience in this area. El also provides the tools and resources to deliver the necessary courses and programs that they support.
Cons:
There really isn't anything negative to note
Endurance Learning Response
3 months ago
Thanks for your feedback! Both EL (Endurance Learning) and Soapbox strive to provide the best possible tools and resource for training. We're happy to hear that it is has been a positive experience.
Kristine B.
Education, Disability, Mental health Manager in US
Education Management, 51-200 Employees
Used the Software for: Free Trial
Major up-leveled my trainings
Comments: Soapbox was one of the most useful training tools I have used. Overall I would use this product daily or weekly.
Even though I don't have access to it anymore because I only used the trial I am looking forward to talking my supervisors into buying it. It also made me make better training in my own because it's a new way of thinking about training engagement backed by research and a lot of experience.
Pros:
This product made me think of trainings in a new way. I loved all the options for different activities to work with getting information using a variety of learning modalities. decreased my training planning time by more than half plus made them much more organized and engaging.
Cons:
The price was inhibitive for my small government funded program.
Endurance Learning Response
3 months ago
Thank you so much for this feedback! Our goal is to help people think in a different way! We're sorry the price was prohibitive. At the beginning of the COVID pandemic we dropped the price so maybe it is worth a second look?
Gary G.
General Manager in US
Transportation/Trucking/Railroad, 501-1,000 Employees
Used the Software for: 1-5 months
Great Software
Pros:
This software makes us much more productive and I would recommend it.
Cons:
I would encourage you to continue developing additional features.
Endurance Learning Response
3 months ago
Thanks for the feedback! I hope our roadmap doesn't disappoint!