15 years helping British businesses
choose better software
Local product
What is Payaca?
The CRM solution for ambitious field service businesses. Designed to streamline operations, foster customer relationships, and drive growth. Our robust platform is built by experts, continuously improved based on your feedback. Experience the power of simplicity and organised customer management with Payaca.
Who Uses Payaca?
Designed for ambitious field service businesses, including electricians, plumbers, gas and heating engineers, landscapers, roofers, HVAC workers, builders, installers, tilers and more.
Where can Payaca be deployed?
Cloud-based
On-premise
Payaca pricing
Starting Price:
£54.00/month
Yes, has free trial
No free version
Payaca does not have a free version but does offer a free trial. Payaca paid version starts at £54.00/month.
Payaca videos and images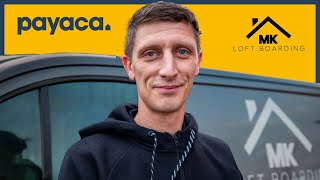 Features of Payaca
Access Controls/Permissions
Accounting
Accounting Integration
Activity Dashboard
Activity Tracking
Add & Edit Photos
Alerts/Notifications
Appointment Scheduling
Automated Quoting
Bid Management
Billable Items Tracking
Billing & Invoicing
Booking Management
Budgeting/Forecasting
CRM
Calendar Management
Calendar Sync
Calendar/Reminder System
Change Order Management
Client Tracking
Compliance Management
Contact Database
Contact Management
Contract/License Management
Cost Database
Cost Estimating
Customer Database
Customer History
Customer Management
Customer Portal
Customisable Branding
Customisable Invoices
Customisable Reports
Customisable Templates
Data Import/Export
Discount Management
Dispatch Management
Document Management
Document Storage
Electrical Estimating
Electronic Payments
Electronic Signature
Email Management
Employee Management
Estimating
Expense Tracking
For Arborists
For Commercial and/or Industrial Electrical Contractors
For HVAC Companies
For Locksmiths
For Plumbing Industry
Image Capture
Inspection Management
Interaction Tracking
Inventory Management
Invoice Creation
Invoice History
Invoice Management
Invoice Processing
Job Costing
Job Management
Job Scheduling
Job Tracking
Lead Management
Maintenance Scheduling
Mobile Access
Mobile Alerts
Mobile App
Mobile Payments
Mobile Signature Capture
Multi-Location
Online Invoicing
Online Payments
Online Time Clock
Payment Collection in the Field
Payment Processing
Photo Capture
Photos/Images
Pricing Management
Pricing and Cost Calculations
Progress Reports
Project Billing
Project Management
Project Scheduling
Project Tracking
Proposal Generation
Purchase Order Management
QuickBooks Integration
Quotes/Estimates
Real Time Data
Real Time Notifications
Real Time Reporting
Real Time Updates
Real-time Scheduling
Recurring Orders
Reminders
Report Summary
Reporting & Statistics
Reporting/Analytics
Residential Inspections
Routing
SMS Messaging
Sales Approval
Sales Pipeline Management
Scheduling
Self Service Portal
Service History
Staff Calendar
Status Tracking
Subcontractor Management
Task Management
Tax Calculation
Technician Management
Template Management
Templates
Third Party Integrations
Time & Expense Tracking
Time Tracking
Timesheet Management
Work Order Creation
Cathy
Director / Electrician in UK
Construction, 2–10 Employees
Used the Software for: 6-12 months
Reviewer Source
Really good value for money, makes your quotes look more professional and well marketed
Comments: The team have been amazing, they started providing electrical certification within the software which was a massive game changer and time saver for us as a company. they really have gone above and beyond to create an all round solution for electrical businesses.
Pros:
I like how I can make options for quotes. I means I can give customers optional extras to help upsell and means I have to do less quote amendments as people can just untick something if they don't want it rather than having to keep coming back and requesting changes.
Cons:
The initial getting my head around how all the quotes work was difficult but [sensitive content hidden] and the team were always on hand to help. Its best just to get stuck in and start learning.
Alternatives Considered: ServiceM8
Reasons for Choosing Payaca: The electrical certification on the previous software was not up to scratch and the previous software to that didn't even offer it.
Switched From: Eworks Manager and Fergus
Reasons for Switching to Payaca: The level of support offered by payaca is unbeatable
Payaca Response
5 months ago
Thanks Cathy, after trying a number of other options it's great to hear Payaca is working so well. Your feedback has been fantastic and we've been able to make a number of improvements to make getting started easier since you joined. Thanks again! Matt (CEO at Payaca)
Oil & Energy, 2–10 Employees
Used the Software for: 1+ year
Reviewer Source
Outstanding CRM
Pros:
A very important tool in todays busy environment, which takes care of automations, allowing you to track everything. I find quoting and invoicing seamlessly integrating.
Cons:
as a new platform there are still some forms I would like to have as standard. However it is easy to attach documents to a file if necessary.
Alternatives Considered: Tradify and Fergus
Reasons for Switching to Payaca: personal touch with great support. affiliation to the boiler business
Construction, 2–10 Employees
Used the Software for: 1-5 months
Reviewer Source
Electrical Contractor
Comments: Very good. Tech have helped me a few times with some minor issues and seem to be happy to take onboard advice on how to better the app
Pros:
Pre existing integration with stripe as this allowed a streamlined process to get paid.
Cons:
Lack of other integrations such as go cardless for recurring payments such as subscriptions and long term rentals.
Payaca Response
2 years ago
Hi Andrew, Thank you for your review. Customer feedback is invaluable to us so we always appreciate your input. We've got plenty on the way we'll be able to show you soon! We will be adding the ability to take staged payments, plus other integrations beyond Stripe so look out for that in future updates. We look forward to seeing you at the end of the month, it'll be good to finally meet in person! Best regards, Michael
Chris
Business owner in UK
Construction, 2–10 Employees
Used the Software for: 1+ year
Reviewer Source
Fantastic software
Comments: My overall experience with Payaca has been fantastic. I'm getting on really well with the product and looking forward to using it for many more years and excited to see the additional features they add. It's really helped increase my sales, my quote conversion rate has increased massively and that is probably down the professional look it provides. The customer service is brilliant also. Any questions you may have, their team are always there to answer or solve any issues. Excellent all round package with Payaca!
Pros:
I love the fact that I can create a quote or invoice in short time. Also once an invoice is sent it integrates with xero where my invoices and vat get automatically inputted into the software for my accountants easy access. Being able to offer 0% finance is a game changer in my business, that's the route alot of customers want to go down these days so it's a great feature.
Cons:
There's nothing I Dislike about Payaca but the only thing missing for me is a customer satisfaction note to sign at the end of a job.
Payaca Response
2 years ago
Hi Chris, Our overall experience has been fantastic with you too! It's been really great to have you onboard from the very early days. There's a lot of great feedback you've given us over time, plus putting our name out there for others is always appreciated! You've made some of my points for me; increasing quote conversion rates with the professional looking quotes, the ease of creating and sending a quote, integration with existing software and many more features are all a core part of the experience that we're delighted work for you and so many others. A satisfaction note is included on 0% finance jobs, though we could look at including it for all jobs potentially. Your feedback is always welcome Chris, thank you for the time you've given us in helping to shape the product and we look forward to working with you in the future too! Best regards, Michael
Construction, 2–10 Employees
Used the Software for: 1+ year
Reviewer Source
A real game changer
Comments: We've had feedback that the customer experience with received quotes has been a deal breaker for them, winning us the business over competitors. What else can we say..
Pros:
The simplicity of the quoting process and then invoicing has massively reduced the time needed allowing us to concentrate on business development. That paired with the customer experience means that this tool is now one of the most critical in our business.
Cons:
In all honesty at present we don't have any gripes.
Payaca Response
2 years ago
Hi Mark, I can tell you honestly the whole team are delighted to see your response! The message we always try to get across is not only is it easy to use for you as a business, but crucially it's very accessible for your customers too. It's been good to receive your feedback over the time you've been with us and we are implementing a whole lot more that should make life even easier. It's been great working closely with you over the last 12+ months and we look forward to working with you to make the system even better. Best regards, Michael