What Is Apptivo?
Apptivo's online CRM system is a powerful tool to manage your sales, marketing, and much more. CRM sits at the core of Apptivo's integrated suite of business apps, providing a complete suite to tools to gain a 360 view of your customer. Our CRM includes lead management, an opportunity pipeline with intuitive dashboards, and flexible workflow tools including marketing automation. Everything is completely accessible from your Android or iOS device and integrated with Office365 & G Suite.
Who Uses Apptivo?
We serve businesses of all shapes and sizes. From independent consultants to billion dollar enterprises, Apptivo offers over 60 business apps that are highly configurable for most types of companies.
Apptivo Details
Apptivo
Founded in 2018
Apptivo Details
Apptivo
Founded in 2018
Apptivo videos and images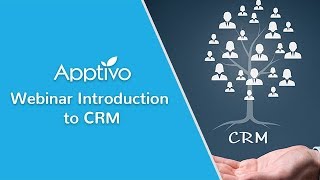 Compare Apptivo pricing with similar products
Starting price
US$10.00/month
N/A
US$10.00/month
US$50.00/month
Apptivo deployment and support
Support
Email/Help Desk
FAQs/Forum
Knowledge Base
Phone Support
24/7 (Live rep)
Chat
Deployment
Cloud, SaaS, Web-based
Mac (Desktop)
Windows (Desktop)
Android (Mobile)
iPhone (Mobile)
iPad (Mobile)
Training
In Person
Live Online
Webinars
Documentation
Videos
Don L.
Chief Revenue Officer in US
Verified LinkedIn User
Machinery, 11-50 Employees
Used the Software for: 6-12 months
Alternatives Considered:
Apptivo is THE Best CRM Software System Available!!
Comments: Outstanding! This is the fourth CRM implementation that I have administered in my career and it was by far the simplest and smoothest process with the greatest customization and functionality! After going through the selection process and reviewing all of the "top CRM Solutions" in great depth, I chose Apptivo and I am super glad that I did! Apptivo keeps the system simple to use, which is a must for sales reps, and provides the customization required. The other "top CRM Solutions" have forgotten what salespeople are REALLy looking for in their CRM tool and as a result, made their system more cumbersome for the user. Not Apptivo, they are deploying their system in the right way and there is no extra charge for excellent customer service! The Apptivo team closely manages my account and QUICKLY addresses any items that I want to change. This has been an excellent rollout!
Pros:
Ease of use and customization is awesome! They have kept the system simple while implementing a number of dynamic and intuitive functions. The customer service is EXCELLENT! Most CRM companies just want to sell a boxed product and forget about the user. Apptivo takes the time to identify what the user truly is trying to accomplish and then customizing the software to precisely meet the users' requirements.
Cons:
NONE! There are no cons with Apptivo! The system is EXCELLENT!
Verified Reviewer
Territory Account Manager in US
Verified LinkedIn User
Information Technology & Services, 10,000+ Employees
Used the Software for: 1-5 months
Alternatives Considered:
Before you purchase a CRM solution, You really have to check this out!!!
Comments: So far, everything's been great. It's been very easy to setup as I want. When I've had questions, there's the chat box for support and they've been VERY helpful every time I've asked.
Pros:
Apptivo is the first collaborative, simple, and cost-effective way to manage customers, pipeline, & calendar that I've found. Most others that offer similar functionality will cost you an arm and a leg. Or they'll be reasonable at first, then they'll get you for each of the "add-ons" that you need to make a whole solution for your organization.
Cons:
Some of the apps are not quite as intuitive as some others, but that's to be expected considering their business purpose.
Olga C.
Partnerships and Engagement Officer in UK
Nonprofit Organization Management, 11-50 Employees
Used the Software for: 1-5 months
Alternatives Considered:
Great software, great value for money
Comments: Apptivo helped my organisation create a central system for accessing information about our wide network of contacts and organisations, and helped the team to streamline project management processes.
Pros:
Apptivo is a user-friendly software for managing information about stakeholders and organisations, with great functionality for segmenting stakeholders, project management, and integration with other applications like Slack.
Cons:
Any functionality issues were quickly resolved by the Apptivo team. The event management functionality could be expanded beyond creating target lists and email campaigns.
Information Technology & Services, Self Employed
Used the Software for: 2+ years
Source: SoftwareAdvice
Decided to switch to something else
Comments: Their software is decent, but they really seem to loathe their Starter Plan customers. The way they hack out features that they don't want available is sloppy, and makes it necessary to come up with ways to work around their intentional stumbling blocks. Apptivo - If you don't want to offer a free product, don't. I got the hint, and I'm setting up PayPal Invoicing tonight.
Pros:
I've been using their "Starter Plan" since 2012. It is good enough to get by, and it is free. I mostly use the invoicing module.
Cons:
Certain settings in the starter plan don't make sense. For example, the e-mail template includes a link to paying online, but online payments aren't supported in the starter plan. Modifying the e-mail template to take that link out is also not supported in the starter plan. I could deal with all that, but now, after a year of using the recurring invoices feature, they suddenly stop working. The tech support person says I have to upgrade my plan to use that. But the settings pages all work, and my invoices are all just sitting there waiting.
Apptivo Response
2 years ago
Hello Sean, Thank you so much for taking the time to post this review! We're glad that you enjoyed using Apptivo as a customer for many years. The Starter Plan is generally very limited compared to the other plans. We also upgraded versions since you first created an account with us. This might have caused some unexpected changes. I apologize for the inconvenience caused and will take your feedback to the appropriate teams to help improve our user experience. Thank you again for your feedback! Team Apptivo
Gina M.
Product Owner in US
Information Technology & Services, 51-200 Employees
Used the Software for: 1+ year
Alternatives Considered:
Exceeded Expectations
Comments: The onboarding team was wonderful and addressed every issue that came up. They were incredibly responsive and Apptivo delivered on all the features we wanted/needed. Apptivo is an absolutely critical part of our business at every level. From lead management, to sales and quoting, to implementation and onboarding of new customers. It is so much more than a CRM for us.
Pros:
The onboarding team made sure all of our data was transferred over as we expected and they made everything so easy for us. It is really feature complete so we were able to eliminate multiple other systems and consolidate so it is easier for all staff involved.
Cons:
The Outlook integration has had some trouble with calendar appointments that we had to work through.