Local product
What is PosterBooking?
FREE ten screens forever, £2/month per additional screen. PosterBooking allows you to turn any TV/Monitor into digital signage, making it easy to remotely upload and manage images and videos from the dashboard.
With unlimited content uploads and unlimited playlists, you can even schedule content to play at your desired times. Supports images, videos, web URLs, Google Slides and includes weather and news apps, all available for free. White-label options available allowing to to scale.
Who Uses PosterBooking?
Anyone needing simple, fast and easy to use digital signage. For use at: Home, Restaurants, Pharmacies, Gyms, Hotels, Schools, Offices, Supermarkets, Churches, Museums, Libraries, Hospitals, etc
Where can PosterBooking be deployed?
Cloud, SaaS, Web-based, Chromebook (Desktop), Android (Mobile)
About the vendor
PosterBooking
Phone Support
24/7 (Live rep)
Chat
About the vendor
PosterBooking
Phone Support
24/7 (Live rep)
Chat
PosterBooking videos and images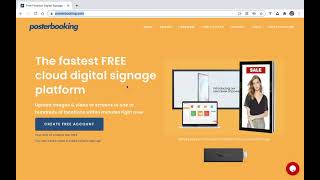 Compare PosterBooking pricing with similar products
Features of PosterBooking
Audit Trail
Auto Update
Content Scheduling
Customisable Templates
Layout & Design
Media Library
Multi-Screen Support
Playlist Management
Remote Display Management
Visual Editor
Alternatives to PosterBooking
Ben
Communications Director in US
Religious Institutions, 11-50 Employees
Used the Software for: 1-5 months
Happy so far. Easy to set up.
Comments: I'm very happy with the features available at the free level, and I'm still contemplating which paid features we'll need to implement fully.
Pros:
This is very easy to set up and the well designed user interface makes it easy to train others on. I also like the simplicity of using Fire Sticks.
Cons:
It seems like bulk selection would make content management much easier. The ability to select all or select a range of images would speed up my workflow a lot. Whether for deleting images or adding them to playlists.
Chad
Director of Worship Arts in US
Religious Institutions, 2-10 Employees
Used the Software for: 6-12 months
PosterBooking is Likely Your Answer
Comments: Customer service for PosterBooking is unparalleled! The creators are personal and available to help answer questions and troubleshoot. I wish I needed to interact with them more, but, honestly, since their product has been so dependable, I haven't needed to! There is also a very active community of users available to help support and encourage each other.
Pros:
Simply put, PosterBooking is an amazing, easy to set up, deploy, and manage, piece of software that lives quietly in the background--and one we couldn't live without! We use PosterBooking in a church setting for digital signage. I found and compared dozens of other options but found this to not only have the right price point, but to have just the features we needed in a clean, easy-to-use interface. The software doesn't take long to set up and works well with Amazon Fire Sticks. It just works--and does its job in the background--so that we can put our focus on people!
Cons:
The product is very simple to use. I know they continue to roll out new features and updates at a reasonable pace. I would like to see some options for multi-user logins. While content management is simple, I'd love to see the ability to group content into folders (perhaps for multiple users or events/projects) and the ability to sync content with a cloud storage option like Google Drive or OneDrive.
Entertainment, 2-10 Employees
Used the Software for: 1-5 months
Post Your Event
Comments: No problems for now
Pros:
Less than 10 minutes to get how to work with, simply genius
Cons:
Upload a picture with a name, I would like to replace it without having to replace again on every playlist. And a Samsung App would be great
Sports, 11-50 Employees
Used the Software for: 6-12 months
Great Product and Easy to use
Comments: Overall, I recommend this program. In fact, I have already started helping a colleague from another place to set this up for his business.
Pros:
This software is very easy to use and is great for small businesses that utilize less than 10 screens. It is usually free for less than 10 screens but still a good price per screen after 10 screens. I have searched through plenty of digital board programs that want more money for a lot less. The customer support has been very helpful every time I reach out to them on chat.
Cons:
I wish there was an easier way to upload google slides to the board other than url. This is incase the internet goes out, it will continue to play. You are able to do this if you save the slides as a video and upload that but takes a little bit of time and not instantaneous.
Sarah
Office Administrator in US
Logistics & Supply Chain, 51-200 Employees
Used the Software for: 6-12 months
Review
Comments: My overall expiernece has been great. I find it so easy to brodcast updates and birthdays throughout our company. I also think the fact that the slides play all day on a loop help reminding employees.
Pros:
I really like how user friendly PosterBooking is. I was able to pick up the software quickly and I rarely ever have issues.
Cons:
The only issue I ever run into is how fast it updates on our screens. Sometimes I find myself having to manually update the screens.