What is Yodeck?
Starting at $7.99/month + free players, Yodeck is a no-brainer for digital signage. Get any screen up and running in less than 5 min! Use our drag & drop editor together with hundreds of free templates to display any kind of content like images, videos, PDFs, calendars, menus, social media, and more! Manage, edit & schedule content for your screens online, from anywhere through our cloud-based dashboard easily. We offer 24/7 worldwide support. Your 1st screen is free, forever - connect it now!
Who Uses Yodeck?
Businesses that are after an affordable, easily scalable, easy-to-use, plug-and-play, all-in-one digital signage solution.
Where can Yodeck be deployed?
Cloud, SaaS, Web-based
About the vendor
Flipnode
Founded in 2012
Phone Support
24/7 (Live rep)
Chat
Yodeck pricing
Starting Price:
US$7.99/month
Yes, has free trial
Yes, has free version
Yodeck has a free version and offers a free trial. Yodeck paid version starts at US$7.99/month.
Pricing plans
get a free trial
About the vendor
Flipnode
Founded in 2012
Phone Support
24/7 (Live rep)
Chat
Yodeck videos and images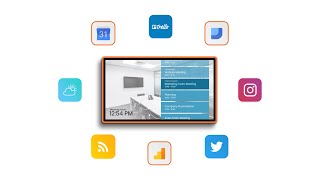 Features of Yodeck
Audit Trail
Auto Update
Content Scheduling
Customisable Templates
Digital Signage
Drag & Drop
Dual Monitor
For Religious Organizations
Kitchen / Menu Management
Layout & Design
Media Library
Mobile Access
Multi-Screen Support
Playlist Management
Presentation Streaming
Remote Display Management
Visual Editor
XML / RSS
Lawrence
Consultant in Australia
Verified LinkedIn User
Facilities Services, Self Employed
Used the Software for: 1-5 months
Product platform
Comments: I am extremely satisfied with Yodeck as both a digital signage and management platform.
Pros:
I was looking for a digital marketing platform that I could promote to a particular niche market and Yodeck provided most of the features I was looking for. Ease of management, workspaces and user privileges all make this ideal.
Cons:
The only problem I experienced was with the scheduling module. Not being able to set a schedule to occur on a particular day for a period means a lot of additional manual scheduling.
Alternatives Considered: piSignage
Reasons for Switching to Yodeck: The backend management had more features and was easier to understand. Also the user management aspect, combined with work spaces will allow me to give some control to my users while not allowing them to completely mess up the system.
Richard
Technical Director in UK
Performing Arts, 11-50 Employees
Used the Software for: 2+ years
Good easy to use digital signage solution with low cost hardware
Pros:
That you can roll your own players from raspberry PIs which we had many on a shelf from other projects. We lover the birthday widget for our younger members
Cons:
Occasionally we've had an odd issue with visual noise on uploaded videos, but never had the time to investigate if it's our problem or Yodesk's.
Ken
Owner in US
Verified LinkedIn User
Health, Wellness & Fitness, 11-50 Employees
Used the Software for: 1-5 months
Not worth it
Comments: Poor
Pros:
Product relativity Easy to use but due to lack of features
Cons:
Little options for widget. Customer support lousy. No good direction.
Flipnode Response
2 years ago
Hi Ken, we would like to apologize for the delay in shipping out your Players. Due to the COVID-19 situation, there was a delay in our suppliers shipping out orders. Now, our suppliers have caught up with all pending orders. Our customer support did the best they could to speed things up, I am sorry that we could not serve you as best as possible but it was out of our control. Concerning features, Yodeck is constantly being developed, so a feature that you might be missing might be released soon. Send over a ticket with your requirements and we can get back to you with estimations on when your required features will be released. If you feel that Yodeck cannot serve your requirements now or in the near future, please reach out and request a refund. Thank you, The Yodeck Team
Louis
Senior IT Technician in UK
Education Management, 201-500 Employees
Used the Software for: 2+ years
Top tier system
Pros:
The documentation, layout of the system and ease of integration makes the system really practical in a busy environment where there are lots of systems to manage. I have implemented Yodeck at both schools i have worked in, and from when I first started using it, I have consistently seen updates to the UI and features.
Cons:
I think there needs to be better diversity in Widgets. I think they hold huge potential to really standing out the system from the rest. For example, we are a Microsoft school so would benefit greatly from those features. Other custom API widgets would also be amazing so we really can personalise it. The layout system can be improved with integration with widgets too. For Example, the weather widget is hard to fit correctly in the top right hand corners as the grid limitations of the widget is greater than the size of the widget, so it makes it difficult to be precise with positioning.
Alternatives Considered: ScreenCloud and OptiSigns
Reasons for Switching to Yodeck: Price and experience with the system previously. The raspberry Pi integration and use also benefits us rather than a webos verison.
Tomasz
ICT beheerder in Netherlands
Marketing & Advertising, 2-10 Employees
Used the Software for: 1-5 months
Honestly priced, well built
Comments: SaaS that offers quite a lot and yet is very reasonably priced. Dashboard is quite intuitive; everything is just a few clicks away. Support is fast, kind and knowledgeable.
Pros:
Ease of adding / integrating new player is stuff of legends. Very enjoyable experience.
Cons:
not many options to do own branding other than becoming a partner
Alternatives Considered: Screenly and OptiSigns
Reasons for Choosing Yodeck: Software is buggy and does not use SSL. Yet, not a single update in YEARS - for both the player and server (we have a self-hosted version), which is only accessible via Chrome and only http. Unfortunately Chrome does not allow ignoring HSTS anymore for chosen domains, so our frontend server became inaccessible. Moreover, the only officially supported player is Windows based (forcing a €600 MFF PC purchase every time a new player is needed). Our mails are ignored.
Reasons for Switching to Yodeck: while second-best contender (OptiSigns) offered more integrations out of the box and more and better options already in the mid-tier: branded portal, remote OS troubleshooting and API in the highest tier. Their Yodeck vs OptiSigns comparison is dishonest. They also do not offer 1 fully functional player license for free to fully test the solution, like Yodeck does. Also I liked Yodeck's dashboard more