What is Teamhood?
Teamhood is a project management and collaboration platform which helps teams to build smart plans and control delivery of results. System is easy to use, flexible and visual, tailored for broad range of users.
Ideal for those who engage into complex projects and levels of detail. Due to connected structure of boards Teamhood allows efficient sharing and managing work items among teams and this way synchronize cross-team collaboration.
Who Uses Teamhood?
Engineering project teams (Civil and Mechanical), product development teams, agile software development teams, marketing, accounting teams. All teams aiming to improve performance.
Where can Teamhood be deployed?
Cloud, SaaS, Web-based
About the vendor
Eylean
Founded in 2011
Phone Support
Chat
Languages
English, German, Lithuanian
About the vendor
Eylean
Founded in 2011
Phone Support
Chat
Languages
English, German, Lithuanian
Teamhood videos and images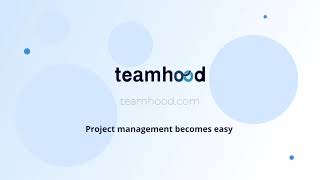 Compare Teamhood pricing with similar products
Features of Teamhood
Activity Dashboard
Agile Methodologies
Alerts/Notifications
Backlog Management
Brainstorming
Budget Management
Calendar Management
Collaboration Tools
Color Codes/Icons
Commenting/Notes
Create Subtasks
Customisable Templates
Dashboard
Dependency Tracking
Drag & Drop
Email-to-Task Conversion
File Sharing
For IT Project Management
Gantt/Timeline View
Idea Management
Import Tasks
Issue Management
Kanban Board
Milestone Tracking
Mobile Access
Percent-Complete Tracking
Portfolio Management
Prioritisation
Progress Tracking
Project Planning
Project Planning/Scheduling
Project Scheduling
Project Tracking
Real Time Notifications
Recurring Tasks
Reporting & Statistics
Reporting/Analytics
Reporting/Project Tracking
Resource Management
Roadmapping
Status Tracking
Tagging
Task Editing/Updating
Task Management
Task Progress Tracking
Task Scheduling
Task Tagging
Template Management
Templates
Time & Expense Tracking
Time Tracking
Visual Workflow Management
Visualisation
Workflow Management
Reviews of Teamhood
Reviews by company size (employees)
<50
51-200
201-1,000
>1,001
Donatas
CEO in Lithuania
Verified LinkedIn User
Marketing & Advertising, 2-10 Employees
Used the Software for: 1-5 months
Alternatives Considered:
Complete tool for team management and productivity.
Comments: Their informational content on how to work more effectively in remote teams has brought a lot of benefits and new insights. This is exactly what led me to try this tool.
Pros:
Teamhood is easy to adapt. Kanban boards are visual and ergonomic – rows make it easier to cope with large amount of tasks. Estimations, NATIVE time tracking, time sheet reports are simple and valuable. They really help to make more predictable plans.
Cons:
There were sometimes inaccuracies in time tracking. But fortunately these problems were resolved very quickly. The TeamHood team also should further improve their system messages that are sent by email.
Electrical/Electronic Manufacturing, 51-200 Employees
Used the Software for: 1+ year
Alternatives Considered:
Very user friendly tool
Comments: Very good
Pros:
Easy to use. No need for edition also tutorials
Cons:
No possibility to send reminder email.
sylvanus odylon
Freelance in Côte d'Ivoire
Computer Software, Self Employed
Used the Software for: 2+ years
beautiful software for high point work
Comments: this software is pleasant and easy to use. it has fewer bugs, updates are done when they are available. I recommend this software to everyone.
Pros:
teamhood is an easy to use software combining kanban boards, visual effects and task management. One could notice simple sheet reports which help to develop plans.
Cons:
as disadvantages, there are some time differences and a small ergonomic problem. apart from that, for me it is perfect.
Marketing & Advertising, Self Employed
Used the Software for: 1-5 months
Perfect for building plans, campaigns and managing teams
Comments: It has become a daily tool of managing my work and coordinating a team of freelancers. I use Teamhood more frequently, than email.
Pros:
Configurable Kanban boards - I make boards for any purpose, like action plans, backlink tracking, content management, strategy, brainstorming, campaigns. Efficient use of screen space. Fonts and items are quite small, but considering two-dimensional Kanban structure it allows to fit close to hundred items in one screen. Next level compared to Trello, Asana or smilar.
Cons:
Some needed integrations are missing (like Hubspot), but team claims to fix this shortly.
Aqua
CX and Marketing Manager in UK
Information Technology & Services, 2-10 Employees
Used the Software for: 1-5 months
Amazing overall experience!
Comments: As a tech startup, having a clear project management tool and plan is really important. This has helped us with our daily tasks, weekly catchups and most importantly transparency and productivity in the company.
Pros:
Dependencies as a default tool and gantt views that can be shareable for viewers Easy to use Very well built Kanban boards Amazing customer service
Cons:
At the moment, I can not fault this software at all!