What Is Trello?
From sales and marketing to HR and operations, teams can design and customize Trello to fit their unique needs and work styles. And with over 100+ integrations with other key tools like Google Drive, Slack, Jira and more, Trello is a living, breathing project hub of cross-team collaboration no matter where your work needs to happen. Trello brings joy to teamwork by making it transparent and easily shareable across boards and teams.
Who Uses Trello?
Trello is for teams of all sizes, for the creators and doers, and for those who take dreams to done. Trusted by millions, Trello powers teams all around the world.
Trello Details
Atlassian
Founded in 2013
Trello videos and images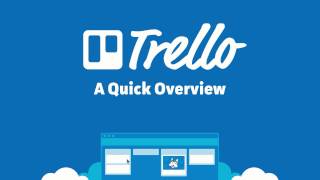 ▶︎
Trello Details
Atlassian
Founded in 2013
Compare Trello pricing with similar products
Starting price
US$5.00/year
US$9.49/month
US$22.00/month
US$7.00/month
Trello deployment and support
Support
Email/Help Desk
FAQs/Forum
Knowledge Base
Chat
Deployment
Cloud, SaaS, Web-based
Mac (Desktop)
Windows (Desktop)
Android (Mobile)
iPhone (Mobile)
iPad (Mobile)
Training
Live Online
Webinars
Documentation
Videos
Suhailah S.
Administrative Assistant in Malaysia
Verified LinkedIn User
Retail, 5,001-10,000 Employees
Used the Software for: 2+ years
Help my team with task management
Comments: Trello has become part of our team to organized our daily task and project. All the task can be track on real-time to avoid any missing or unfinished task of the project. Me and my team has a very positive experience all the time we have deployed it on our work system.
Pros:
There are various point that what i really like with this software. Collaborating on project with my team and with team on other department on our organization is very easy and not confusing at all. Integration with third party services like Google Mail or MailChimp help me to organizing and managing my email on one single software.
Cons:
It takes time to fully get comfortable and learning all the feature and tool that in-build in this software. A training is a must for us for all the team members can maximized all the tools to the maximum. Apart of that, i see no other issue with this software.
Laura B.
Freelance Writer in US
Verified LinkedIn User
Marketing & Advertising, Self Employed
Used the Software for: 2+ years
Alternatives Considered:
Amazing resource for small teams, solopreneurs, etc.
Comments: I've used Trello for years. Many of my clients use different solutions like Asana and I even moved my own company over to Clickup for a year. We came back to Trello and every team member breathed a sigh of relief. Trello is so much easier to break down individual boards and appeals to those of us who need to see visuals. I manage my podcasts, blog writing, email newsletters, speaking engagements, and even my personal recipe storage is on Trello. It's so easy to grab from the web browser or the app on my phone and I love that you can search so easily even after something has been archived.
Pros:
So easy to use Very visual Price is right Easy to add/remove members Search capability is excellent
Cons:
Sometimes customer service is a bit slow; it's not easy to set up as a nonprofit to get the nonprofit discount. We had to go back and forth but eventually got it set up.
Gabriele A.
Mental Coach & Trainer in Italy
Verified LinkedIn User
Professional Training & Coaching, 2-10 Employees
Used the Software for: 2+ years
Alternatives Considered:
Ottimo strumento di project management con alcune lacune nella UX
Comments: Piano base gratuito e assai ricco, tanti strumenti di project management intuitivi e comodi per la condivisione di informazioni ma con una interfaccia che da anni mantiene la stessa logica poco intuitiva per chi è novizio di project management.
Pros:
Ha un piano gratuito che di per sé già è ricchissimo di funzioni ed è eccellente per chi ha un piccolo progetto in partenza e ha un team che deve coordinarsi. La semplicità d'uso delle sue funzioni interne. La possibilità di usarlo sia tramite piattaforma web che tramite app universale iOS e Android.
Cons:
Il piano gratuito si esaurisce in fretta man mano che il progetto avanza: è inevitabile, ma passare da "gratuito" a "5$ a utente" è un salto esagerato, sarebbe stato meglio avere degli upselling intermedi che permettano di acquistare solo le "boards" in cui si costruiscono progetti e sotto-progetti. L'interfaccia è piuttosto ostica a chi si approccia per la prima volta a Trello e non è abituato a sistemi di project management a lui simili: più volte mi sono trovato a dover "forzare" persone nuove del team al suo uso perché si sono subito trovate male nel suo utilizzo. E l'ho dovuto fare tante di quelle volte che alla fine ho deciso di abbandonare Trello e utilizzare altre piattaforme...
Nolan H.
Merch Analyst in US
Retail, 10,000+ Employees
Used the Software for: 2+ years
Trello Review
Comments: As mentioned above, my team can't do our tasks until the previous team has completed theirs (data management & order writing). Trello is my most-used software, we use it across my entire POD, and across each division as well. It helps make sure that nothing slips between the cracks and that other teams aren't being held up unnecessarily.
Pros:
Trello has become instrumental to my team's success whilst working in a remote environment. The way my different teams work with each other is similar to different cogs in a machine - each person has to do their task before the next team can start their work. My favourite thing about using Trello in our everyday is that you can create boards, lists etc. that are customizable. The Tagging feature is by far my favourite thing because you can let coworkers know in real-time when my piece of the puzzle is ready for them. Being able to integrate other programs into Trello (Dropbox, Google drive etc.) is a close second favourite feature!
Cons:
I haven't done a deep dive to see what causes this, but I get logged out of Trello all the time and have to sign in again. Could be a setting on my end and have nothing to do with the software though!
Saulo A.
CTO in Brazil
Verified LinkedIn User
Retail, 11-50 Employees
Used the Software for: 2+ years
Alternatives Considered:
O Kanban mais prático que você já usou
Comments: A experiência é ótima, o trello é muito rápido e estável, e a interface é muito simples e clara não havendo nenhuma dificuldade pra começar a usar.
Pros:
Começar a usar o trello é praticamente instantâneo, você cria as etapas, seus primeiros cards e já começa a movimentar. As etiquetas são muito úteis também. Além disso é muito fácil adicionar mais pessoas ao seu time e começar a colaborar. Também adoro os checklists e upload de arquivos.
Cons:
Sinto muita falta de reports mais automáticos e controle de tempo nos cards. Seria legal ter algum dashboard com os cards movidos por dia/semana/mês e também podendo ver por usuário. Acredito que isso iria engajar muito mais as pessoas a usarem.