What is Trello?
From sales and marketing to HR and operations, teams can design and customize Trello to fit their unique needs and work styles. And with over 100+ integrations with other key tools like Google Drive, Slack, Jira and more, Trello is a living, breathing project hub of cross-team collaboration no matter where your work needs to happen. Trello brings joy to teamwork by making it transparent and easily shareable across boards and teams.
Who Uses Trello?
Trello is for teams of all sizes, for the creators and doers, and for those who take dreams to done. Trusted by millions, Trello powers teams all around the world.
Where can Trello be deployed?
Cloud, SaaS, Web-based, Mac (Desktop), Windows (Desktop), Android (Mobile), iPhone (Mobile), iPad (Mobile)
About the vendor
Atlassian
Located in San Francisco, US
Founded in 2013
Chat
Trello pricing
Starting Price:
US$5.00/year
Yes, has free trial
Yes, has free version
Trello has a free version and offers a free trial. Trello paid version starts at US$5.00/year.
Pricing plans
get a free trial
About the vendor
Atlassian
Located in San Francisco, US
Founded in 2013
Chat
Trello videos and images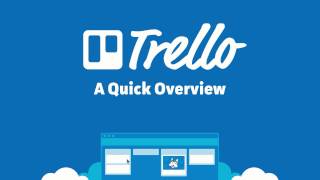 Features of Trello
Access Controls/Permissions
Activity Dashboard
Activity Tracking
Activity/News Feed
Alerts/Notifications
Assignment Management
Backlog Management
Billing & Invoicing
Brainstorming
Budget Management
Business Process Automation
CRM
Calendar Management
Campaign Management
Channel Management
Client Management
Client Portal
Collaboration Tools
Commenting/Notes
Communication Management
Configurable Workflow
Content Management
Cost-to-Completion Tracking
Create Subtasks
Customisable Dashboard
Customisable Templates
Data Import/Export
Discussions / Forums
Document Management
Document Storage
Drag & Drop
Electronic Forms
Email Management
Email-to-Task Conversion
Employee Management
File Management
File Sharing
Forms Automation
Gantt/Timeline View
Goal Management
Goal Setting / Tracking
Graphical Workflow Editor
Guest Access
Idea Management
Import Tasks
Innovation Management
Inventory Management
KPI Monitoring
Kanban Board
Knowledge Management
Live Chat
Marketing Automation
Marketing Calendar
Media Planning
Meeting Management
Messaging
Milestone Tracking
Mobile Access
No-Code
Notes Management
Order Management
Order Tracking
Orientation Workflow Management
Percent-Complete Tracking
Performance Metrics
Polls/Voting
Portfolio Management
Prioritisation
Process Modeling & Designing
Product Roadmapping
Progress Tracking
Project Management
Project Planning
Project Planning/Scheduling
Project Tracking
Real Time Editing
Real Time Notifications
Recurring Tasks
Remote Access/Control
Remote Support Software
Reporting & Statistics
Reporting/Analytics
Reporting/Project Tracking
Requirements Management
Resource Management
Resource Request
Resource Scheduling
Risk Management
Roadmapping
Rules-Based Workflow
SSL Security
Scheduling
Search/Filter
Secure Data Storage
Skills Tracking
Status Tracking
Strategic Planning
Surveys & Feedback
Tagging
Task Editing/Updating
Task Management
Task Progress Tracking
Task Scheduling
Task Tagging
Template Management
Third Party Integrations
Time & Expense Tracking
Time Tracking
Training Management
Vendor Management
Visual Workflow Management
Visualisation
Workflow Configuration
Workflow Management
Jana K.
Customer Experience Strategist in Spain
Verified LinkedIn User
Management Consulting, Self Employed
Used the Software for: 2+ years
Trello Review
Comments: I love how visual Trello is. It's easy to see at a glance where I am at with all my projects and what needs my attention next.
Pros:
Trello is my preferred project management system, one that I use in my business as well as to manage my clients' projects. It's simple enough to use yet robust enough to handle high level of details.
Cons:
I haven't really explored the Butler function and automations enough so can't talk to that aspect of Trello.
Alternatives Considered: Asana
Reasons for Choosing Trello: I just couldn't get used to how Asana is laid out. Trello works much better for my brain.
Switched From: Asana
Reasons for Switching to Trello: See above.
Cesar M.
Account Manager in El Salvador
Verified LinkedIn User
Marketing & Advertising, 201-500 Employees
Used the Software for: 2+ years
Your fist step into task management software
Comments: Very easy to use, friendly and intuitive interface and lots of features to collaborate and personalize your boards. Good price for the money and decent support team.
Pros:
We love the visual aspect of it: different boards let you appreciate each project individually. You can go and modify the order of the elements or give priority to some task by putting it on top. It's a very basic and easy to use software.
Cons:
If you have a big project, Trello is not the answer. This software is aimed mostly to small operations and small creative agencies. If you need to track software development, this is not the best choice.
Alternatives Considered: Gain and Basecamp
Reasons for Switching to Trello: We had a small team and budget, Trello was the right choice for us.
Whit B.
Senior Director of Marketing and Communications in US
Higher Education, 51-200 Employees
Used the Software for: 2+ years
A good task manager for small teams
Comments: I use Trello to manage the tasks of my part time workers, especially as we are working remotely. I am able to set up projects for the via cards and add any resource material they might need.
Pros:
I can use this to manage the task of several workers at the same time. Each of my employees have a board and I am able to add tasks to the board directly from my email. In that way, I am able to take things off of my to-do list because I know that the task is captured somewhere else and the job will be completed.
Cons:
I often have a difficult time building out a project in a way that makes sense to me. We use this much less for large project and much more for smaller individual tasks. I also wish there was a easier way of styling the cards. I have attempted to use the Trello code in the cards but unless you use them frequently, you have to relearn them all over each time.
Alternatives Considered: Asana
Reasons for Choosing Trello: Smartsheets was a powerful system but we didn't have anyone to manage it. Trello is much more simple to use if you do not have a project manager on staff.
Switched From: Smartsheet
Reasons for Switching to Trello: The Card system was a better system for task management for us.

Nir G.
Product Management Consultant in Germany
Verified LinkedIn User
E-Learning, 2-10 Employees
Used the Software for: 2+ years
Golden standard for kanban boards
Comments: Trello has helped my jumpstart new projects with multiple teams across different industries, organize my work and personal life, and organize knowledge spread across different continents.
Pros:
Trello boards are the go-to place to start a small to medium project planning and execution process. The product is intuitive and easy to use. Although the team added so many features over the last few years, it's not too cluttered. Great mobile app support including offline. Vast array of interconnectivity and 3rd party apps.
Cons:
Sometimes could be slower to load and heavy on older computers. Older APIs like IFTTT are not maintained well (e.g. queries would be a welcome addition). iOS shortcut support is also clunky (querying open tasks).
Payton W.
Creator in Canada
Verified LinkedIn User
Arts & Crafts, Self Employed
Used the Software for: 1+ year
I SWEAR by Trello
Pros:
Trello is the perfect software for tracking, planning, and anything else you need. I currently use Trello for project management, marketing, content bank creation and organization, to-do lists, and so much more. I use Trello multiple times a day for almost every aspect of my business. It is easy to use, easy to share with others on your team, and fast too! I've used some project planning tools in the past that are so slow and I can confidently say I don't have that problem with Trello.
Cons:
Trello is very much what you make of it, and it has a bit of a learning curve to begin with. I would recommend new users start with a pre-made template and work from there as it helps get you situated with the site and it's features