What is Kaseya VSA?
See for yourself why thousands of MSPs seeking greater profitability and IT Departments needing to do more with less use Kaseya VSA IT management software to automate IT management. With Kaseya's solutions, organizations can manage their entire infrastructure and IT operations, including cloud, on-premise, hybrid, virtualized and distributed environments all from one place. Start your free trial to proactively manage and control IT assets and applications remotely, easily, and efficiently.
Who Uses Kaseya VSA?
MSPs seeking more revenue & profitability, and IT Departments needing to do more with less use Kaseya VSA to remotely and easily scale and manage less than 100 to more than 50,000 endpoints
Where can Kaseya VSA be deployed?
Cloud, SaaS, Web-based, Mac (Desktop), Windows (Desktop), Linux (Desktop), Android (Mobile), iPhone (Mobile), iPad (Mobile)
About the vendor
Kaseya
Located in Miami, US
Founded in 2004
Phone Support
Chat
Languages
Dutch, English, French, German
Kaseya VSA pricing
Starting Price:
Not provided by vendor
Yes, has free trial
No free version
Kaseya VSA does not have a free version but does offer a free trial.
get a free trial
About the vendor
Kaseya
Located in Miami, US
Founded in 2004
Phone Support
Chat
Languages
Dutch, English, French, German
Kaseya VSA videos and images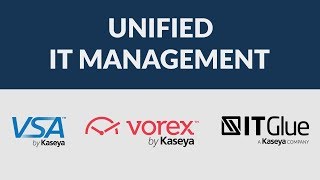 Features of Kaseya VSA
Access Controls/Permissions
Alerts / Escalation
Alerts/Notifications
Asset Tracking
Audit Management
Automatic Patch Deployment
Automatic Scans
Backup and Recovery
Bandwidth Monitoring
Baseline Manager
CPU Monitoring
Capacity Management
Change Management
Collaboration Tools
Compliance Management
Compliance Tracking
Configuration Management
Customization
Dashboard
Data Visualisation
Diagnostic Tools
Event Logs
File Sharing
For MSPs
IP Address Monitoring
IT Asset Management
IT Asset Tracking
IT Reporting
Incident Management
Internet Usage Monitoring
Inventory Management
Issue Auditing
Issue Management
Maintenance Scheduling
Mobile Access
Network Monitoring
Network Wide Management
Patch Management
Performance Metrics
Policy Management
Problem Management
Real Time Monitoring
Real Time Notifications
Real-Time Chat
Real-time Alerts
Remediation Management
Remote Access/Control
Remote Monitoring & Management
Remote Support Software
Reporting & Statistics
Reporting/Analytics
Scheduling
Screen Sharing
Self Service Portal
Server Monitoring
Service Level Agreement (SLA) Management
Session Recording
Simple Network Management Protocol (SNMP)
Task Management
Threshold Alerts
Unattended Access
Uptime Reporting
Vulnerability Scanning
Alternatives to Kaseya VSA
RJ
Owner in US
Verified LinkedIn User
Information Technology & Services, Self Employed
Used the Software for: 2+ years
Great Product
Comments: I have been using Kaseya VSA for about 10 years now. It has transformed my business. I travel less and less to clients sites and do most if not all work remotely for them. Their customer support is top notch and they work hard to help you. Their billing department could be improved, but they're working on it. They have Kaseya Connect every year in Las Vegas. I wish they would hold it somewhere other than casinos and strip clubs. Kaseya is a must for your business. They can scale with you as you grow your business too.
Pros:
Kaseya is awesome in the automation department. I am able to set scripts in place and have them run in the middle of the night. No more staying up after hours pushing out patches and fixes. I can set the patch management to scan for new updates, then push them out on a schedule that I determine.
Cons:
The product works great on Windows machines, but updating a Mac can be tricky. I would like to see them move into the Android field more too. There are more and more Android devices coming into the work sphere that having an option to remotely fix androids would be great.
andrey
Kaseya and Server Adminsitrator in Colombia
Information Technology & Services, 11-50 Employees
Used the Software for: 2+ years
increasing helpdesk staff productivity
Comments: -- Tactical Responsibilities
Use remote monitoring and management tool KASEYA to deliver pro-active remote support
Establish monitoring and maintenance necessary for new and existing clients
Monitors Server Windows Operating System performance and takes action to resolve problems
Monitors the Microsoft Exchange Service and resolved any issues regarding the email systems
Monitors Workstation Windows Operating System performance and escalate actions
Monitors network Devices status and performance and escalate actions
Monitors Storage Devices health and takes action to resolve problems
Monitors VMware Infrastructure performance and takes action to resolve problems
Prepare and present service and monitoring reports to management regularly
Documents problems and resolutions on production servers
Completes scheduled audits and provides reports to customers periodically
Pros:
Kaseya is one of the best RMM (Remote Monitoring and Management) tools in the market we have moved from REACTIVE to PROACTIVE and now we are moving to SERVICES related to "Service Management Maturity model" thanks to Kaseya we achieved 1. Analyze trends 2. Set thresholds 3. Predict problems 4. measure applications availability 5. Automate (highly appreciable when you handle hundreds of devices) 6. Mature Problem Configuration, change, asset and performance management 7. Increase Security in multiple layers 8. Manage the entire Windows updates process 9. Remote Control 10. Compliance and audit Reports
Cons:
unfortunately using kaseya core modules, it is not stronger to manage network devices
Alternatives Considered: ConnectWise Control
Reasons for Switching to Kaseya VSA: integration with internal and third party products
Char
VP Sales & Marketing (Corp Pres) in US
Computer & Network Security, 2-10 Employees
Used the Software for: 1+ year
Manage all devices everywhere easily
Comments: We are now able to use all our tools under one umbrella; VSA, BMS and IT Glue seamlessly interact with each other making this a great asset to keeping everything fast and organized.
Pros:
The automated workflow rules allow for easy ticket management. We are able to manage all devices/endpoints on one app.
Cons:
Getting from an agent to Live Connect is a big laggy in time to connect.
Alexander
Project Manager in US
Real Estate, 1,001-5,000 Employees
Used the Software for: 2+ years
A powerful engine marred by lazy, ongoing GUI problems
Comments: We took on Kaseya largely for remote control of clients and Windows/Office patching. We quickly made use of its Agent Procedures and reports modules and then continued on, slowly integrating module after module.
Pros:
Many powerful modules: - I would not even consider Windows patching without Kaseya: it is granular, easy to use, pretty complete - Agent Procedures and Policies allow enormous customization in what you can do - practically any script you can think of can potentially be run through here - LiveConnect is smooth and fast and provides a wealth of tools - Reports, Alerts, and Audit modules are clear (once understood) and provide tremendous detail and customization
Cons:
Persistent, unfixed, obvious GUI issues spanning years and years after being reported: - screens not refreshing; - inconsistent filtering; - misleading word choices in scheduling boxes; - selecting multiple is a chore; - "View" is powerful to *use* but clumsy and unwieldy to *manage/administer* The way installation packages are created is terrible. If you have more than about a dozen OUs, you will see what I mean: you must create a new install package for each OU. We have 90. EVERY ONE OF THEM must be updated every time there is a new Kaseya client release (about four times a year). There should be one package that asks the user its OU based on a database that IT sets up. Kaseya Anti-Virus and Kaseya Anti-Malware (which we used to use) frought with problems, in accurately reporting what was out there & in reliably installing or uininstalling packages. KAM in particular was so broken it caused us to dump the entire thing and switch to Webroot (though the Webroot integration module is a bad joke: it looks like an alpha product, nowhere near beta). Patch rollback is difficult and usually impossible (though this may not be Kaseya's fault).
Verified Reviewer
Chief Business Development Officer in Malaysia
Verified LinkedIn User
Information Technology & Services, 1,001-5,000 Employees
Used the Software for: 2+ years
Solid RMM
Pros:
Kaseya just scaled up on my number of end points without any issue over the years. It is stable and I hardly face any issue with the agent stability as I have bad experience other RMM that keep needing reinstallation of agent and etc. Kaseya also offers a huge range of solutions ranging from DRaaS, Network Monitoring, Ticketing and security to choose from that integrates nicely inside the RMM.
Cons:
Nothing much except the price is a bit steep but I guess you have to pay for solid software.